Migrant Caravan: Let Us in or Give Each of Us $50,000 to Turn Around and Go Home
Central American asylum seekers in Mexican border town Tijuana reportedly marched to the U.S. Consulate on Tuesday to present the Trump administration with an ultimatum: Let us into the country or give us $50,000 each to turn back home.
The demand came a month after asylum seekers began to arrive in Tijuana. Many still face weeks, if not months, of waiting in the border town before their asylum claims can be processed.
Read more: Trump claims Mexico is still "paying for the wall" thanks to money saved with USMCA
Asylum seekers showed up at the consulate in two groups, according to The San Diego Union-Tribune, with one of the groups—made up of roughly 100 people—delivering the $50,000 demand.
Asked how the asylum seekers came up with the figure, organizer Alfonso Guerrero Ulloa of Honduras told the newspaper that while "it may seem like a lot of money to you...it is a small sum compared to everything that the United States has stolen from Honduras."
In a letter outlining the ultimatum, the group reportedly criticized U.S. intervention in Central America. The U.S. intervened in numerous military coups as it sought to protect commercial interests in the region.
The second group to show up to the consulate, which included about 50 people, had a different demand: that U.S. immigration officers at the San Ysidro port of entry in San Diego process asylum applications faster and in greater numbers.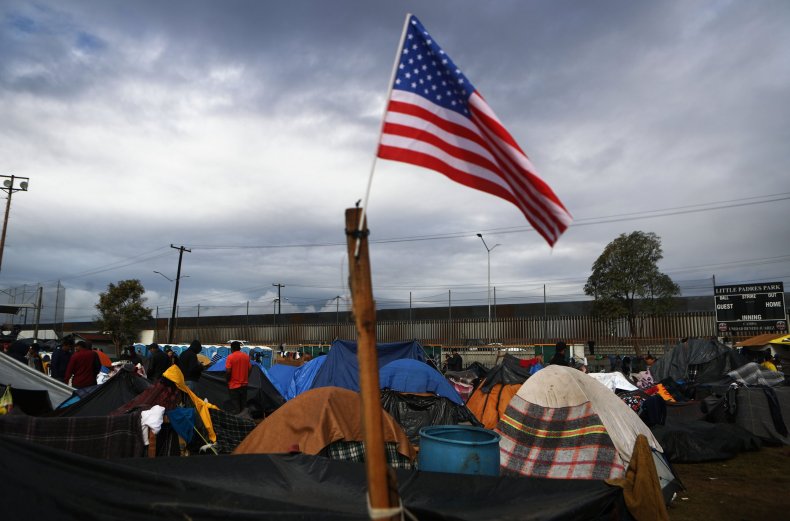 Currently, asylum officers are processing between 40 and 100 claims a day. Asylum seekers said they would like that number to be raised to at least 300 per day.
In a letter written to the Trump administration, the group said that the slow processing of asylum claims at the U.S. border violated American and international laws.
"In the meantime, families, women and children who have fled our countries continue to suffer and the civil society of Tijuana continues to be [forced] to confront this humanitarian crisis, a refugee crisis caused in great part by decades of U.S. intervention in Central America," the letter reportedly said.
While thousands of asylum seekers have waited in Tijuana to make their claims, hundreds of others have already chosen to "self-deport" themselves back to the home countries they fled. Many had left Honduras, Guatemala and El Salvador over fears of violence and political and economic instability.
Meanwhile, President Donald Trump continued to rail against members of the caravan, claiming on Twitter, without any evidence, that the asylum seekers would bring "large-scale crime and disease" to the U.S.
The U.S. leader also claimed that "despite the large caravans that WERE forming and heading to our country, people have not been able to get through our newly-built Walls, makeshift Walls & Fences, or Border Patrol Officers & Military.
"They are now staying in Mexico or going back to their original countries," the president tweeted, despite border photos showing several migrants climbing over or crawling under border walls and fences, and despite the fact that thousands still wait to make their asylum claims in the U.S.