Migrant Caravan Set to Reach U.S. Border This Weekend, Despite Warnings Asylum Seekers Could Face Arrest
After an arduous weeks-long journey across Mexico, as many as 130 Central American asylum seekers are expected to arrive at the U.S. border this weekend, despite warnings from the Trump administration that they could face arrest.
Members of the caravan, who are currently at a shelter in the Mexican border town of Tijuana, are expected to make their way to the border en masse Sunday morning to make their asylum claims.
Asylum seekers began arriving in Tijuana on Tuesday and are stationed just minutes away from the U.S. border. Some told Reuters they fled from Guatemala, El Salvador and Honduras in fear of threats from gangs or political persecution. Many of the people traveling with the caravan are Hondurans seeking to escape the instability and violence that has followed in the wake of President Juan Orlando Hernández's contested re-election last year.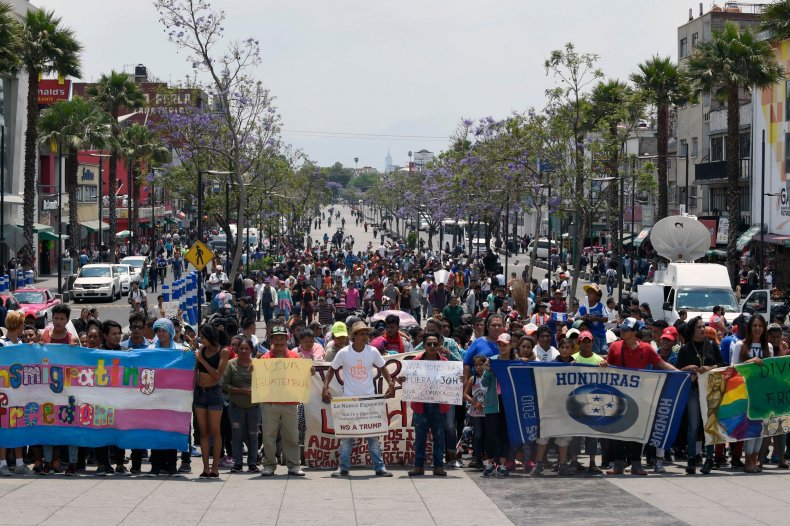 One Honduran, Angel Caceres, told the news agency he fled his country in early March after a brother and niece of his were killed and his 82-year-old mother was raped and strangled nearly to the point of death. The asylum seeker showed reporters images of his mother, brutally beaten and lying in a hospital bed.
A number of immigration advocacy organizations say they plan to help asylum seekers make their way safely to the U.S. border, with advocacy group Pueblo Sin Fronteras, which organized the caravan, leading the group across the main pedestrian bridge into the country on Sunday.
Jess Morales Rocketto, the chair of We Belong Together, a women-focused immigration campaign launched by the National Domestic Worker Alliance, told Newsweek that volunteers are currently on their way to Tijuana to meet with asylum seekers and help them prepare to make their asylum claims.
She said volunteers will also be positioned to the U.S. side ready to "welcome" people and even offer up their homes to asylum seekers.
Rocketto said as many as 200 people from a number of states, including North Dakota, South Dakota and Missouri have offered up their homes to those traveling with the caravan.
"We want our people to be there to be helpful and also for people to know that they are welcome," Rocketto told Newsweek, adding that volunteers had a "real clarity that Trump wants to keep people out [of the U.S.], but they want to welcome people and they want the refugee caravan to know they are really welcome."
U.S. Secretary of Homeland Security Kirstjen Nielsen has said her agency would be monitoring the caravan and warned that the U.S. would prosecute anyone who tried to enter the U.S. illegally or who tries to make a "false immigration claim."
The warning came after Trump repeatedly vowed to stop migrants traveling with the caravan from entering the country. Thousands of National Guard troops have been deployed to the U.S.-Mexico border in anticipation of the caravan's arrival.
Rocketto said a "huge reason" for why volunteers from her campaign want to be at the U.S. border for when asylum seekers arrive is to "make sure the refugee caravan is protected."
With Trump's immigration crackdown and the presence of National Guard troops at the border, Rocketto said she expected a "huge presence of anti-immigration forces."
Migrant caravan defies Trump as hundreds arrive at border city to claim asylum in the U.S.
She also said that she was prepared for the possibility that protesters rallying against the arrival of asylum seekers could also show up at the border on Sunday.
"I've really seen the anti-immigrant sentiment get bigger and bigger," Rocketto said. "Particularly at the border, people are really passionate on both sides, but only one side is being really threatening to the other side. Only anti-immigrants are bringing guns and saying they're going to round us up," she added.
A number of "welcome" groups have been organized for Sunday to greet asylum seekers at the border, with community organizers saying on a Facebook event page called Welcome the Refugee Caravan that they plan to have a "friendly encounter at the border and exchange welcoming words of solidarity and hope."
Community members have been asked to wear white and are expected to be joined by a group of people who have been marching from Los Angeles to the U.S.-Mexico border since last Sunday in a show of support and solidarity with the caravan.
The Seed Project, an advocacy group fighting for the permanent protection of undocumented youth in the U.S., said on its Facebook event page that it decided to launch the 7-Day March Without Borders "in the name of refugees who suffer repression and violence in their own country and for their human right to seek asylum in the country of their choice."