Migrant Caravan Defies Trump As Hundreds Arrive at Border City to Claim Asylum in U.S.
Updated | Hundreds of Central Americans determined to seek asylum in the U.S. have arrived in the Mexican border city of Tijuana, despite President Donald Trump's recent orders for the Department of Homeland Security to stop migrants entering the country.
Pueblo Sin Fronteras, the immigrant rights group that organized the caravan, posted a video to Facebook on Tuesday evening of people arriving at a shelter run by Juventud 2000. Juventud 2000 is an organization dedicated to assisting migrants in Tjuana. They wrote that this was the "first big part of [the] refugee caravan" to arrive in the border town.
As many as 600 asylum seekers have already made their way to the shelter, traveling by bus, according to Reuters. The news agency said another four buses were also making their way to Tijuana from Hermosillo, a city 432 miles south of the border, where migrants had been held up for days.
Smaller groups of people traveling with the caravan had already made it to the U.S.-Mexico border earlier this week, with organizers telling Newsweek some had been turned away by border officials after trying to request asylum.
Trump said on Monday morning that he had directed Secretary of Homeland Security Kirstjen Nielsen to block as many as 50 asylum seekers from entering the country, calling the caravan a "disgrace."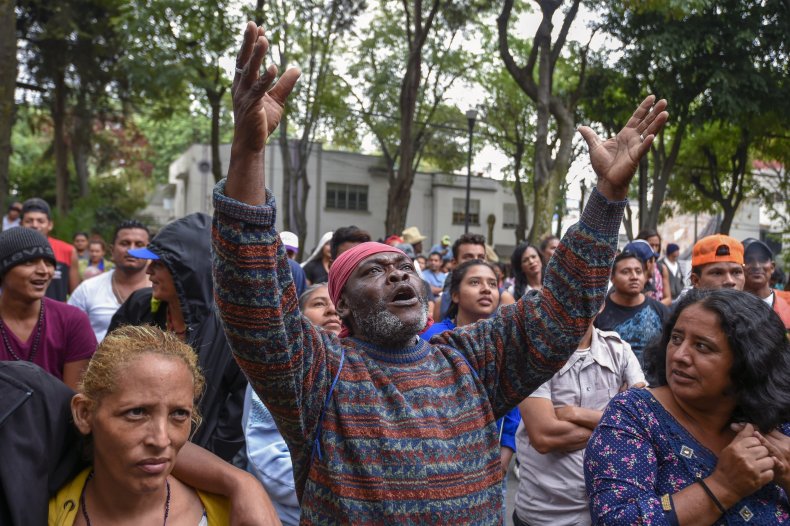 The caravan began its journey towards the U.S. border from southern Mexico in late March, with the group growing to include as many as 1,500 people at one point, before its numbers started to dwindle after Trump vowed to take action and pushed Mexican migration authorities to crack down on the group.
Despite gaining international attention this year, the caravan is something that happens annually as a symbolic event to raise awareness around the plight of asylum seekers.
Read more: Trump Brands Migrant Caravan a 'Disgrace,' Orders Homeland Security Officials to Turn Away Immigrants at Border
In previous years, participants have for the most part held marches in Mexico, rather than making the journey all the way to the U.S. border. This year, however, a large number were desperate to make it to the U.S., with many asylum seekers coming from Honduras in a bid to flee the instability and violence that has followed the contested reelection of President Juan Orlando Hernández.
While members of the caravan have arrived in Tijuana, they are not expected to make it to the U.S.-Mexico border for several days, according to CNN.
It is expected that at least some asylum seekers will arrive at the border on Sunday, with local communities on the U.S. side of the border organizing to meet at Border Field State Mark early that morning.
"We will have a friendly encounter at the border and exchange welcoming words of solidarity and hope," community organizers have said on a Facebook event page called "Welcome the Refugee Caravan."
Read more: Migrant Caravan Asylum Seekers Being 'Illegally' Turned Away at Border, Rights Group Say
Community members have been asked to wear white and will be joined by people who have been marching from Los Angeles to the U.S.-Mexico border since last Sunday, in a show of solidarity with those traveling with the caravan.
The Seed Project, an advocacy group fighting for permanent protection of undocumented youth in the U.S., said on its Facebook event page that it launched the 7-Day March Without Borders event "in the name of refugees who suffer repression and violence in their own country and for their human right to seek asylum in the country of their choice."
Immigration advocacy groups have hit out at the Trump administration's response to the caravan, calling on the U.S. government to uphold due process.
"It is not illegal to seek asylum and due process should be upheld," Latin America Working Group Senior Associate Daniella Burgi-Palomino said in a statement earlier this month.
She added that the Mexican government should not prevent asylum seekers from approaching the U.S. border and "should not send people back to their death, and instead uphold its responsibility under international and national law to screen and recognize people's concerns."
"Doing otherwise will only leave families, individuals, and children between a wall and a dangerous place and fuel the vicious cycle of displacement and migration," Burgi-Palomino said.
Pueblo Sin Fronteras and The Seed Project have not responded to a request for comment.
This article has been updated with more information on asylum seekers arriving in Tijuana.