The U.S. military will have an actual force of up to 14,000 ready to intervene at the southern border with Mexico, including an additional 7,000 planned deployment in reserves on round-the-clock standby.
The Pentagon announced Monday that it will send up to 5,200 troops to the border ahead of the anticipated arrival of a caravan of Central American migrants that President Donald Trump has warned would not be able to enter the country. These troops, which "are in fact deploying with weapons" will join up to 2,000 National Guards already at the border for a combined force of about 7,200—or about the same amount of U.S. soldiers involved in the battle against the Islamic State militant group (ISIS) in Iraq and Syria.
In addition, a U.S. Defense Department official with knowledge of the deployment—known officially as Operation Faithful Patriot—told Newsweek that "the units deployed right now are of actual strength between 5,000 and 7,000. With another 7,000 on standby on 24-hour notice."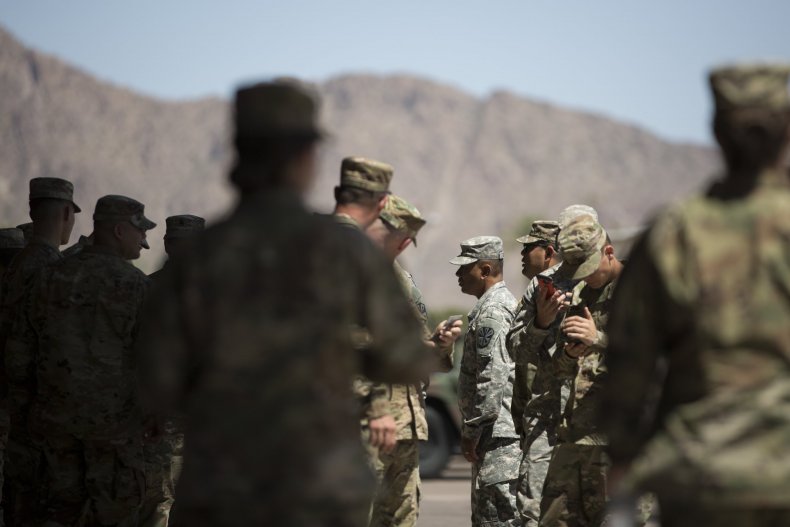 Newsweek reviewed the operational documents for Operation Faithful Patriot. The documents are marked, "UNCLASSIFIED, FOR OFFICIAL USE ONLY, LES," meaning, law enforcement sensitive. Defense Secretary James Mattis and combatant commanders have authorized U.S. troops heading to the border to carry live ammunition, according to the documents obtained by Newsweek.
A detailed list of reserve forces included basic infantry aviation units as well as military dogs and linguistics personnel.
On October 13, a group of asylum seekers departed the city of San Pedro Sula, Honduras and has since reached Tapanatepec in Oaxaca, Mexico. From a peak of about 7,000 people last week, the estimated number of migrants was more recently placed at 3,500. In addition, however, at least two other smaller caravans from Honduras and El Salvador have set out to join the main group.
El Salvador, Guatemala and Honduras—sometimes dubbed the Northern Triangle—have been plagued by high homicide rates and difficult economic conditions. In the 1980s and beyond, the U.S. military used Honduras as a base to support anti-communist actions in neighboring El Salvador, Guatemala and Nicaragua, in part fueling civil wars that destabilized Central America.
President Donald Trump, however, has vowed to take a hard-line stance against undocumented immigration and has claimed that "many gang members" and "unknown Middle Easterners" were among the asylum seekers, though he has not provided evidence for this claim. He has warned the incoming group that the "military is waiting" should they arrive at the border.