U.S. Will Have About as Many Troops on Mexico Border as It Does in Iraq and Syria, Reports Say
The United States will reportedly deploy about as much military personnel to the border with Mexico as it has to Iraq and Syria as part of President Donald Trump's plan to block the arrival of a migrant caravan.
The military has planned to send up to 5,200 troops to the southwestern border region, adding to a force of about 2,000 National Guards mobilized earlier this year by the Trump administration, The Wall Street Journal reported Monday, citing unnamed U.S. officials. While a Pentagon spokesperson was quoted as calling any figures "premature," the number was later carried by Fox News, USA Today and The Washington Post, which also cited U.S. officials.
If the figures of the scaled-up military response known as "Operation Faithful Patriot" prove accurate, they would roughly match the amount of U.S. personnel involved in the battle against the Islamic State militant group (ISIS) in Iraq—about 5,000—and in Syria—about 2,000.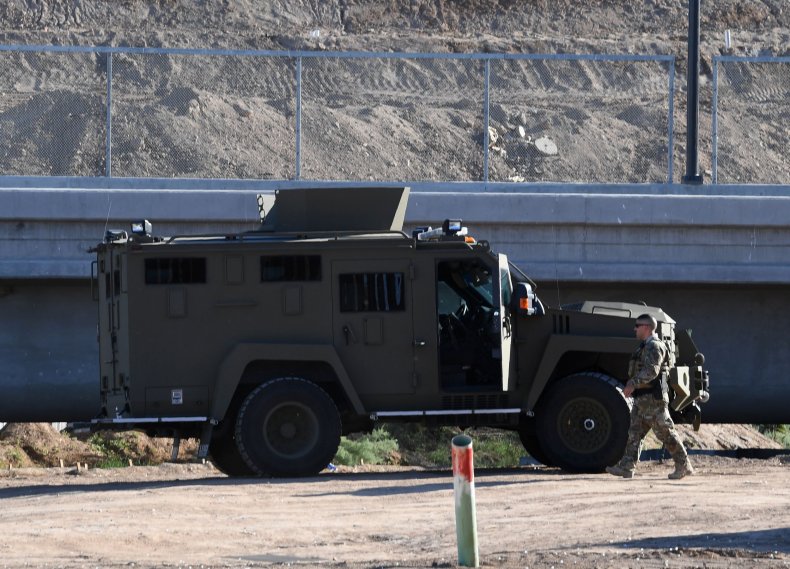 The presence of some 7,000 personnel—which included a substantial increase from the original 800-1,000 extra troops initially reported—would come as a caravan of an estimated 3,000-4,000 people continues its journey from Central America to seek refuge in the U.S. Trump has referred to the caravan as an "invasion" and warned that the group included "many gang members" and "unknown Middle Easterners" without providing evidence for those claims.
Following an initial group of asylum seekers that set out from San Pedro Sula, Honduras, on October 13, at least two more caravans have emerged in defiance of Trump's vow to shut down any attempts to enter the country outside of the legal process.
A 26-year-old Honduran man was killed amid clashes with authorities as a second caravan broke through barriers on the Guatemala-Mexico border, while a third caravan of Salvadorans also set out to meet the first group, which on Sunday reached Tapanatepec in Oaxaca, Mexico, about 1,000 miles from the border crossing in McAllen, Texas. In April, a previous caravan took an even longer route by heading to the Tijuana-San Diego border crossing.
While El Salvador, Guatemala and Honduras are not experiencing any major conflicts, the so-called "Northern Triangle" is plagued by rising homicide rates and widespread poverty following decades of civil wars fueled in part by U.S.-backed efforts to destroy left-wing movements in Central America. In 2009, the U.S. failed to recognize the military's removal of Honduran President Manuel Zelaya as a coup, essentially extending de facto support for the move, which led to a deterioration of security conditions.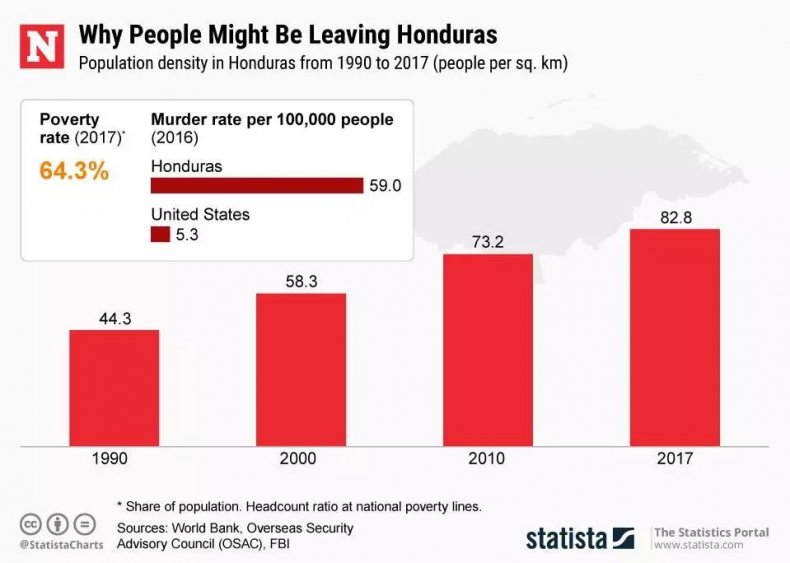 Trump came to office vowing to take a hard line against undocumented immigration. Though only the first section of his planned southern border wall has been unveiled, he has said the "the U.S. military will be awaiting" any caravans that attempt to enter the U.S. Trump has also threatened to withdraw foreign aid to El Salvador, Guatemala and Honduras and has pushed Mexico to take harsher measures to prevent the movement of asylum seekers.
On Friday, Department of Homeland Security Secretary Kirstjen Nielsen said that officials were still in talks to determine the "rules of engagement" should the caravan reach the U.S. border, but told reporters that "we do not have any intention right now to shoot at people" should confrontations turn violent.