Mikayla Nogueira Meets Rihanna, Blows up Tik Tok
TikToker, makeup artist and influencer Mikayla Nogueira went viral this week for meeting Rihanna—and though the two talked about her new Fenty Beauty launch, a surprise question about her back catalogue took the internet by storm.
In two TikToks, Nogueira shares her excitement at meeting the singer.
"I'm not even s****ing you, I'm literally about to go meet Rihanna. Like right now," Nogueira opens the video. "I never thought in my life I would meet anyone famous, let alone f***ing Rihanna. I'm going to take you with me, but I'm really nervous. Actually, I feel like gonna freeze in front of her and not know what to say."
From there, the video cuts to a brief montage of Rihanna at the red carpet before her Fenty Beauty launch at the Los Angeles Ulta Beauty. Next is Nogueira's brief interview with the star.
"I'm chilling with Rihanna, and I have some questions for her about Fenty Beauty. What is your favorite Fenty Beauty product?" she asks.
"Gloss Bomb OG," Rihanna confidently replied, referring to her brand's popular lip luminizer and plumper. The original shade was "Fenty Glow," described by Allure magazine as a "shimmery mauve shade."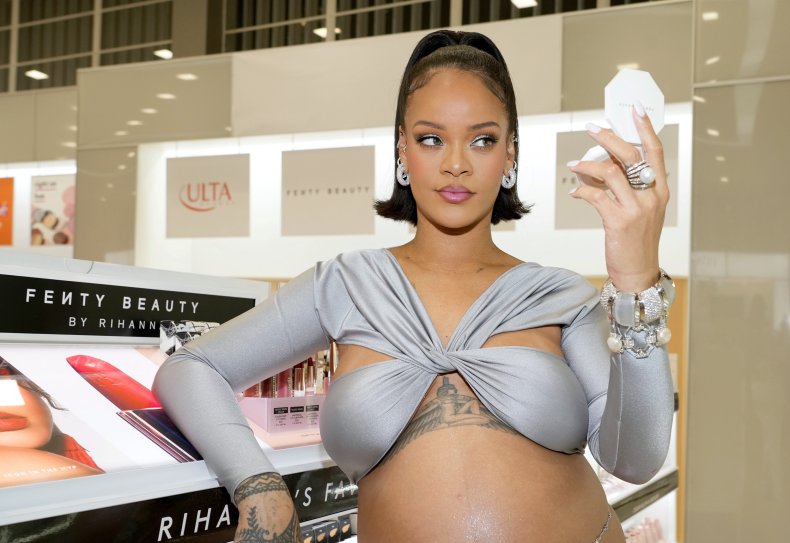 "What is the most underrated Fenty beauty product?" Nogueira asks next.
"Match Stix contour sticks," Rihanna says, again, nearly instantly.
When Nogueira asks what fans can expect from Fenty this year, Rihanna promised "tons of surprises" that she couldn't talk about yet.
But it was a non-Fenty Beauty question that really went viral—while the first video only had 7.7 million views, the follow-up has 39.7 million. Not just that, it's the question that takes Rihanna completely off-guard.
"The people wanna know when the album is, but I have a better question: What song are you most proud of that you've come out with?" Nogueira asks.
"Oh, s***," Rihanna says, trying to think of her answer.
"My favorite is 'Unfaithful,'" Nogueira offers.
"Most proud of?" Rihanna exclaims, laughing.
"No, that's my favorite!" she replies laughing.
But after the bit of jocularity, Rihanna spills the tea.
"I love 'Needed Me," Rihanna says, pointing to her 2016 hit from the Anti album.
"I also love a good 'Diamonds,' you know," Rihanna added, showing off her opulent diamond rings. "Diamonds!"
While "Needed Me" peaked at No. 7 on the Billboard Hot 100, and was Rihanna's longest-charting hit, "Diamonds" was the bigger success. That song, taken from 2012's Unapologetic album, was a No. 1 hit worldwide, and Rihanna's 12th No. 1 in the United States. It was certified sextuple platinum, selling over 3.5 million digital copies in the U.S. alone.
While the inside scoop on Rihanna's top tunes was interesting, many of the comments were about the height difference between the two.
"How did I never realize Rihanna is so tall?" @amber.chiapetto wrote.
"The size difference is amazing lol" @trekkie_doll wrote.
Though, it turns out, it's not that Rihanna is particularly tall, but that Nogueira is short. In a reply to @jimenahuertaa's comment "Shes so tall omg," Nogueira replies "I'm 4'11 [smiley emoji]." Rihanna, on the other hand, is 5'8", according to Google.
Aside from the height difference, another popular topic was Rihanna's long-delayed new album. While Rihanna made eight studio albums between 2005 and 2016, 2016's Anti is her last album to date.
"She laughed too hard at the album comment [smiling emoji with a tear] that was a 'y'all never getting one' laugh," @muzziemua wrote.
"Her laughing because she knows she'll be dropping baby formula before the next album," @__kingmvchael__ added.
Newsweek reached out to Nogueira's representatives for comment.