Mike Bloomberg Tied For Third Place With Elizabeth Warren, Joe Biden and Bernie Sanders In Lead, Poll Says
A new Democratic presidential primary poll shows former New York City Mayor Michael Bloomberg more than doubling his percentage to reach a tie for third place with Senator Elizabeth Warren.
The number of voters favoring the former mayor jumped from 5 percent to 11 percent, according to a Hill-HarrisX national poll released Friday. The total elevates Bloomberg into a third-place tie with Warren, one of his sharpest critics since he entered the race on November 24.
Former Vice President Joe Biden maintains his lead in the poll with 28 percent, a one percent drop since the last poll taken in mid-December. Senator Bernie Sanders took second place with 16 percent, a three point gain from the last poll.
Warren's numbers have been declining in multiple recent polls. The new poll indicates that the Massachusetts senator is now in a dead heat with the billionaire Bloomberg, who she has repeatedly accused of attempting to "buy" his way into the nomination.
"I'm so concerned about Michael Bloomberg jumping into this race," said Warren December 4 on her opponent's network, Bloomberg TV. "I don't believe that elections ought to be for sale."
Bloomberg has eschewed traditional fundraising methods in favor of financing the campaign himself. The decision disqualified him from being able to participate in Democratic debates due to rules that require a certain number of campaign donors. Maintaining high enough polling numbers is also required to participate in the debates. He failed to reach that threshold before the December 19 debate.
The new poll was taken before former Obama administration housing secretary Julian Castro dropped out of contention on Thursday. Those who favored Castro were counted in the poll at 2 percent.
Polling accuracy is often open to debate and the Hill-HarrisX poll states that it has a margin of error of 3.1 percent.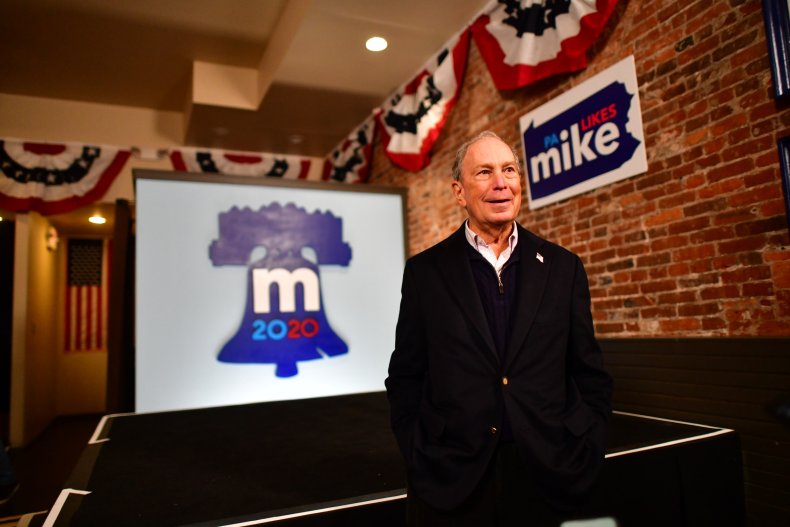 The survey questioned 1004 random respondents from around the country on December 27 and 28. The 432 people who indicated that they identify as Democrats or independents that lean Democratic were asked their preference for the nomination.
A deeper dive into the poll's numbers reveals some notable demographic differences in people who preferred Bloomberg. Similar percentages of Democratic and Democratic-leaning independent voters wanted Bloomberg to be the nominee, at 11 percent and 12 percent, respectively. However, the former mayor's numbers were more sharply divided when accounting for income and age.
While 16 percent of those who earn more than $75,000 per year said they favored Bloomberg, the figure was halved to 8 percent among people earning less than $75,000. Potential voters also skewed older. A relatively high 21 percent of those aged 65 or older preferred him, but only 6 percent of 18-34 year olds indicated they wanted Bloomberg to get the nomination.