Mike Huckabee Says Paul Manafort's Sentence Nothing to Do With Russia Collusion: Convictions from 'Shady Lobbying Businesses'
The sentencing of Paul Manafort shows just how much the probe into claims of Russian collusion with the Donald Trump's presidential campaign during has drawn a blank, former Arkansas Governor Mike Huckabee said.
In an opinion piece for FoxNews.com, Huckabee wrote that the media is using the conviction of Trump's former campaign manager as proof of the president's guilt as well as justification for the investigation by special counsel Robert Mueller.
Huckabee wrote that "it's near-universally assumed" that Mueller's final report will not come up with any evidence of collusion and those that believe the Kremlin interfered in the U.S. presidential election "have to cling to what they do have—Manafort."
"The problem for them is that Manafort's convictions illustrate just how empty Mueller's net has come up after more than 21 months in this putrid fishing hole," he wrote.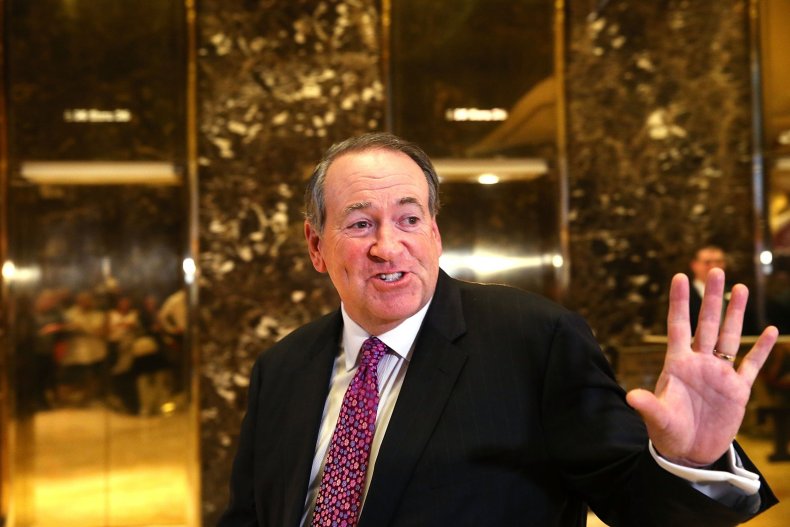 "The fake collusion narrative is simply too important to the media. They've invested too much of their capital and credibility, so they have no choice but to present Manafort's crimes as evidence not only of Donald Trump's supposed culpability but of Mueller's efficacy," Huckabee continued.
In February, Manafort's lawyers inadvertently revealed in a court filing that he had shared polling data about the 2016 Trump campaign with Konstantin Kilimnik, an aide alleged to have ties to Russian intelligence.
The president's critics refer to how Manafort was at a June 2016 Trump Tower meeting between campaign staff and a Kremlin-linked lawyer who had promised "dirt" on presidential candidate Hillary Clinton.
However Manafort has not been charged with anything related to the Mueller investigation with U.S. District Judge T.S. Ellis telling the court that "he is not before the court for anything having to do with colluding with the Russian government."
Huckabee said that Manafort's convictions are linked only to areas outside the Mueller investigation, saying his guilt involved tax fraud, bank fraud and failure to report a foreign bank account.
"Manafort, plain and simple, is going to prison for things completely outside the original scope of Mueller's investigation. All of his convictions stem from the shady lobbying businesses he ran with his associate Rick Gates long before joining the Trump campaign in 2016," Huckabee wrote.
"For their part, the president's detractors on Capitol Hill, particularly Democratic committee chairmen Jerry Nadler and Adam Schiff, need the artificial stench of the Manafort sentencing to hang in the air as long as possible so that they can prepare to launch the second wave of their vile, politically motivated attack," he added.
Manafort will be sentenced next Wednesday in another case brought by the special counsel, after he pleaded guilty last September to two felony counts linked to his illegal lobbying, the BBC reported.
Trump has not ruled out granting Manafort a presidential pardon, saying in November, "I wouldn't take it off the table."