Mike Lindell Cited by Ex-General Worried About Coup: 'Stop Listening to the Pillow Guy'
Retired Brigadier General Steven M. Anderson urged Donald Trump supporters to stop listening to baseless claims about 2020 presidential election fraud and suggested measures to avoid a potential insurrection in 2024.
The former general spoke with CNN host Pamela Brown about solutions that would address the "extremism that has gone on within the military." He also warned against listening to conspiracists among many Republicans promoting baseless claims of election fraud, including MyPillow CEO Mike Lindell.
"We need to do what we can do now to identify those people [within the military], get them out of our ranks, and train the rest of the force on civics one on one about how our country is supposed to work, how elections work, stop listening to the pillow guy [Lindell] and start learning about our country and how it's actually supposed to run," Anderson said during his recent interview with CNN.
"There is a threat within [the military]. We've got some people that just haven't been educated. They haven't been found out, and they've grown in power through perhaps inaction on the parts of some of our key leaders," he added.
The retired general, who said that he was a conservative Republican his entire life, pointed out that some of the rioters who attacked the Capitol on January 6 had a military background.
"We all saw the pictures of the guys with the zip ties and the helmets and marching formations into that throng," he said, adding that actions need to be taken now to avoid the "eventuality in 2024 that Trump will try to do the same things he did in 2020."
Anderson was one of the retired generals who wrote an op-ed for The Washington Post on December 17, warning of a potential insurrection if sections of the military don't accept the 2024 president election results.
"We just tried to write an article that highlights our view that democracy is at risk, we love our country, and we need to take actions now to mitigate that risk," he said during the CNN interview.
In the op-ed, Anderson and retired Major Generals Paul D. Eaton and Antonio M. Taguba expressed their concerns about a "total breakdown of the chain of command along partisan lines" and the risk of a "shadow government."
"In short: We are chilled to our bones at the thought of a coup succeeding next time," they wrote.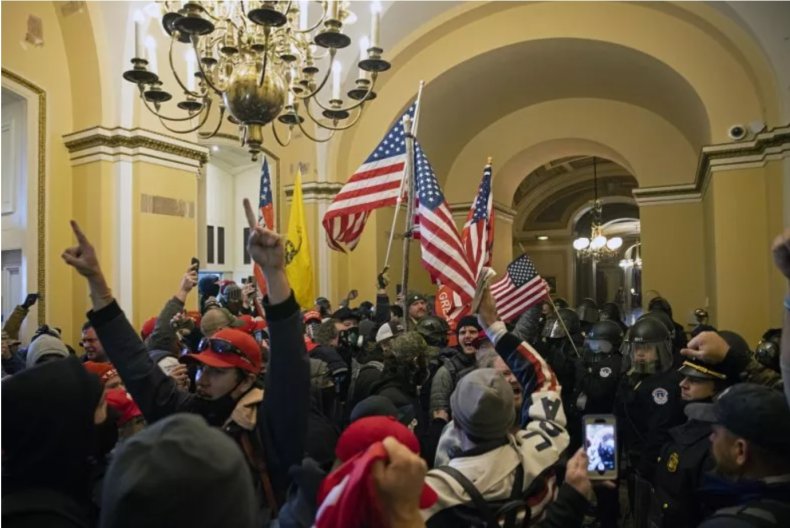 Earlier this week, Eaton made suggestions similar to Anderson's in an interview with NPR when he expressed his concerns about the "124 retired generals and admirals" who signed a letter contesting the 2020 election.
"I had a conversation with somebody about my age and we were talking about civics lessons, liberal arts education, and the development of the philosophical underpinnings of the U.S. Constitution," he said of potential measures that could be applied in the military.
"The fact that we were caught completely unprepared—militarily, and from a policing function—on January 6 is incomprehensible to me. Civilian control of the military is sacrosanct in the U.S. and that is a position that we need to reinforce," he added.
Newsweek contacted Trump's office for comments and will update this story with any response.