Mike Lindell Claims He Has Election Fraud Evidence To Jail Millions 'For Life'
MyPillow CEO Mike Lindell is confident that he'll be successful in proving the election was fraudulent and recently claimed he has "enough evidence" to put hundreds of millions of people in jail.
Lindell has been a leading voice in former President Donald Trump's fight to render the 2020 election fraudulent but has failed to prove his case. He's long been touting a looming Supreme Court case filing, pushing his own self-imposed deadlines, and is now advising people to watch what happens over the next seven months.
Speaking with Gina Loudon, host of Dr. Gina Primetime on Real America's Voice on Tuesday, Lindell said he's "more optimistic" today than he was previously.
"We already have all the pieces of the puzzle," Lindell said. "When you talk about evidence, we have enough evidence to put everybody in prison for life –300 some million people."
It's unclear who Lindell was referencing when he mentioned 300 million people (according to the U.S. Census Bureau, the current population of the U.S. stands at just over 332 million). It's also unclear what evidence he has that could prove a criminal act occurred or what crime he believes he can prove.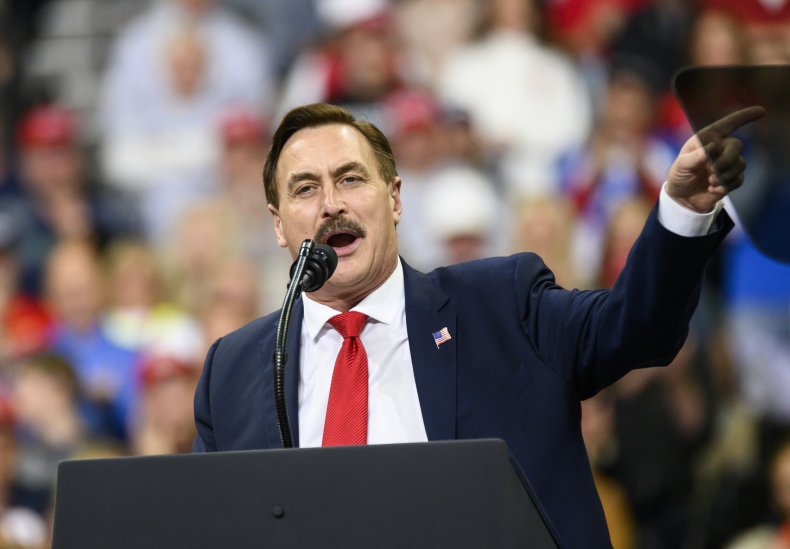 Newsweek reached out to Mike Lindell for clarification but did not receive a response in time for publication.
Lindell has spent more than $25 million in his fight to prove the election was rife with fraud. He told Steve Bannon, a former White House senior advisor, that it's the best money he's ever spent and that he will "borrow more" if necessary.
"I'll mortgage everything I have because we're starting to see so many fruits of what we've been doing," Lindell told Bannon on his War Room podcast. "None of it's in vain. It's all going to come to a beautiful place. Not just an election cleaned up but so many other things we've learned."
The MyPillow CEO maintains that fixing the 2020 presidential election is the most important thing he's working on and nothing else will matter if it isn't solved. He told Loudon if machines or any electronics are used in the 2022 election, the "country is gone forever."
Lindell claimed that the next seven months will be used to get rid of voting machines and filing the Supreme Court case.
Over time, Lindell's goal seems to have shifted with regard to the 2020 election. For the majority of 2021, he stood by the belief that Trump would be reinstated but acknowledged in December that his Supreme Court battle wouldn't overturn the election. Instead, he said it would push "it to the states."
Now, it appears that Lindell is aiming to prevent voting machines from being used in future elections. He's not alone in pushing for a return to paper ballots and Republicans in at least three states–Utah, New Hampshire and Texas–want to ban ballot-scanning machines.
Daniel Rogers, chair of the Republican Party told CNN that he trusts people but not electronics. He added that he has computers and "they don't always do what we want." However, critics argue that returning to paper ballots would delay the process of counting votes and could open up elections to having more errors.