Mike Lindell Falsely Claims Trump Got 80 Million Votes, Was on Course to Win All Swing States
My Pillow CEO Michael Lindell has falsely claimed that former President Donald Trump won the 2020 election with 80 million votes. Lindell also claimed that Trump would have won six key battleground states if election fraudsters hadn't rigged the vote against him.
Lindell made his claims on Monday evening at an in-person, indoor rally in the Corn Palace, an arena in Mitchell, South Dakota. During the event, Lindell claimed that on Election Night, people rigged voting machines against Trump. However, the riggers underestimated the number of votes Trump would win, Lindell claimed.
"They estimated Donald Trump at about 68 million [votes], okay? Well, all of you and this whole country voted. He actually got 80 million, everybody. But he was going to win," Lindell claimed. "He was going to win in spite of the machines and all the other, I call it, the 'organic fraud.'"
Trump got 74,216,154 votes in the 2020 election.
The "organic fraud" as Lindell called it, allegedly included ballots cast by dead people, non-residents and minors as well as "fake ballots." Lindell then falsely claimed that critical battleground states delayed their final vote counts on Election Night when they realized Trump had a lead.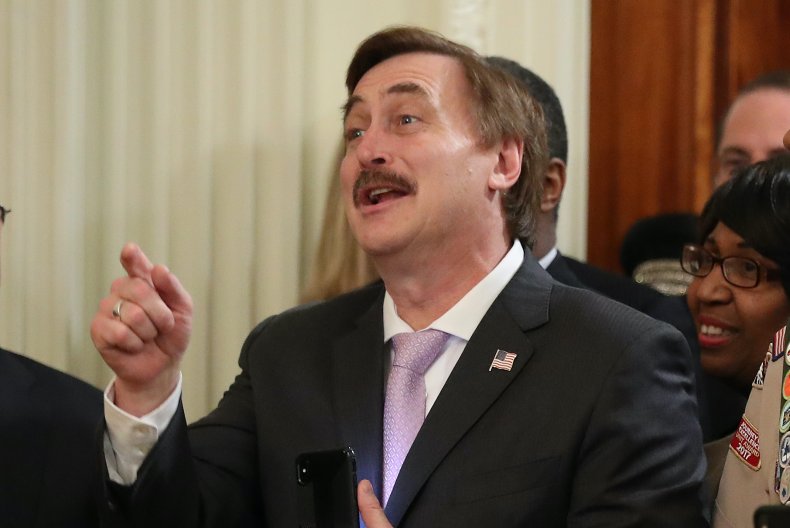 "When they stopped everything," Lindell said, "they did that because Donald Trump would have won all six of these [battleground] states, so they had to stop it in his tracks. They misjudged him, okay?"
The six states Lindell referenced were presumably Arizona, Georgia, Michigan, Nevada, Pennsylvania and Wisconsin. All six states certified their final vote counts by November 30, 2020. Trump and Republican party officials filed lawsuits alleging fraud in those and other key states that Biden won. Almost all of the lawsuits were dismissed due to a lack of evidence.
Trump lost the election by over seven million popular votes and 74 electoral votes. He has claimed that election fraud only occurred in the states that he lost.
States' final ballot counts and certifications were delayed past Election Night, in part, because officials had to count a large number of mail-in ballots. A greater number of voters used mail-in ballots during the 2020 election to avoid voting in-person during the ongoing COVID-19 pandemic.
Before the election, Trump repeatedly said that only widespread voter fraud could cause him to lose. Lindell and Trump have continued to claim that it occurred. Lindell is facing a $1.3 billion defamation lawsuit from Dominion Voting Systems for allegedly claiming that the company's machines assisted in the alleged fraud.
Lindell sued the company for $1.6 billion, claiming that the company is a "government actor" that violated his Constitutional rights to free speech and due process.
Lindell's rally on Monday was an event intended to mark the launch of Frank Speech, a website that Lindell has long touted as a "free speech" social media network. The site currently has no social media functionality and mostly features embedded videos of Lindell making baseless election fraud claims.
Attendees of Lindell's rally received a free copy of his autobiography, What Are the Odds? From Crack Addict to CEO." Lindell's rally was scheduled between a university graduation ceremony and an event hosted by the American Corn Hole Association.
Newsweek contacted Lindell for comment.