'Defeated' Mike Lindell Ends 96-hour TV Marathon After Failing to Gain Support
Mike Lindell ended a 96-hour online marathon entitled, Thanks-a-thon, after failing to gain strong support for his Supreme Court case.
The MyPillow CEO has long been a fervent supporter of former President Donald Trump and has continued to make baseless claims that the 2020 election was rigged in favour of President Joe Biden and that he would file a lawsuit.
Despite providing no evidence for widespread election fraud, Lindell claimed he would have the support of multiple states' attorneys in general as he hoped to take this issue to the Supreme Court.
The 60-year-old claimed he would have this support by Thanksgiving, a deadline he set himself, but he did not receive it and the lawsuit was not filed.
By the end of the marathon, Mike Lindell appeared defeated, according to viewers, and in his final words asked the people to take action.
The brief clip has been posted to Twitter and viewed over 150,000 times with many viewers remarking how tired and defeated Lindell appears.
The clip, shared by attorney Ron Filipkowski, was posted to Twitter with the caption: "As Mike Lindell concludes his 96-hour marathon to convince America to rise up and demand the Supreme Court accept his case. He sounds pretty damn beaten down and defeated. Poor guy."
He said: "If you have a voice you have got to speak out, we are going to be that voice."
Lindell then started to say he would be back before trailing off and looking down away from the camera. He then stopped speaking as he tapped a pen on the desk before continuing.
He said: "Everybody watching, it depends on all of you now. We have got the tools and we are going to be back and talk about the pathway forward."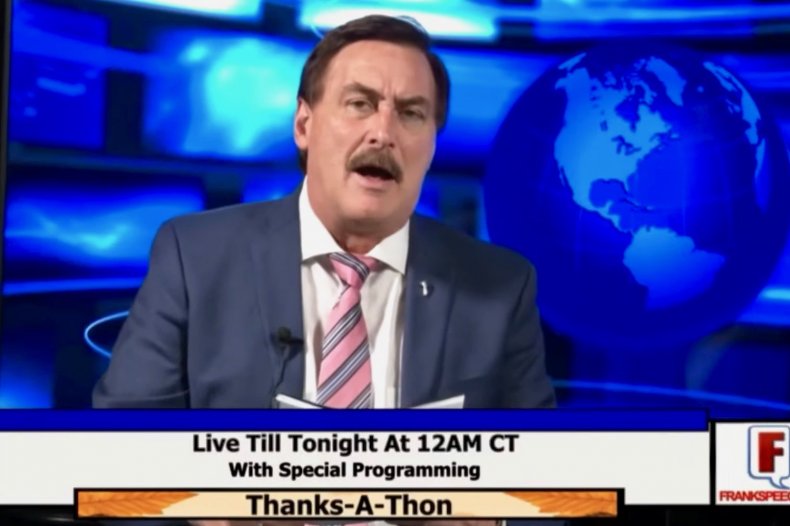 During the stream, Newsweek also reported on the low number of viewers despite the claim by Lindell that millions were watching. On the Youtube stream of the event, only a dozen people were watching the event.
Posted on Lindell's Youtube channel, Freedom Patriot Network, the stream ended with 9,164 views.
The exact viewing figures are unclear as the event was also being streamed on Lindell's own platforms, Frank Speech, and Lindell TV where viewing figures are not shared publicly.
On Wednesday, Lindell held a protest outside the Fox News headquarters in Manhattan in the hopes the network would start covering his election fraud case. Only a handful of protesters joined the pillow salesman in the rally, where they could be seen on camera chanting ""Shame on Fox, shame on Fox."
Newsweek has contacted Lindell for comment.