Mike Lindell Says He Had Dream About Trump One Year Before Meeting Him, Credits God
MyPillow CEO Mike Lindell on Saturday said that he had a dream about Donald Trump in 2015, one year before the two met for the first time.
During his address at the conservative Freedom Conference held in Broken Arrow, Oklahoma, Lindell told the crowd that he prophesied meeting the ex-president in a dream and credited God for the direction his life has taken since.
"In 2015, I had a dream in May that I would be in a room with Donald Trump. And I had never met Donald Trump. And I'm going, 'Why would I?'" he said. "I drew it out for my friends, I could see the picture vividly. I said, 'Why would I be meeting Donald Trump.'"
"A month later he announced he was running for president, right. But then things started happening in my life that was a deviation. It's actually all the Lord because it was impossible that things started to happen," Lindell added.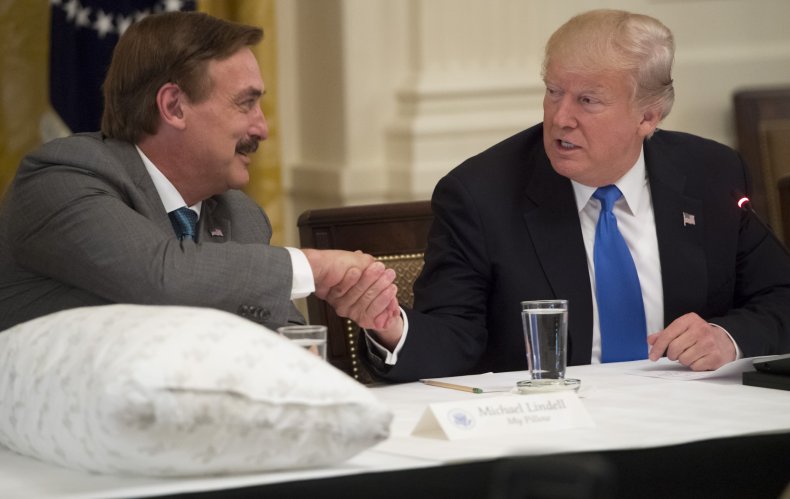 Trump invited the MyPillow businessman to Trump Tower on August 15, 2016, where the two first met. After Trump won the presidential election in 2016, Lindell called him "the most amazing president this country has ever seen in history."
Since then, Lindell has been an avid and vocal supporter of the ex-Republican president and his unverified claim that widespread voter fraud caused his 2020 election loss to President Joe Biden.
Thousands of conservatives will attend the Freedom Conference this weekend. During the event, guests speakers are expected to discuss the federal government's alleged overreach in depriving Americans of freedoms during the pandemic.
Lindell also told the crowd that God saved his business from collapse in 2014.
"I always wear my cross on TV and it got to be the summer of 2014 and MyPillow was within two days of going under. I met this girl called Kendra, and she had something I didn't have, she had this relationship with God. And I'm going, 'I believe in God, I believe in God.' She says, 'We need to pray for your company,'" he said. "We prayed for things to change and they did change in a huge way. We got everything straightened out."
On Monday, Lindell announced that he's launching "MyStore," an online store that will feature patriotic entrepreneurs and rival Amazon, the biggest global internet-based store.
On Thursday night, fans of the MyPillow businessman were confused on the chat app Telegram when his new social media network, Frank, failed to launch on time. Later, Frank's website was updated to say that the site will launch on Monday.
Newsweek reached out to Mike Lindell, sent via the official MyPillow press email, for comment.