Mike Lindell Served With Defamation Lawsuit by Ex-Dominion Staffer in Video
A clip of MyPillow CEO and conspiracy theorist Mike Lindell being served with another defamation lawsuit has gone viral.
Lindell, who has been accused of regularly pushing misinformation regarding the 2020 Presidential Election, is being sued by Eric Coomer, a former Dominion Voting Systems employee, who says Lindell defiled his character with his false election fraud claims.
Lindell was served the legal notice just before he was due to speak at an "election truth" rally outside the Colorado Capitol on Tuesday.
A clip of Lindell being served was posted on Twitter by 9News journalist Marshall Zelinger, where it has since been viewed more than 275,000 times.
In his suit, Coomer, a former director of product strategy and security for Dominion Voting Systems, alleges that Lindell had "irreparably tarnished" his reputation while spreading falsehoods about the 2020 election.
Coomer became the target of right-wing harassment after Lindell and others linked him to the false claims that Dominion machines were used to rig the ballots in favor of Joe Biden over Donald Trump.
Coomer also alleges that Lindell has continued to push the widely dismissed election fraud claims 16 months after the results were declared in order to make money.
"Despite Defendants' baseless claims of election fraud being disproven by credible authorities across political parties, they persist in their campaign to profit from the 'Big Lie' by destroying the lives of private individuals like Dr. Coomer," the suit states.
"They have not acknowledged the harm they have caused, nor have they retracted any of their false statements."
Coomer states Lindell accused him of being "a traitor to the United States" after aligning himself with Colorado conspiracy theorist, Joseph Oltmann.
Coomer said Oltmann was at the forefront of a conspiracy that someone identified only as "Eric, the Dominion guy" vowed to rig the election against Trump during a supposed "Antifa conference call."
Oltmann said the apparent call took place months before the election, but he only took action on the alleged plot after the election was called for Biden, the suit notes.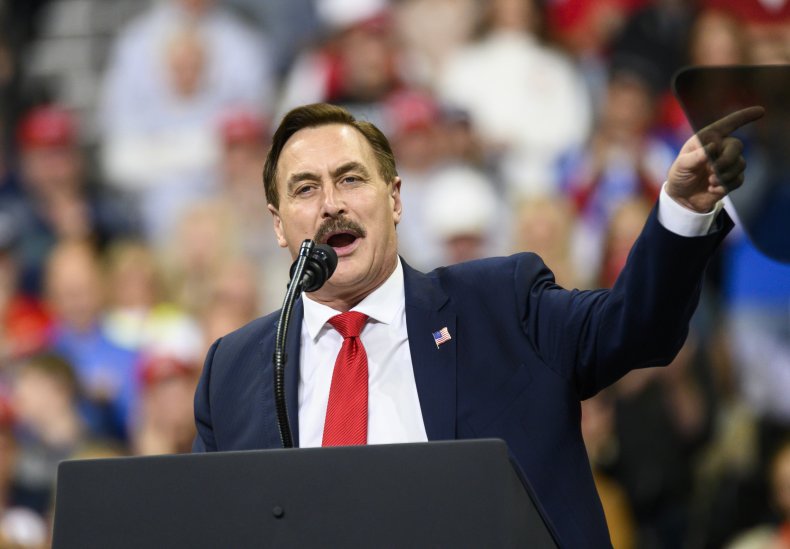 Cooper's lawyers claim that Oltmann falsely identified him as "Eric, the Dominion guy" by simply Googling "Eric Dominion Denver Colorado" and then fabricated evidence to suggest that this search took place in late September 2020.
"Oltmann's story is inherently implausible. Lindell, however, has a long history of publishing and amplifying any story he hears that aligns with his preconceived narrative that the election was rigged, and Oltmann's baseless lies about Dr. Coomer soon made their way into Lindell's rotation," the suit adds.
"[Lindell] has claimed, without evidence, that Dr. Coomer committed treason and that he should turn himself into the authorities. Defendants have published these numerous false statements, defamatory interviews, and other dishonest content maligning Dr. Coomer on the website frankspeech.com, often alongside a sales pitch for products from MyPillow."
The suit also states Lindell made Cooper the centerpiece of his Lindell's three-day "Cyber Symposium" in August 2021, which failed to disclose any real evidence of voter fraud despite the CEO's insistence it would do.
Lindell is already facing a $1.3 billion lawsuit brought by Dominion Voting Systems over his false claims its machines manipulated votes to rig the 2020 Election.
Lindell has been contacted for comment.