Mike Lindell Stands by Prediction Donald Trump Will Be Back in White House in August
Mike Lindell, the CEO of MyPillow and a staunch supporter of Donald Trump, isn't backing down from his belief that the former president will return to the White House before the next presidential election.
Lindell has been one of the most vocal supporters of the baseless theory that the election was stolen from Trump and that President Joe Biden wasn't rightfully elected. Courts in multiple states have determined the Trump campaign didn't present sufficient evidence of voter fraud last November, but Lindell has maintained for more than a month that the campaign now has enough evidence to overturn the election.
"I wouldn't be out there doing this if it wasn't 100 percent real," Lindell told Steve Bannon on his War Room: Pandemic podcast. "We have three paths to pull down this election.... I'm still sticking to August of this year. That's my opinion."
This is not the first time Lindell has floated an August deadline for Trump's return to the office. In March, he told Bannon he would take evidence he allegedly obtained after January 9 before the Supreme Court, which previously declined to take up Trump's election lawsuits. Once he presents evidence to the court that China interfered in the election, Lindell said, the race's results were going to go "bye-bye."
Bannon, who served as the White House's chief strategist in the early months of Trump's administration, has remained loyal to the former president. He didn't sign on to Lindell's belief that Trump would return to the Oval Office in three months, but he supports a Trump run in 2024.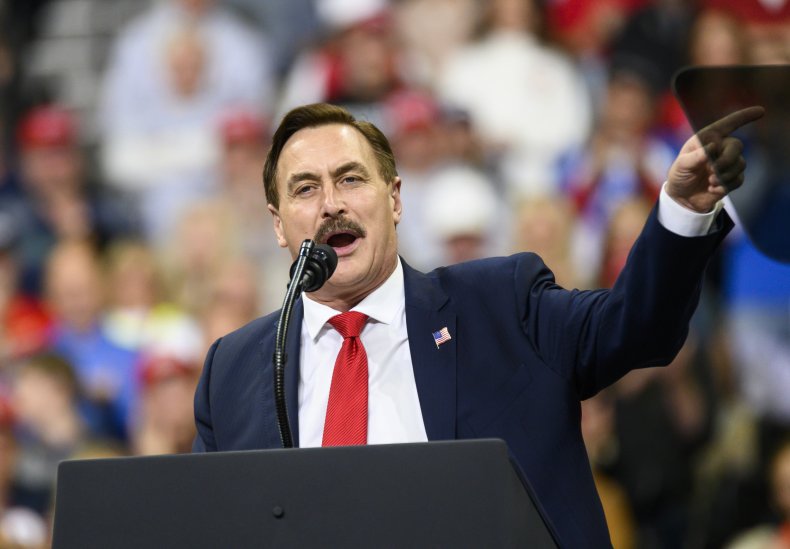 Despite losing the election, Trump still commands a strong following among Republicans, and polls indicate he could make a serious bid for the White House if he were to run. He hasn't made a final decision but has increasingly stoked the possibility and recently said he was "very seriously" considering a return to the campaign trail.
The former president maintains that he actually won the election, pointing to turnout for his rallies and a record high number of votes. His claims about his victory have not been substantiated, and even members of his own administration have publicly disagreed with him.
On Wednesday, Lindell, who was sued by Dominion Voting Systems over his accusations that the company helped rig the election, pushed similar beliefs during an appearance on Jimmy Kimmel Live!
Lindell applauded Kimmel for posting the interview in its entirety on YouTube; he also applauded the social media platform making it available to viewers. He told Bannon that he believed a million people or more would view the interview and that it would be a "game changer." As of Friday morning, more than 2.2 million people had watched it on YouTube.
During an interview with One America News Network, Lindell said he believed God had his "hand" in his Kimmel appearance.
"It was a divine appointment," Lindell said. "I really think it's a turning point, when we look back and get to this great place we're going to be in. All of these things had to happen just the way they've been going down.... The timing is perfect."
Newsweek reached out to Lindell for further comment but did not receive a response in time for publication.