Mike Lindell Suing Kevin McCarthy Over January 6 Tapes
MyPillow CEO Mike Lindell is suing House Speaker Kevin McCarthy for exclusively releasing footage from the January 6, 2021, Capitol riot to Fox News and not to other networks like his.
"Lindell TV is going after Kevin McCarthy in Congress, we're going after them, because they did it wrong," Lindell announced on Wednesday's episode of The Lindell Report.
Earlier in the day, McCarthy had confirmed that he was granting Fox News host Tucker Carlson exclusive access to thousands of hours of surveillance footage from inside the Capitol on the day of the attack—a decision that has drawn sharp criticisms from Democrats who have argued the move only further endangers Capitol security.
But Lindell, a close ally of former President Donald Trump and far-right firebrand, quickly joined those condemning McCarthy. However, Lindell's gripe with McCarthy was less about the House Speaker's decision to release the tapes and more about to whom he was choosing to release the recordings.
By only handing the footage to Carlson and Fox News, McCarthy is violating two Constitutional provisions, the Equal Protection clause and the First Amendment, Lindell argues.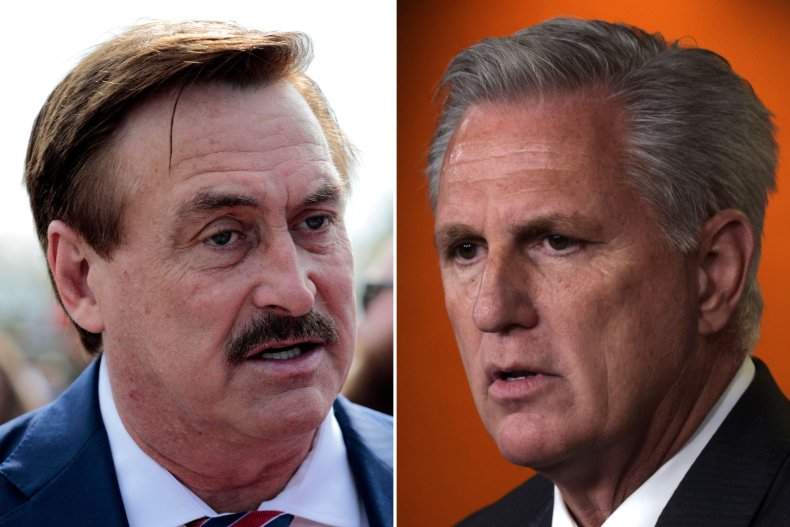 On Wednesday, Lindell said that his network was "injured" by not having access to the January 6 tapes. He argued that giving Carlson exclusive access would infringe on freedom of the press because Fox News could "put out whatever they see fit" without telling the public what information was being left out form their coverage.
"Fox is going to be the filter to the world?" Lindell asked. "Not gonna happen on my watch, I'll tell you that."
He also claimed that McCarthy was violating the Equal Protection clause by discriminating against him. Lindell said that he had intended to go after Fox News originally, but that after meeting with his lawyers, he was informed he should go "right after the Speaker, right after Congress."
"I'll take it all the way up. I don't care if I don't get it there," Lindell told Steve Bannon on his War Room podcast. "We're gonna run this all the way to the Supreme Court."
Even before winning the gavel last month, McCarthy had promised to release more than 40,000 hours of footage in his campaign for the speakership. His decision to grant it to Fox comes as some of the most conservative members of his party have renewed pressure for McCarthy to follow through on his vows.
"I was asked in the press about these tapes, and I said they do belong to the American public. I think sunshine lets everybody make their own judgment," McCarthy told the New York Times on Wednesday.
He said that after Carlson was done with the video, he would make it more widely available to the public. But many have criticized it was Carlson whom McCarthy chose to hand the tapes, given that the anchor has circulated conspiracy theories about the events surrounding January 6.
In a letter to fellow Democrats, Senate Leader Chuck Schumer wrote, "By handpicking Tucker Carlson, Speaker McCarthy laid bare that this sham is simply about pandering to MAGA election deniers, not the truth."
"Tucker Carlson has no fidelity to the truth or facts and has used his platform to promote the Big Lie, distort reality and espouse bogus conspiracy theories about Jan. 6," Schumer said on Wednesday.
Newsweek reached out to McCarthy for comment.