Mike Lindell's Attorneys Take Hard Line, Deny Sharing Discovery Materials in Dominion Case
Attorneys representing MyPillow CEO and conspiracy theorist Mike Lindell have taken a hard line in the defamation lawsuit filed against him by Dominion Voting Systems, refusing to share discovery materials, according to court documents filed by Dominion on Monday.
In February 2021, Dominion filed a $1.3 billion lawsuit against Lindell for claiming that Dominion's voting machines helped rig the 2020 presidential election in favor of now-President Joe Biden.
Dominion is concurrently litigating defamation lawsuits against Lindell and two former attorneys representing the 2020 re-election campaign of then-President Donald Trump: Sidney Powell and Rudy Giuliani.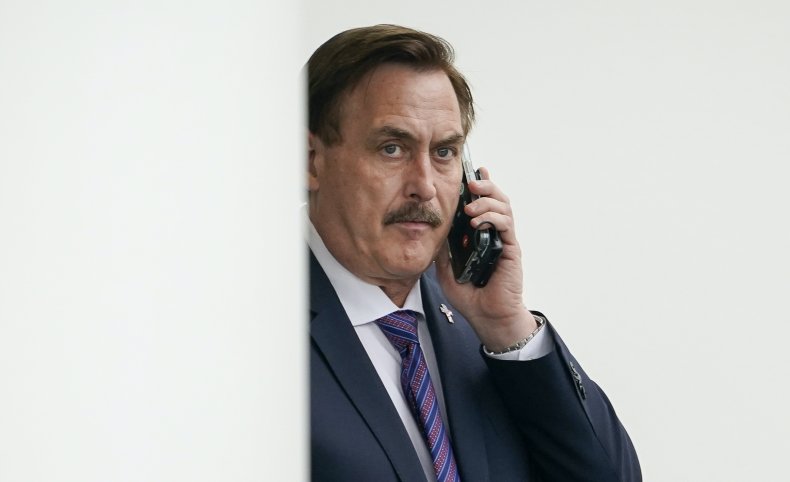 Lindell, Powell and Giuliani filed motions to dismiss the lawsuits. However, District Judge Carl J. Nichols denied them, then consolidated the cases so they could proceed together. Nichols also denied Lindell's motion to have the courts consider Lindell and MyPillow as two separate entities.
In September 2021, Nichols ordered the defendants' and Dominion's lawyers to start meeting to create a schedule for the discovery process and additional motions, Business Insider reported.
Dominion's lawyers issued their first request for discovery documents to the defendants on January 12, 2022. However, the following day, Lindell and MyPillow said that Dominion's request was premature because Lindell and his company hadn't fully exhausted their appeals options to have Nichols' denials overturned.
"Lindell and MyPillow also said they are seriously taking appeals from both orders all the way to the United States Supreme Court, if need be," Dominion's lawyers wrote in their Monday court filing.
Dominion noted that Lindell and MyPillow countersued Dominion, its public relations company Hamilton Place Strategies, and Smartmatic, another voting machine manufacturer that Lindell also accused of rigging the 2020 elections.
Dominion wrote that it will move to dismiss Lindell's countersuit on January 31. However, if Lindell's countersuit is allowed to proceed, then he and his company will still have to submit documentation for the discovery phase of that trial, Dominion noted.
In the court filings, Dominion said that Lindell's lawyers had accused Dominion of "spoilation," which means destroying or altering evidence.
"Their concern is without basis or support in fact," Dominion wrote. "MyPillow and Lindell seek inappropriately to sensationalize filings."
In its court filing, Dominion listed the documents that Lindell and the other defendants will seek from the voting machine company during the trial's discovery phase.
The defendants will want documents proving that Dominion's machines have "built-in modems, are connected to the internet, and can be accessed remotely." They will also seek Dominion's financial documents as well as its contracts with state and municipal election boards hoping to prove that Dominion hasn't economically suffered from the defendants' rigging allegations.
Defendants are also seeking any documentation that suggests that Dominion is owned, whether directly or indirectly, by foreign investors or state actors. This evidence would support the defendants' claims that the voting machine manufacturer is owned or controlled by foreign interests.
"The investigation may seek to determine the role Dominion plays in not merely
selling election voting equipment, but in running and managing state and federal elections through on-site personnel who are the only persons who have the ability to access the voting machine's audit logs, thereby rendering state and federal audits meaningless and in violation of state and federal law," the court filing continues.