Mike Pence Campaign Rally Violates Minnesota COVID Rules as Experts Urge Him to Quarantine
Vice President Mike Pence's rally in Minnesota drew crowds exceeding the state's COVID-19 protocols on Monday afternoon.
According to reporters traveling with Pence's campaign, "Hibbing police confirmed more than 650 people in attendance, exceeding Minnesota health guidelines to restrict crowds to 250 people."
While smaller than the thousands of Trump supporters who typically show up for such events, Pence's appearance still breached Minnesota's reopening plan, which states outdoor events should have social distancing of at least six feet and not exceed 250 people.
Jennifer Carnahan, chair of the Republican Party of Minnesota, defended the rally, saying it wasn't the GOP that was ignoring the guidelines but Minnesotans who wanted to see the vice president.
"People are just so energized and excited to see a sitting president and vice president when they come to our state, which they have several times," she said.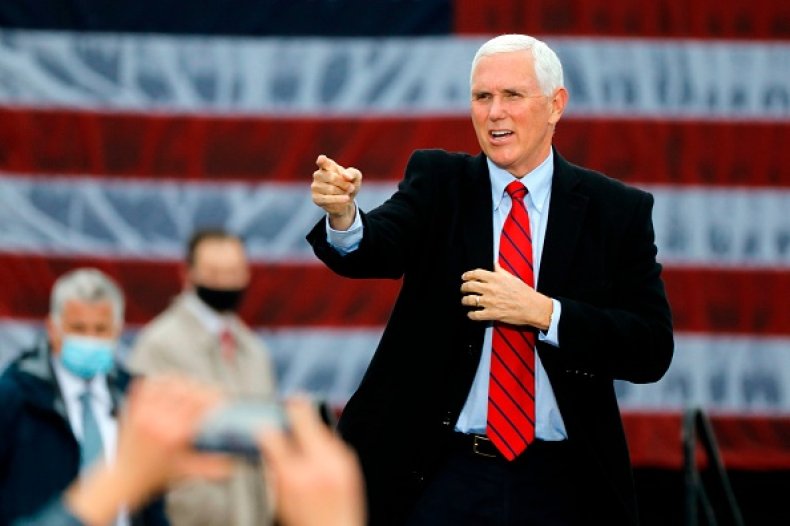 Pence's campaign stop in the Iron Range comes two days after at least five of his aides, including chief of staff Marc Short, tested positive for COVID-19. Centers for Disease Control and Prevention guidelines state anyone who's been in close contact with someone who's tested positive should quarantine for 14 days.
Health experts and others have urged Pence, head of the White House Coronavirus Task Force, to quarantine given his close contact with the individuals. His event in northeastern Minnesota went on as scheduled after the White House announced both the vice president and second lady Karen Pence tested negative on Monday
While National Security Adviser Robert O'Brien called Pence "an essential worker" who needs to be out campaigning, health experts disagree.
"I don't see campaigning on the list," Dr. Joshua Sharfstein, vice dean for public health practice at Johns Hopkins University, told the Associated Press on Sunday. "Anything that does not have to be done in person and anything not related to his job as vice president would not be considered essential."
"He should quarantine in order to protect other people," he added.
Former New Jersey Governor Chris Christie also expressed concern that Pence chose to return to the campaign trail rather than quarantine after learning of his staff's infections.
"You got to keep yourself away from everybody, and I'm a little bit surprised," Christie, who tested positive for the coronavirus and was hospitalized earlier this month, told ABC News' This Week.
Ahead of Pence's visit, Democratic nominee Joe Biden's campaign released a statement criticizing the vice president's handling of the coronavirus pandemic.
"Today, more than 2,300 Minnesotans have died from COVID-19, new cases and hospitalizations are reaching record highs, and nearly 1 million people have filed for unemployment insurance in the last seven months," the statement said. "Most tragic of all: if the President and Vice President had done their jobs — if they had listened to the scientists and been honest with the American people — it wouldn't have been this bad."
But on Sunday, Pence told Fox News' Life, Liberty & Levin that he "couldn't be more proud" of the Trump administration's handling of the virus.
"I'm absolutely convinced that because of the president's leadership, because of our partnership with state health officials, because of doctors and nurses and because of the cooperation of the American people that we literally saved hundreds of thousands of American lives," he said.
As of Monday, more than 250,000 Americans have died from the coronavirus.
Pence is still expected to attend the Supreme Court confirmation vote for Judge Amy Coney Barrett on Monday night—an event he said he "wouldn't miss that vote for the world"—despite pleas from Democrats for him to stay out of the Senate chamber.
Newsweek reached out to the Trump campaign for comment but did not hear back before publication.