Vice President Mike Pence called for people to remember the words of Martin Luther King Jr. "in these divided times" while attending a church where a bishop described how "the devil" is to blame for gay people.
Pence spoke at the Holy City Church of God in Christ in Memphis, Tennessee, on Sunday ahead of Martin Luther King Jr. Day in order to pay tribute to the civil rights icon.
Speaking at the event, which was broadcast live on The White House's website and social media channels, Pence urged people to remember King's legacy as well as how he challenged the nation to "live up to our highest ideals by speaking to our common foundation of faith."
Pence added: "I know in my heart of hearts if we rededicate ourselves to the ideals that he advanced, if we strive to open doors of opportunities for every American and if we more faithfully follow the one that he followed, will see our way through these divided times.
"And we'll do our part in our time to form a more perfect union in this one nation, under God, indivisible, with liberty and justice for all."
Moments after Pence's remarks, a sermon was delivered by Bishop Jerry Wayne Taylor, pastor and founder of Holy City Holy Church of God in Christ, in which he denounced those who are "trying to destroy" the foundation of marriage and "cut off the reproduction process."
"Two men can't have a baby," Taylor said. "Two women can't have a baby...we allow abortion to go, we're cuttings off presidents and queens.
"The foundation is important. We got to encourage young men and women to get married.
"It's a demonic spirit that causes another woman to want to live with another woman. It's a demonic spirit that causes another man, a man to be attracted to another man."
Taylor then jokes that any man who would be attracted to him would "be in trouble" because he wouldn't want them to put their hands on him.
"God didn't make us for that. He made a man to be a man. If you want to know what God made you, when you go to the bathroom check your plumbing...what kind of plumbing are you using."
Taylor also describes how he was watching an animal documentary on television before falsely describing how "you never see two male animals coming together."
"We got to expose what the devil is doing."
The White House has been contacted for comment on Pence's appearance at the church service.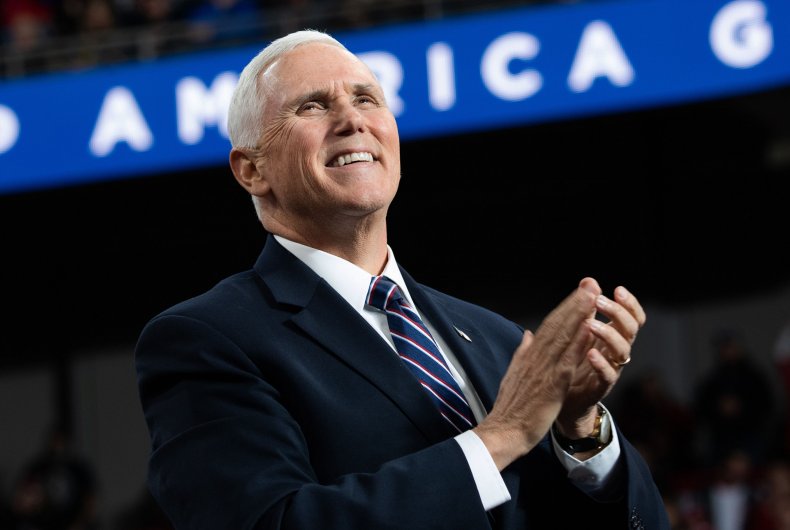 Pence has often been criticized for holding anti-gay views, including previously describing homosexuality as a choice as well as allegedly being in favor of conversion therapy in order to change a person's sexual identity.
In September 2018, Pence became the first sitting vice president to speak at the anti-LGBT Family Research Council's Values Voter Summit, a year after President Donald Trump became the first president in office to attend the event.
The Southern Poverty Law Center describe the Family Research Council as a hate group who make false claims about the LGBT community "based on discredited research and junk science."