Democrats Take Control Of Mike Pence's Hometown For First Time In Nearly Four Decades
For the first time in nearly 40 years, Democrats have taken control of Columbus, Indiana—the hometown of Vice President Mike Pence.
On Tuesday, Columbus voters saw four Democrats elected to City Council seats, with only three Republican incumbents claiming re-election victory.
In one district, Democrat Jerone Wood beat out Republican incumbent Dascal Bunch by just one vote, according to local newspaper, The Republic.
In another, incumbent Democrat Elaine Wagner beat her GOP opponent, Jim Hartsook by several hundred.
Meanwhile, both of the city's "council at-large" seats went to Democrats, with incumbent Tom Dell retaining power, while Grace Kestler also swept to victory.
Republican incumbents David Bush, Frank Miller and Tim Shuffett also managed to hold on to their seats.
The blue wave that swept across the Indiana city saw Democrats gain control of its council for the first time in 38 years, according to progressive Democratic Oregon Rep. Earl Blumenauer, who celebrated the news as a major victory for his party.
Blumenauer also noted that Juli Briskman, the cyclist who lost her job after flipping off President Donald Trump's motorcade in 2017, also won her bid for local office in Virginia in Tuesday's elections.
In a statement, the Indiana Democratic Party celebrated the fact that "Democrats flipped the council in Columbus—hometown of the former governor and Vice President and won commanding majorities in Portage and Evansville."
"The victories underscore the shifting dynamic in the Indiana suburbs," the group said.
The below graphic from Statista shows Democratic gains in state governorships in 2019.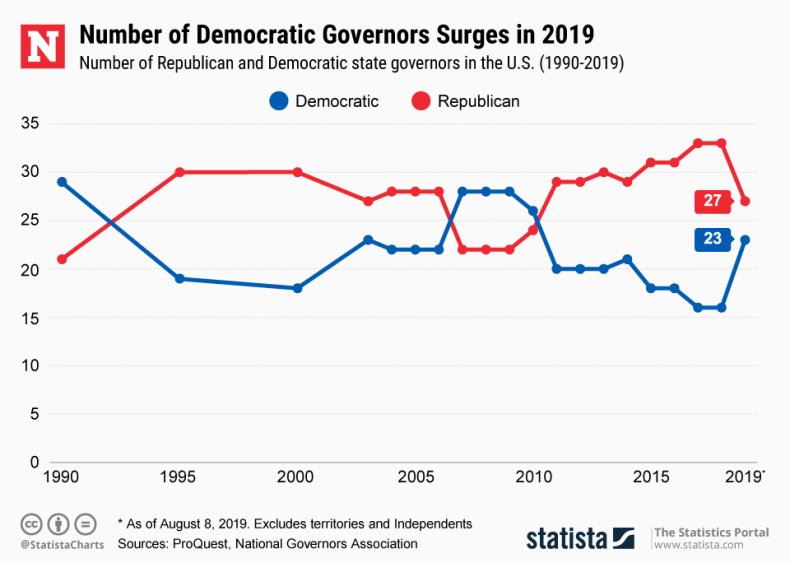 Indiana Democrats also celebrated the fact that for the first time, Democrats would also soon hold the mayor's office in Zionsville, as well as seats on city councils in Carmel and Fishers.
"In 2019, we set out to expand the battleground and build our Party's diverse bench," said Indiana Democratic Party Chairman John Zody. "In 2020, Democrats will hold elected office in Zionsville, Carmel and Fishers. Big wins in suburbs across the state are setting the table for 2020."
Pence was born and raised in Columbus. However, he has yet to comment on the Democrats' victory in gaining control of his hometown's city council.
The Vice President's older brother, Greg Pence, who represents the 6th Congressional District of Indiana, was also silent on the turn of events in his hometown.
In the lead-up to Tuesday's elections, the vice president dedicated his time to supporting GOP Mississippi candidate for governor Tate Reeves, who was successful in his election bid.
On Monday, Pence visited Biloxi to rally for the gubernatorial candidate, telling hundreds of cheering supporters that America "will never be a socialist country," according to The Sun Herald.