Mike Pence Denied Trump-Wikileaks Collaboration the Same Day Donald Jr. Spread Intel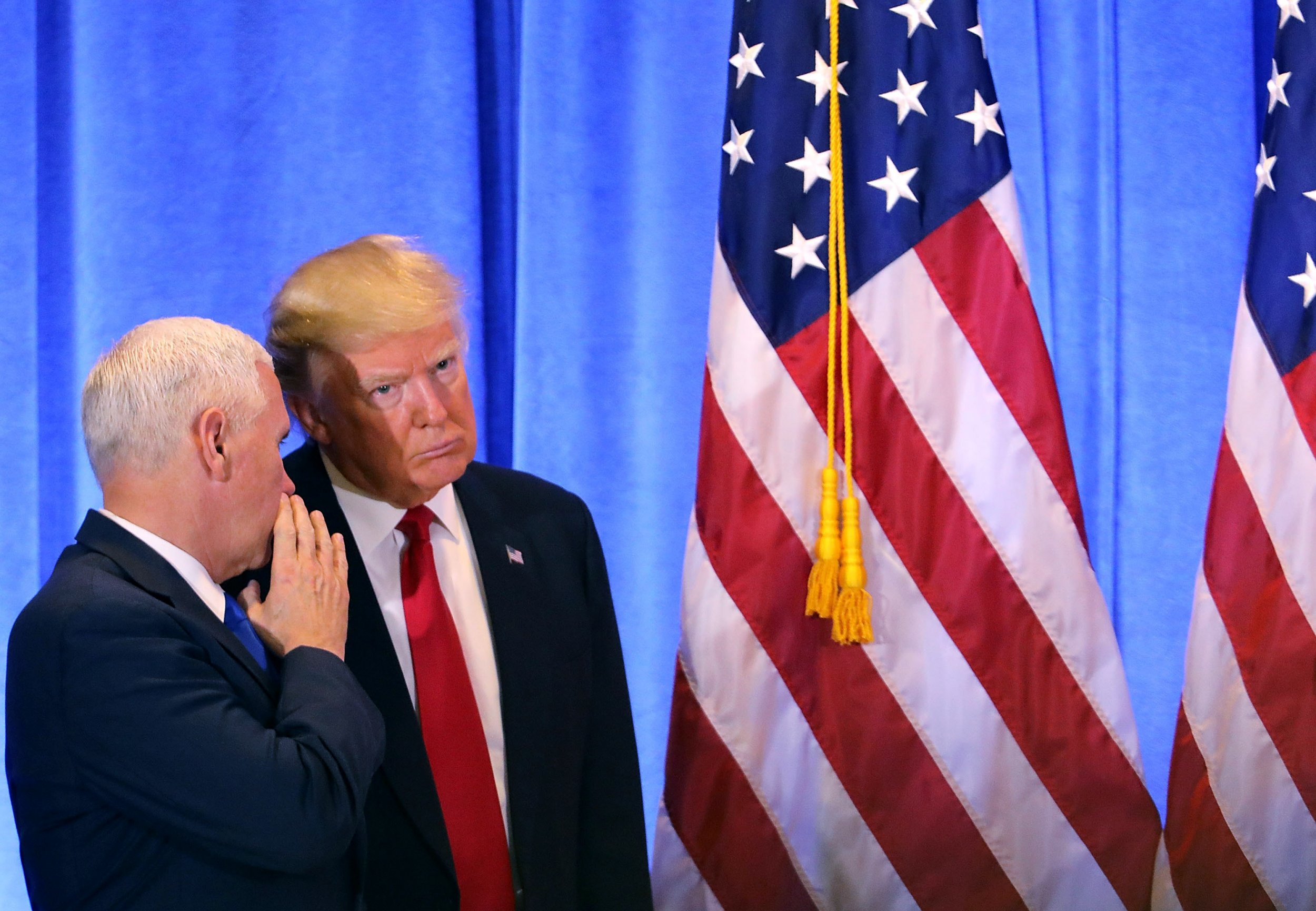 Did Mike Pence even work on the same presidential campaign as Donald Trump and the first family?
The vice president said through a spokesperson he knew nothing about Donald Trump Jr.'s private communications with Wikileaks after The Atlantic reported on Monday night the first son exchanged direct messages on Twitter in 2016 with the organization behind several major data dumps. The denial, in which he claimed to have "first learned of this news from a published report earlier tonight," continued a yearlong pattern for Pence when it comes to Russia: deny, deny, deny.
Related: Evidence of Trump-Russia Collusion Already Exists, Watergate Prosecutors Say
In fact, the vice president was defending the Trump campaign against being "in cahoots" with Wikileaks just before the election, telling Fox News "nothing could be further from the truth" on Oct. 14, 2016. That same morning, Trump Jr. shared a link on Twitter which we now know was provided to him by Wikileaks, urging his followers to read about the "corruption and hypocrisy" surrounding Hillary Clinton—all of which was compiled by Wikileaks.
Pence has repeatedly claimed to only just be getting hip to information about the Trump campaign's connections with Russian and other foreign operatives each time there's been an explosive new report in the media, despite having been on the Republican ticket with Trump for four months and traveling extensively with top campaign aides like Trump Jr. and Jared Kushner (who is also under scrutiny for his apparent Russian contacts).
When news broke on March 9 that ex-National Security Adviser Mike Flynn was forced to file as a foreign agent with the Justice Department, Pence claimed to have no idea of his lobbying efforts throughout the campaign. He maintained that stance even after reports indicated Flynn made the Trump transition team aware he was being probed for failing to disclose his work as a foreign agent.
Pence's denial that Flynn's son played a role in the Trump transition was also immediately contradicted when it was reported he had a transition team email. Despite the hosts of Morning Joe pressing Pence on why he would have that email account, the vice president-elect remained firm: "He has no involvement in the transition whatsoever." Flynn Jr. was later fired by Trump from the transition team for spreading fake news.
He also denied having any knowledge of the now-infamous Trump Tower meeting in June, which Trump Jr. helped organize between top campaign officials and Russian operatives.
Perhaps Pence truly was clueless to the mounting reports of connections between top Trump campaign aides and foreign operations hoping to meddle in the election. Still, the new reporting begs the question of what the vice president might do with this information, now that he is seemingly aware the first son collaborated with Wikileaks, which has been described as a "non-state hostile intelligence service" by CIA Director Mike Pompeo.
For now, only one thing is clear, according to Pence: despite screenshots, DMs and investigations proving otherwise, "no one from the campaign had any contact with the Russians."