Mike Pence Greets Troops Guarding U.S. Capitol as Donald Trump Lays Low in White House
Vice President Mike Pence addressed National Guard troops at the Capitol on Thursday night in a surprise visit a little more than a week after the building was stormed by pro-Trump protesters following a rally.
In his unscheduled stop, the vice president shook hands with National Guard members stationed at the Capitol ahead of Biden's inauguration next week, and thanked them for their service as President Donald Trump remained in the White House.
"Have a safe inauguration, and I just wanted to stop by today to say thank you," Pence told troops on Capitol Hill. "Thank you for your service, thank you for stepping forward. God bless you in the days ahead."
The vice president spoke with the National Guard members on Thursday night as the White House schedule showed President Trump was once again hunkered down in the Oval Office for calls and other meetings.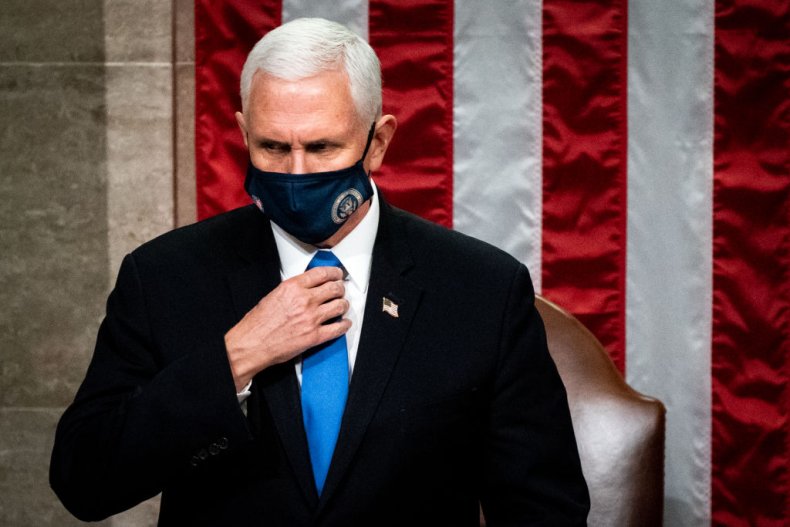 "President Trump will work from early in the morning until late in the evening," the White House schedule has read several times since January 6, the day the Capitol riots unfolded. "He will make many calls and have many meetings."
Over the past week, the president has largely remained in the White House, but did venture to Alamo, Texas earlier this week to deliver a speech at the border wall. Prior to that, the last public appearance on his schedule was his January 6 rally at The Ellipse park in Washington, D.C.
Newsweek has contacted the White House for comment and will update this article with any response.
President Trump's largely absent presence in public over the past week has coincided with him becoming the first commander-in-chief in U.S. history to be impeached twice, and all in the space of his first term in office.
Speaking in Alamo, Texas on Tuesday, Trump said free speech was "under assault" and called the second impeachment against him the continuation of a "vicious witch hunt" following the Capitol riots.
The president has faced blame from several lawmakers on both sides of the aisle for the events that unfolded at the Capitol on January 6. At a rally before the deadly riots, Trump told his backers to march down to the seat of Congress.
"You'll never take back our country with weakness," he said. "You have to show strength and you have to be strong."
The House of Representatives charged Trump with incitement of insurrection as they voted to impeach him for a second time. This time around, the vote to censure him was bipartisan, with 10 Republican lawmakers breaking ranks to condemn the president's actions.