Mike Pence Has 'Sharply Incriminating' Testimony About Trump: Kirschner
Former Vice President Mike Pence would be able to provide "sharply incriminating" evidence against former President Donald Trump if he eventually testifies before a grand jury, according to former federal prosecutor Glenn Kirschner.
Pence has reportedly been subpoenaed by the grand jury impaneled as part of special counsel Jack Smith's probe into Trump's actions related to the events of January 6, 2021. On that day, when the U.S. Capitol was violently attacked by a mob of Trump supporters, the former vice president refused to go along with the former president's plan for him to reject the electors of key swing states in a bid to overturn the 2020 election results from Joe Biden's favor.
In a video uploaded to YouTube and shared to Twitter on Friday evening, Kirschner, a legal analyst for MSNBC and NBC News who routinely calls for Trump's indictment, contended that the former president pressured Pence to violate a number of federal laws on January 6. Trump had urged his then-vice president to reject the electors of several states that had gone for his Democratic opponent during a joint-session of Congress to affirm Biden's win.
Pence, along with most constitutional experts and legal analysts, concluded that such an action would be unconstitutional and undermine the nation's democracy. Although Trump continues to claim that the 2020 election results were fraudulent, particularly in several swing states, the allegations are not corroborated by evidence.
Trump attempted to "enlist Mike Pence as a co-conspirator in his criminal scheme to commit crimes against the United States—to defraud the United States," Kirschner said. He credited Pence with resisting Trump's pressure to act in an unconstitutional manner.
"He refused to join Donald Trump's conspiracy—a conspiracy that so many others had joined," the former federal prosecutor added.
The legal analyst then pointed out that Trump turned on Pence, slamming him publicly via social media on January 6. Meanwhile, the former president's supporters chanted "hang Mike Pence" as they rioted at the Capitol, where the then-vice president was forced to hide as his security detail feared for his life.
"So does Mike Pence have some powerfully, sharply incriminating testimony to give to the federal grand jury about Donald Trump's crimes? You bet he does," Kirschner asserted.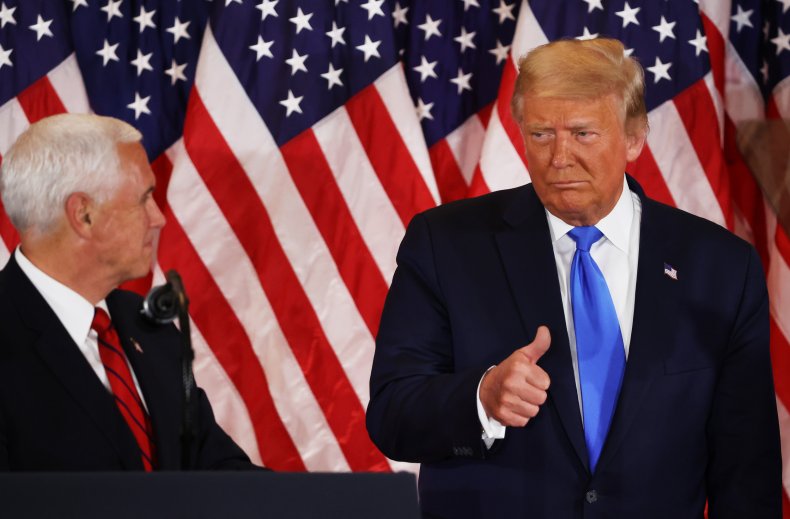 Whether Pence ultimately testifies remains to be seen. He is expected to claim at least some level of executive privilege, and Trump's legal team will also likely challenge the subpoena on those grounds. However, legal analysts have said that the former vice president's testimony would be key to determine whether Trump should be indicted.
"Pence has always been the essential witness when it comes to establishing whether or not Trump's involvement in the pressure campaign for the VP to interfere with the election result was criminal. Smith has to get his testimony before he can make a prosecutive decision," former U.S. attorney Joyce Vance, a law professor at the University of Alabama, wrote on Twitter on Thursday.
"But, pence does feel like a late in the game witness. Someone you want to talk to you after you have all of the other testimony, and when you're just about ready to make a decision," Vance added.
Newsweek reached out to Trump's and Pence's press representatives for comment.
"Will Trump Hating Prosecutor Jack Smith be investigating the FACT that they SPIED on my campaign, even as I was in the Oval Office, they Stuffed the Ballot Boxes (per 2000 Mules), used Covid to cheat, that the FBI pushed Twitter & Facebook around, causing massive voter disruption, and so much more?" Trump wrote in a Truth Social post late Friday evening, promoting discredited claims about the 2020 election.
He added: "That's really what he should be looking at, not asking a very decent Mike Pence why he didn't send the votes back to State Legislatures for scrutinization, which he could have done. Get the RIGGERS!"