Pence Job Gain Claims Questioned After 'Nightmarish Economic Meltdown'
Vice President Mike Pence's boast over jobs created in the last three months has been questioned due to how many were lost amid the COVID-19 crisis.
Pence on Wednesday said: "We've created more jobs in the last 3 months than Joe Biden and Barack Obama created in their 8 years in office."
It came after he spoke of "creating jobs" and "renewing the American dream and opportunity for every American" during a speech in Arizona.
In May, June and July there were more than 9 million jobs gained, according to Bureau of Labor figures.
However, this came after more than 20 million job losses in March and April, with fears many of these losses will be permanent.
According to the Bureau of Labor, while the unemployment rate and numbers of unemployed have declined in the last three months, these figures are up by up by 6.7 percentage points and 10.6 million respectively since February.
Questioning Pence's comments, Sen. Chris Murphy (D-CT) said that there had been "nowhere to go but up" given previous losses.
Responding to Pence, he wrote: "If you intentionally mismanage a preventable pandemic so that 150,000 humans needlessly die and a sixth of the population lose their jobs in the resulting nightmarish economic meltdown, you can in fact create a cataclysm so hellish that there becomes nowhere to go but up."
Newsweek has contacted Murphy and the Biden campaign for comment.
The number of jobs created by Obama is disputed, depending on how the figure is calculated, when it is taken from and how job losses are factored in.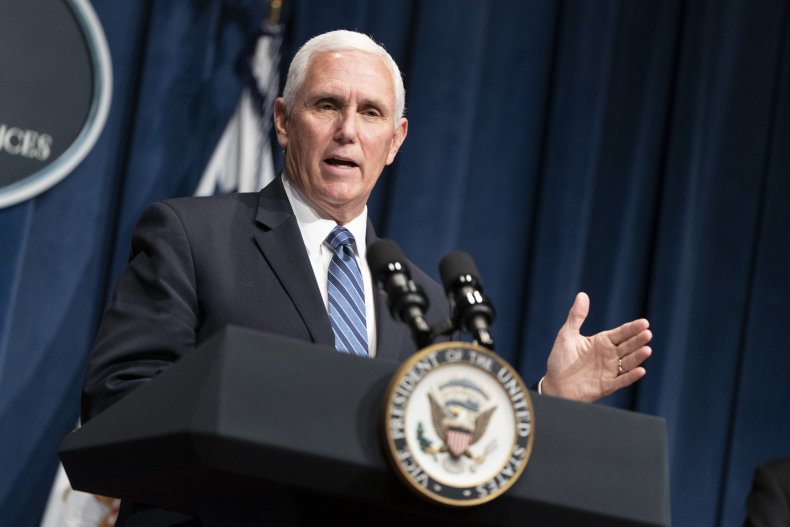 According to analysis from the Annenberg Public Policy Center, the U.S. gained a net 11.6 million jobs in his presidency.
Obama previously said there were 15 million new private-sector jobs created during his tenure, though this number has been disputed due to when the calculation for when this figure began.
One figure puts it at 8.9 million, looking at the number employed at the beginning compared to the end of his tenure.
Adding further detail to Pence's comment, his press secretary, Devin O'Malley, said in a statement to Newsweek: "From November 2008-October 2016, the Obama Administration oversaw the creation of nearly 8.8m jobs after the global financial crisis. Compare that to May, June, and July of this year that saw 9.3m jobs created."
Pence's comments came as he hit out at Democratic vice-presidential candidate Kamala Harris, after the senator was chosen as Joe Biden's running mate.
He said he "can't wait" to debate her in October.
President Donald Trump has also previously touted job gains, despite the concern over prior losses and potential that these will not return.
This article was updated with a statement from Vice President Mike Pence's press secretary.