Mike Pence: Joe Biden 'Weakness' in Afghanistan Has 'Embarrassed America'
Former Vice President Mike Pence has said the U.S. withdrawal from Afghanistan shows President Joe Biden's "weakness" and has "embarrassed America on the world stage."
Pence, who served as vice president under former President Donald Trump, penned an op-ed, published on Tuesday, for The Wall Street Journal in which he strongly criticized the situation in Afghanistan.
There have been chaotic scenes in the capital, Kabul, as the Taliban has rapidly advanced and seized territory throughout the country, while President Biden has defended the decision to push ahead with the troop drawdown.
In his op-ed, Pence referenced comments Biden made in July, when the president said it was unlikely that the Taliban would overrun Afghanistan or that people would have to be lifted off the roof of the U.S. embassy in Kabul.
"One month later, the scenario Mr. Biden deemed impossible has become a horrifying reality," Pence wrote.
"In recent days, the world has watched panicked civilians cling to U.S. military aircraft in a desperate attempt to escape the chaos unleashed by Mr. Biden's reckless retreat. American diplomats had to beg our enemies not to storm our embassy in Kabul. Taliban fighters have seized scores of American military vehicles, rifles, artillery, aircraft, helicopters and drones," he said.
"The Biden administration's disastrous withdrawal from Afghanistan is a foreign-policy humiliation unlike anything our country has endured since the Iran hostage crisis," Pence went on.
Pence was referring to the time Americans were held hostage in Iran following the 1979 revolution in that country. U.S. personnel were seized from the American embassy in Tehran and some were held for over a year.
"It has embarrassed America on the world stage, caused allies to doubt our dependability, and emboldened enemies to test our resolve," Pence wrote.
"Worst of all, it has dishonored the memory of the heroic Americans who helped bring terrorists to justice after 9/11, and all who served in Afghanistan over the past 20 years."
Pence claimed Biden had broken the deal the Trump administration agreed with the Taliban by keeping U.S. troops in Afghanistan after May 1 "without a clear reason for doing so."
He also accused the Biden administration of not having a plan for evacuations or to prevent equipment falling into the hands of the Taliban.
"There was no plan to transport the billions of dollars worth of American equipment recently captured by the Taliban, or evacuate the thousands of Americans now scrambling to escape Kabul, or facilitate the regional resettlement of the thousands of Afghan refugees who will now be seeking asylum in the U.S. with little or no vetting," the former vice president wrote.
"Rather, it seems that the president simply didn't want to appear to be abiding by the terms of a deal negotiated by his predecessor," he said.
"Weakness arouses evil—and the magnitude of evil now rising in Afghanistan speaks volumes about the weaknesses of Mr. Biden," Pence went on.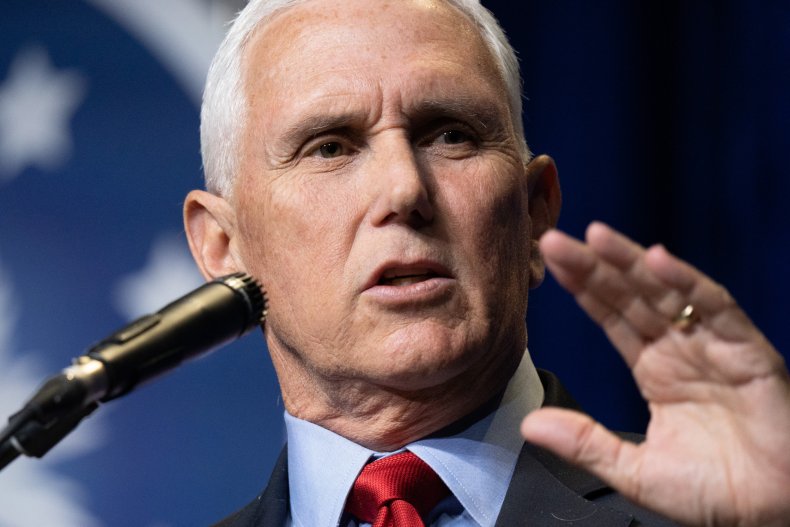 In concluding his op-ed, Pence wrote that after 20 years, Americans are ready to bring the troops home but "the manner in which Mr. Biden has executed this withdrawal is a disgrace, unworthy of the courageous American service men and women whose blood still stains the soil of Afghanistan."
Newsweek has asked the White House for comment.
During his televised address on Monday, President Biden told viewers: "I stand squarely behind my decision" to withdraw.
"When I came into office, I inherited a deal that President Trump negotiated with the Taliban. Under his agreement, U.S. forces would be out of Afghanistan by May 1, 2021, just a little over three months after I took office. U.S. forces had already drawn down during the Trump administration from roughly 15,500 American forces to 2,500 troops in country. And the Taliban was at its strongest militarily since 2001.
Biden said he faced a choice: "...follow through on that agreement or be prepared to go back to fighting the Taliban in the middle of the spring fighting season."
"There would have been no cease-fire after May 1," he said. "There was no agreement protecting our forces after May 1. There was no status quo of stability without American casualties after May 1.
"There was only the cold reality of either following through on the agreement to withdraw our forces or escalating the conflict and sending thousands more American troops back into combat in Afghanistan, and lurching into the third decade of conflict."