Russia, China, Iran, Pakistan Extend Hands to Taliban Now in Control of Afghanistan
As the Taliban's takeover of Afghanistan shakes the international community's commitment to the country, regional powers Russia, China, Iran and Pakistan continue to maintain their embassies in Kabul while expressing their willingness to work with its new leaders.
Just as the Taliban was getting settled in the capital, Russian ambassador to Afghanistan Dmitry Zhirnov met with the group on Tuesday to discuss embassy security. Following his talks, he spoke highly of a group he said was conducting itself "in a responsible and civilized manner" since its largely peaceful capture of Kabul.
"They want to be sure there will be no provocations, to avoid shooting," Zhirnov said in an interview with the Rossiya-24 outlet. "Because practically everyone possesses weapons, even teenagers. It looks like they are afraid that should anything happen not through their fault it may cast a shadow on them as masters of the situation. They don't conceal it."
Speaking in Kaliningrad, Russian Foreign Minister Sergey Lavrov also saw "a positive signal" from the Taliban, specifically in the infamously hardline group's public commitments to respecting the views of others.
"We are convinced and have known that for quite a long time that only, as they say now, an inclusive dialogue involving all key forces can serve as a step towards normalization of the situation in Afghanistan," Lavrov said, according to the state-run Tass Russian News Agency.
Russia's turn toward accepting the Taliban's legitimacy comes after its own difficult history in Afghanistan. In 1979, the Soviet Union entered into a decade-long war in hopes of saving a Kabul-based communist administration from a mujahideen resistance that was backed the U.S. and regional powers including Pakistan and Saudi Arabia. It was forced to withdraw in defeat a decade later, paving the way for the rise of the Taliban in the 1990s.
The group took control of most of the country and effectively held Afghanistan until 2001, when the 9/11 attacks conducted by Taliban ally Al-Qaeda drew a massive U.S.-led intervention. Moscow initially supported the Western effort in Afghanistan, but came to criticize its handling over the course of two decades.
With the Taliban now back in control of Kabul, Lavrov told reporters that Moscow was "not rushing a recognition" of an Afghan government led by the a group that Russia still considers a terrorist organization. The decision mirrors the hesitation of other nations including Russia's strategic partner, China, which borders Afghanistan directly.
"Just yesterday I spoke with Chinese Foreign Minister Wang Yi," Lavrov added. "Our positions are in line."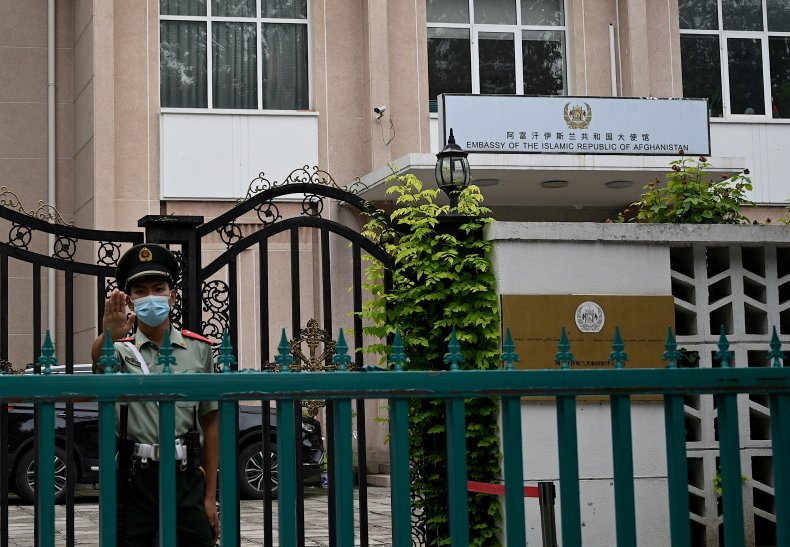 Beijing is seeking to portray an open mind as the new dynamic unfolds.
"China has all along maintained contact and communication with the Afghan Taliban on the basis of fully respecting Afghanistan's sovereignty and the will of all factions in the country, and played a constructive role in promoting the political settlement of the Afghan issue," Chinese Foreign Ministry spokesperson Hua Chunying told reporters on Tuesday.
There was an important caveat, however.
Chinese officials have repeatedly emphasized the need for the Taliban to live up to its commitments to forsake ties and actively fight the spread of transnational militant groups, such as the East Turkestan Islamic Movement (ETIM), or Turkestan Islamic Party, a mostly Uighur organization that China has fiercely cracked down on in the People's Republic itself, especially in Xinjiang province, which neighbors Afghanistan.
Hua said that "China encourages the Afghan Taliban to pursue a moderate and prudent religious policy, work with other parties to form an open and inclusive political structure, pursue a foreign policy of peace and friendship, and in particular, live in harmony with its neighboring countries and achieve reconstruction and development in Afghanistan."
She emphasized the need for the the Taliban to control terrorists, particularly those that China sees as a threat to its security.
"We also hope that the new Afghan regime will make a clean break with all kinds of international terrorist forces, restrain and combat terrorist forces including the ETIM, and prevent Afghanistan from becoming a gathering place of terrorist and extremist forces again," she added.
That same day, China's ambassador to Afghanistan Wang Yu revealed in an interview with the Chinese Communist Party newspaper Global Times that China's embassy continued to operate, and that the Taliban had, as in the case of the Russian embassy, guaranteed its safety.
Wang said that, in addition to the Russian embassy, those of Iran and Pakistan also appeared to be operating normally.
Iranian Foreign Ministry spokesperson Saeed Khatibzadeh also confirmed that his nation's embassy was in working order during a press conference on Monday. But he also expressed deep concern over the potential for unrest to erupt in the neighboring fellow Islamic Republic that has since been declared by the Taliban to be the Islamic Emirate of Afghanistan, after the group's own official name.
"The Islamic Republic of Iran deeply hopes that the lives, property and honor of all individuals, especially civilians, during the recent rapid developments in Afghanistan will be protected from any aggression," Khatibzadeh said, "and that all parties will show restraint and foresight in this regard and not allow the geography of Afghanistan to be abused by violent groups."
While the main concerns of China and Russia lie along Afghanistan's northeastern borders, Iran is keeping a close eye on the country's western frontier. But Tehran also has concerns about the fate of its own diplomatic personnel, 10 of whom in 1998 were slaughtered along with an Iranian journalist at Iran's consulate in the northern city of Mazar-i-Sharif, when the Taliban last marched through the country.
Both then and now, Iran has expressed concern for Afghanistan's ethnic minorities, including those of the fellow Shiite Muslim Hazara people.
The Mazar-i-Sharif mission was closed last Thursday, but diplomatic sites remain open in Herat and Kabul, where lines of Afghans could be seen attempting to secure visas on Tuesday.
"The Islamic Republic of Iran calls for serious attention to the immunity of diplomats and diplomatic venues within the framework of international conventions, and emphasizes the need for the health of diplomats and the security of these venues," Khatibzadeh said. "It is clear that the Ministry of Foreign Affairs is in constant contact with the diplomatic staff at its embassies and consulates in Kabul and Herat and is constantly monitoring developments."
Like China and Russia, Iran had hosted delegations of the Taliban in the leadup to the final phase of the group's offensive in Afghanistan, urging diplomacy but also establishing a working relationship.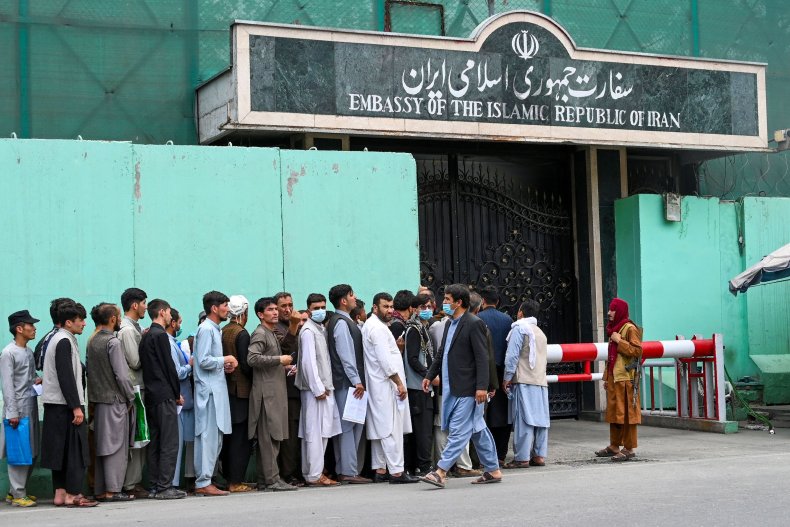 Of the countries in the region, however, none has enjoyed so close a relationship with the Taliban as Pakistan, which shares Afghanistan's longest border.
But despite its proximity and long history with the conflict in Afghanistan, Pakistan has been denied requests to speak at two United Nations Security Council gatherings on Afghanistan at a time when the group's rotating presidency was held by Pakistan's top foe, India.
Islamabad and New Delhi have accused one another of using Afghanistan to sponsor militant groups to attack one another.
Indian Foreign Minister Subrahmanyam Jaishankar said Tuesday that his country's ambassador and embassy staff in Afghanistan had been evacuated in "a difficult and complicated exercise." Meanwhile, Pakistani Foreign Minister Shah Mahmood Qureshi announced Tuesday that Islamabad's Kabul embassy was "extending full consular services to all," including missions, organizations, media and families.
Also on Tuesday, Pakistani Information and Broadcasting Minister Chaudhry Fawad Hussain told a press briefing that Islamabad would first consult with other countries before offering recognition to the Taliban government, as it did along with Saudi Arabia and the United Arab Emirates in the 1990s.
Shah discussed the situation in Afghanistan with Secretary of State Antony Blinken on Monday, as did their counterparts from China and Russia.
Since the Taliban's taking of Kabul, the U.S. approach to Afghanistan has largely been limited to securing the evacuation of citizens and Afghans who worked for the 20-year U.S. military presence in the country.
But U.S. Chargé d'Affaires Ross Wilson denied on Tuesday "false reports" that Washington's embassy in Kabul had closed. He tweeted that he and his staff were "working hard to help 1000s of U.S. citizens and vulnerable Afghans & continuing engagement here."
"Our commitment to the Afghan people endures," Wilson added.
As to the next steps in the relationship between Washington and Kabul, White House National Security Adviser Jake Sullivan told a press conference that "it'd be really premature" to address the question of whether or not to recognize the Taliban's government, given the ongoing turmoil.
Meanwhile, the Taliban's message from Kabul on Tuesday was one of peace and stability.
In his first-ever press conference, spokesperson Zabihullah Mujahid proclaimed, "We assure all foreigners that their security is secure." He said that "security in Kabul is improving day by day" as Taliban "forces have been deployed in different parts of the city."
Mujahid further offered assurances on respect for human rights, women's rights and international business interests. And in words that wary nations wanted to hear, he also vowed that the Taliban would not permit Afghanistan to be used to launch attacks on other countries as was the case 20 years ago.
"I assure the international community that we will not allow Afghan soil to be used against another country," Mujahid said.