Can Iran Save Afghanistan's Shiites and Help China, Russia Prevent War Next Door?
Faced with a surge of unrest across its border with Afghanistan as the U.S. military withdraws from a two-decade conflict, Iran is seeking to leverage local and regional relationships in an effort to secure the stability of its fellow Islamic Republic.
But it is a delicate balance.
Tehran must carefully measure its support for Shiite Muslim Afghans mobilizing against forces threatening their very identity, culture and lives, while simultaneously engaging diplomatically with the resurgent Sunni Muslim Taliban movement now in control of most of the country. And for that balance to succeed, they must take into account the interests of top regional powers China and Russia.
And, over the weekend, a potentially explosive headline emerged from Tehran. The Jomhouri-e Eslami newspaper ran a front-page article alleging that a "Hashed al-Shia" had risen up against the Taliban in Afghanistan.
The phrase is a clear reference to Al-Hashed Al-Shaabi, known in English as the Popular Mobilization Forces, a collective of Iraqi, mostly Shiite Muslim militias formed with Iranian support to take on the Islamic State militant group (ISIS) across another one of Iran's restive borders to the west.
Iran-aligned militias have also taken on ISIS further away in Syria, including a group known as the Fatemiyoun Brigade, or Fatemiyoun Division, comprised of Afghans mostly from the primarily Shiite Muslim Hazara ethnic minority.
Zuhair Mujahid, the group's cultural attaché, criticized the article's framing as a "false interpretation" of what he argued was a homegrown non-sectarian Afghan resistance. The Fatemiyoun formally denied any "news about the field presence of Fatemiyoun fighters in Afghanistan" in a statement published Tuesday.
The group attributed the rumors to "the media's attempt to make this happen in the current context of a new U.S.-Zionist media game to achieve the sinister goals of global arrogance," a term often used by "Axis of Resistance" factions to refer to Washington and its allies.
But the latest speculation in and of itself may also represent a potentially potent message to other players in the Afghan conflict.
"They are announcing it," Maysam Bahravesh, a Middle East security expert and doctoral candidate at Lund University in Sweden. "They are basically sending a signal to the Taliban, they are sending a signal to Russia, to China, to all these forces that, 'We've got such an option to activate.'"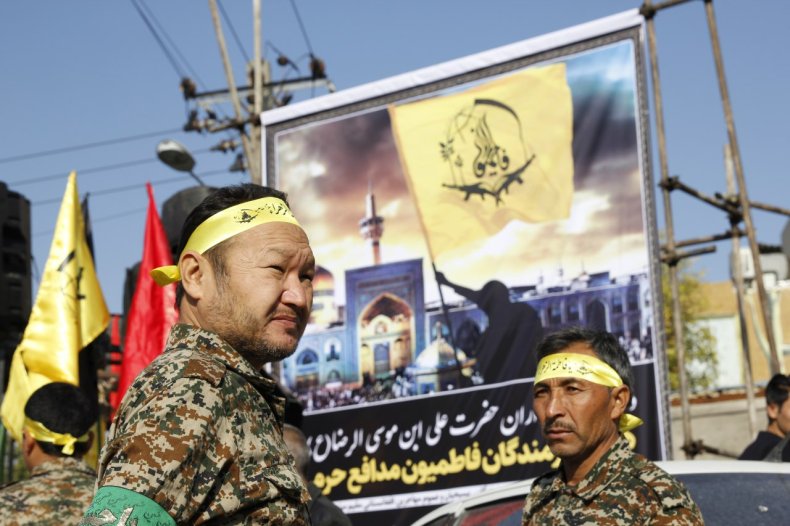 Axes and Alliances Old and New
The Fatemiyoun are one of many groups operating under an umbrella referred to as the "Axis of Resistance," a sardonic reference to the "Axis of Evil" moniker former U.S. President George W. Bush bestowed upon Iran, Iraq and North Korea, in the leadup to a 2003 invasion that ultimately toppled Iraq's longtime leader Saddam Hussein.
While Hussein's downfall presented a prime opportunity for Iran to intensify its support for allied paramilitaries, it also gave rise to a particularly violent Sunni Muslim insurgency led first by Al-Qaeda and then ISIS, which soon spread into Syria. Iran-backed militias also mobilized there on behalf of a government friendly to Iran led by Syrian President Bashar al-Assad, who was in the midst of a civil war.
That conflict in Syria, which has lasted a decade, is ongoing, but the U.S. withdrawal from Afghanistan, set to be completed by August 31, presents new opportunities and risks in the region.
Iran's posture toward Afghanistan, a country with which it shares deep historical, cultural and even linguistic links, cannot be separated from domestic events and politics. Last month's widely anticipated electoral victory for President-elect Ebrahim Raisi, a conservative with close ties to the Revolutionary Guard that has fostered "Axis of Resistance" of militia allies abroad, has signaled a new foreign policy direction, one focused on developing regional relations.
This includes doubling down on a campaign to expand ties with Beijing and Moscow. Bahravesh said Afghanistan is just "one piece, among many other items" in Tehran's outreach toward these two powers.
Kamran Bokhari, Director of Analytical Development at the Washington-based Newlines Institute for Strategy, also noted an intersection between Iran's broader geopolitical goals and its next steps in Afghanistan.
"From an Iranian point of view," he told Newsweek. "working on Afghanistan, in the aftermath of the departure of U.S. forces, basically is a signal to the Russians and the Chinese, 'You can count on us to keep this place in order, and we can continue to do business, and we want to be able to have close relations with you.'"
This dynamic has only intensified as a result of the breakdown of Iran's relations with the West in the wake of former U.S. President Donald Trump's withdrawal from a historic multilateral nuclear deal struck just three years earlier by his predecessor, former President Barack Obama.
Current President Joe Biden is now pursuing efforts to return to the agreement and Raisi supports it, but Bokhari said the broader shift to the East has been established.
Moscow and Beijing, for their parts, see Afghanistan's stability as critical to the security of a region they too neighbor.
Russia has maintained deep-rooted ties to Afghanistan, even after mujahideen fighters backed by the U.S., Pakistan and Saudi Arabia drove a Soviet intervention out of the country in the 1980s, an event that ultimately led to the establishment of the Taliban. Russia maintains a regional military presence as well, with bases in neighboring Tajikistan and nearby Kyrgyzstan.
China is also concerned with any turmoil or the rise of militant forces in Afghanistan, since the country borders its far northwestern province of Xinjiang. The ruling Communist Party has instituted controversial detention policies there aimed at stamping out separatism among its mostly Muslim Uighur minority, from which fighters have emerged in Afghanistan.
Beijing also sees Afghanistan as an essential land route for its Belt and Road Initiative that runs through the continent and beyond, including through Iran and other parts of the Middle East.
The Living Martyrs
For Iran, the Fatemiyoun have the potential to play a vanguard role in this mutual desire among these nations for stability in Afghanistan.
"If there is one state in the region that really knows how to recruit, cultivate, train and then maintain influence over militias, it's the Iranians," Bokhari said.
Whereas other regional players such as Saudi Arabia, Pakistan and the U.S., to some degree, have lost influence over sponsored forces in the region, sometimes even watching on as they defected to more extremist elements, Bokhari said Tehran was uniquely positioned to establish and maintain robust relationships with the fighters it supports.
"The Iranians, their tradecraft is such that they mastered the technique of not just raising and deploying forces but maintaining influence over them over multiple years," he said. "And so I think that they are quite capable of doing that in Afghanistan."
Now, Bokhari said "it is quite possible" Iran is "relying on those Afghan fighters who they train, who deployed in Syria and Iraq and can now go back to their country or may have gone back to their country a while back, and now, use those skills that they learned in the battlespace in the Levant and Mesopotamia, to be able to basically create that resistance against the Taliban."
Perhaps supporting this posture is the experience of the man leading the Revolutionary Guards Quds Force since the slaying last year of iconic Major General Qassem Soleimani in a U.S. airstrike in January of last year at Baghdad International Airport.
Before his slaying at the orders of former President Donald Trump, Soleimani was deemed "a living martyr" by Iranian Supreme Leader Ali Khamenei, and has been credited with imbuing his personal prowess and charisma in forging and upkeeping the "Axis of Resistance" network. More overlooked is the role of his former deputy and now-successor, Brigadier General Esmail Qaani.
Qaani held an influential position as Quds Force second-in-command and is believed to have specialized in outreach to Afghanistan and Pakistan, from which the Zaynebiyoun, another powerful and potentially consequential Shiite Muslim "Axis of Resistance" militia, hail.
Iran's semi-official Tasnim News Agency reported late last month on a visit by Qaani to eastern Syria, where the Fatemiyoun and other Iran-backed forces operate, but the article was quickly deleted without explanation.
But the situation, Bokhari said, "quickly becomes very complicated," not only due to the presence of other anti-Taliban factions including various tribal and warlords militias, but also Iran's burgeoning ties to the Taliban itself.
This dual-track approach was addressed by Candace Rondeaux, director of the Future Frontlines project at the New America think tank, who said Iran "has shown that it's increasing its efforts to cultivate relations with the Taliban, in a very pragmatic way," while "at the same time, sending some signals via its outreach to the Fatemiyoun Division in Syria, most recently, that it intends to keep that sort of hidden ace up its sleeve."
In Tehran, the debate over this parallel approach is raging.
"I think that what is emerging," Rondeaux, who previously served as s a senior program officer at the U.S. Institute of Peace and a strategic advisor to the U.S. Special Inspector General for Afghanistan Reconstruction told Newsweek, "is a real division between hardliners who are willing to ignore some of the transgressions that the Taliban have been involved in, in recent months and years, when it comes to the Afghan Shia, simply because they want to see the United States leave, simply because they anticipate a post-U.S., post-NATO future, and they're much more pragmatically oriented."
"But then, there's another side," she added. "They represent a part of Iranian culture, and leadership, that feels a deep responsibility and a deep tie to the Afghan Shia, who are imperiled right now and are worried about the blowback effect."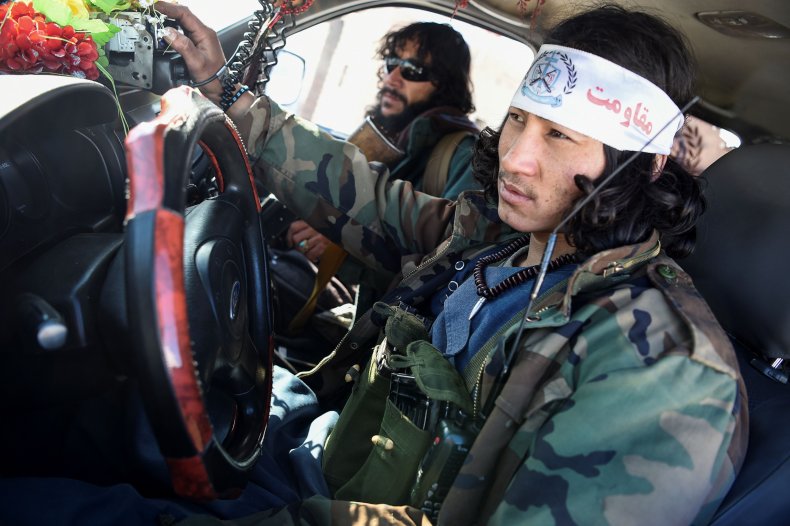 A Friend in Need
For Iran, this blowback risks not only yet another eruption of unrest within Iran's periphery, but a potential surge of refugees and a possible explosion in Afghanistan's infamous narcotics trade. But for the Shiite Muslims of Afghanistan, blowback may represent an existential threat, not only from the Taliban, but from an emergent ISIS in Afghanistan and other forces in the country.
"Hazaras have been discriminated long before the Taliban," Mehdi Jafari, a Hazara refugee living in Belgium and originally hailing from the central Afghan town of Behsud, told Newsweek. "Our Shia religion and Asian-looking phenotype make us stand out in Afghanistan. Just by looking at us, you will find out we are Hazara, while this is not possible for Pashtuns or Tajiks."
He said the Hazara community had had "great hope that Iran would support us," but that this hope has faded given Tehran's inroads with the Taliban, which Iranian officials recently hosted for peace talks alongside representatives of the internationally recognized Afghan government based in the capital Kabul.
"[The Iranians] have much more to gain from the Taliban," Jafari said. "Hazaras are a weak player to choose in this war. Iran is a country before it is a religious institution. They will first choose things that benefit their country before they look at what benefits the Shia."
But he said the appeal for support stood, and he extended it to "everybody that is willing to help us."
"We just want peace, equality, freedom," Jafari said. "We are peace-loving people."
Also skeptical of overt Iranian backing was Basir Ahang, editor-in-chief of the Hazara International activist outlet based in Massachusetts. He said that "Iran's policy towards Afghanistan is driven by pragmatism and political realism," and noted the recent engagement between Tehran and the Taliban despite the poisoned ties between the two.
Ahang criticized Iran's treatment of Hazara both within Iran itself and abroad fighting foreign conflicts. He also argued Tehran would not risk an all-out war on the Taliban and that the Hazara community would not support it anyway.
"It is also worth noting that the Hazaras do not support prolonged warfare with the Taliban," Ahang said. "They prefer to hold their areas through a combination of localized uprising and cooperation with the Kabul government until a peace settlement is constructed. This shrinks space for Iran's intervention, even if it wants to do so against all odds."
The Fatemiyoun appeared to share this sentiment in their statement Tuesday, saying that the group "declares that war is certainly not the solution to the Afghan problem and that peace will be established through direct dialogue between Afghans without the presence of any foreign parties."
At the same time, the Fatemiyoun warned that "Afghanistan should not be tested and the opportunity for dialogue between Afghans should not be taken away from the oppressed people of this country." Otherwise, the group said, such plots would be used against these adversarial forces and "resistance will take hold against them outside of Afghanistan."
And Iran too appears to have little appetite for any heavy-handed intervention that could stoke the very instability Tehran is seeking to avoid.
How Iran does determine its strategy in Iran will likely be subject to the same process of consultations and consensus-building among key decision-makers including Iran's Supreme National Security Council, with the ultimate say then coming from Supreme Leader Ali Khamanei.
The Iranian ruler has acknowledged that Afghanistan was on his mind, along with other regional issues he accuses the U.S. of aggravating.
"The plight of Afghanistan concerns everyone," Khamenei said during a speech Friday. "The bitter events in Iraq, Syria, Lebanon and some other countries—where the interfering, malevolent hand of the U.S. and its cohorts is completely visible—is stimulating the zeal and determination of all the young people."
A Lack of Consensus
Despite the rising interest in Afghanistan among Iranian officials, a unified strategy appears yet to emerge. Mostafa Najafi, a Ph.D. candidate who specializes in researching Iran's "Axis of Resistance" at Tehran's Tarbiat Modares University, said "there is no comprehensive and definite consensus, either among political and security elites or in society, on issues related to Afghanistan, especially the Taliban."
While Iran has demonstrated its openness in dealing with the group, the policy has been deeply controversial at home. Many resent the Taliban not only because of reports of the movement's targeting of Shiite Muslims in Afghanistan, but due to its 1998 killing of eight Iranian diplomats and an Iranian journalist in Mazar-i-Sharif, at a time when Iran, along with Russia and Uzbekistan, was supporting the Northern Alliance government against the Taliban and allied groups, including those backed by Pakistan and Saudi Arabia.
Recognizing the Taliban's position today, Iran has sought assurances to safeguard the country's endangered Shiite Muslims, but mistrust is rife.
"Iran generally feels responsible for the security of Afghanistan's Shiites and has received assurances from them to ensure their safety," Najafi said. "In return, Taliban leaders have also pledged not to attack Afghan Shiites."
In a May commentary on minority rights, the Taliban, officially called the Islamic Emirate of Afghanistan, said protecting the rights of such communities was the group's "obligation and fundamental responsibility." The Taliban has also accused Kabul and other forces of publishing fake information regarding the persecution of minorities, while alleging some instances of abuse were actually committed by ISIS.
The situation creates additional problems for Iran.
"On the other side, Afghan Shiites regard the Taliban as an obvious threat to their security, survival, and identity, seeming to be upset and angry about Iran's relations with the Taliban," Najafi said. "They believe that Iran should not trust the Taliban and that Tehran should take a tough approach to them, while Tehran believes that flexibility with the Taliban is crucial for maintaining the security of its borders and that of the Hazara Shiites."
The Fatemiyoun harbor similar opposition to rapprochement between Iran and the Taliban, and divisions over Afghanistan would threaten to exacerbate any existing tensions between the group and Iranian leadership. Already, Shiite Muslim Afghans have taken arms against Taliban advances, including in the cities of Bamyan, Ghazni and Parwan with no clear connection to Iran.
Any schism between Iran and its Fatemiyoun allies would prove strategically damning for Tehran, and also invite overtures by other regional powers, including Turkey, which Najafi said has also begun to contact Hazara communities as Ankara also seeks a stake in Afghanistan.
As such, Najafi said that Iran and the Fatemiyoun are working "to prevent the formation of a split."
"Iran is committed to supporting Afghan Shiites," he said. "However, Iran is trying to maintain the balance between its strategic interests and its ideological tendencies, which, of course, can overlap and complement each other in the realm of Iran's security and political performance. Iran is entirely aware that distancing from the Shiites in Afghanistan is against its interests."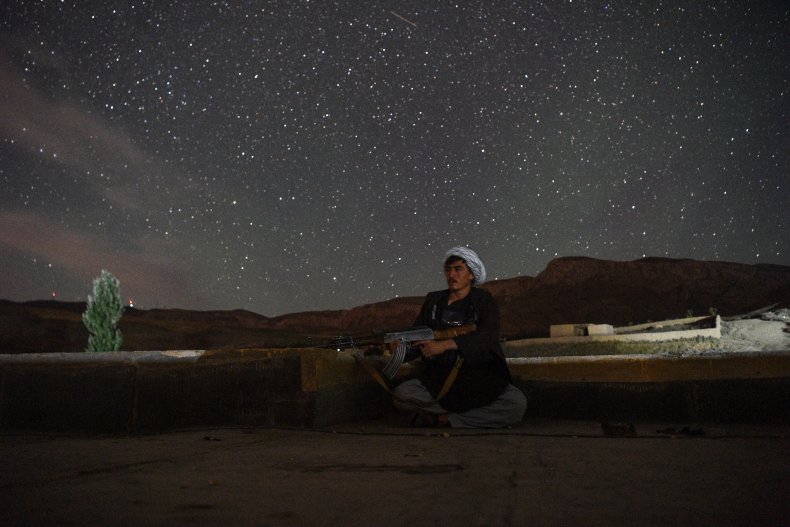 The Good Neighbor
This was made clear earlier this month when Iranian Foreign Ministry spokesperson Saeed Khatibzadeh told reporters that amid escalating violence in Afghanistan, "some ethnicities are under pressure, and we called for respect for their rights."
The remarks preceded involving both the Taliban and Afghan government officials in Tehran, where Iranian Foreign Minister Mohammad Javad Zarif in which he called on both sides to make "difficult decisions" in the interest of their common nation's future.
"Courage in peacetime is more important than courage in war," Zarif said in a speech delivered at the conclusion of the talks, "because one should show altruism and indulgence for the sake of peace, abnegate maximum demands, and pay attention to the other side's demands, particularly in these negotiations that there is no other party, as the two sides are brothers and are in the pursuit of peace and calm for the Afghan nation."
The top Iranian diplomat, whose tenure is slated to end as Raisi succeeds President Hassan Rouhani, then delivered a direct appeal to the two rival Afghan factions.
"What I want from you," he said, "is to seize this opportunity and end the war in Afghanistan as soon as possible and provide the people of Afghanistan with an opportunity for development."
And while Tehran is prepared to assist in the Afghan conflict, officials emphasize the nation did not seek interference across the border.
"The Islamic Republic of Iran does not interfere in the internal affairs of other countries, and that includes our good neighbor Afghanistan," Shahrokh Nazemi, head of media at the Iranian permanent mission to the United Nations, told Newsweek. "However, Iran has on several occasions reaffirmed its support for holding talks aimed at establishing peace and ending the conflict in Afghanistan."
He referenced the recent intra-Afghan discussions in Tehran and Zarif's subsequent statement, saying "any issues of common interest can be addressed within the framework of these talks."
"It should not be forgotten that Iran has been (and is today) host to millions of Afghan refugees," Shahrokh Nazemi said, "and peace is important to Iran as a neighboring country and to those who wish to return to their homeland to rebuild their lives there."