China Seeks Taliban Promise to Wage War on Uighur Fighters in Afghanistan
China has sought assurance from the Taliban during a meeting in Tianjin that the resurgent movement will take on a murky Uighur Islamist separatist group in Afghanistan.
Chinese Foreign Minister Wang Yi hosted a delegation of the Taliban led by Taliban political committee head Mullah Abdul Ghani Baradar on Wednesday, marking the group's latest in a series of international trips as its fighters take territory nationwide in Afghanistan amid a U.S. military withdrawal from the country.
The top Chinese diplomat said his country "has always respected Afghanistan's sovereignty, independence and territorial integrity, adhered to non-interference in Afghanistan's internal affairs and pursued a friendly policy toward the entire Afghan people," according to a readout provided by the Chinese Foreign Ministry.
Wang was critical of the U.S. and allied NATO forces in how they handled both the conflict and their withdrawal from it.
"Afghanistan belongs to the Afghan people, and its future should be in the hands of its own people," Wang said. "The hasty withdrawal of the U.S .and NATO troops from Afghanistan actually marks the failure of the U.S. policy toward Afghanistan. The Afghan people have an important opportunity to achieve national stability and development."
But instability prevails at this pivotal time, and Wang called on the Taliban, officially known as the Islamic Emirate of Afghanistan, to "put the interests of the country and nation first, hold high the banner of peace talks, set the goal of peace, build a positive image and pursue an inclusive policy."
He called for a united Afghanistan.
"All factions and ethnic groups in Afghanistan should unite as one, truly implement the 'Afghan-led and Afghan-owned' principle, push for early substantive results in the peace and reconciliation process, and independently establish a broad and inclusive political structure that suits Afghanistan's national realities," Wang said.
There's one faction in particular, however, that Wang said was unwelcome in Afghanistan: the Turkestan Islamic Party (TIP), also called the East Turkestan Islamic Movement (ETIM).
The group is predominantly comprised of Uighurs, a majority-Muslim ethnic group found across Central Asia, and especially in China. Beijing has taken heavy-handed and controversial steps toward curbing suspected ETIM activities in the northwestern province of Xinjiang, which borders Afghanistan.
Speaking to the Taliban on Wednesday, Wang "stressed that the ETIM is an international terrorist organization designated by the UN Security Council that poses a direct threat to China's national security and territorial integrity."
"Combating it is a common responsibility for the international community," Wang said. "We hope the Afghan Taliban will make a clean break with all terrorist organizations including the ETIM and resolutely and effectively combat them to remove obstacles, play a positive role and create enabling conditions for security, stability, development and cooperation in the region."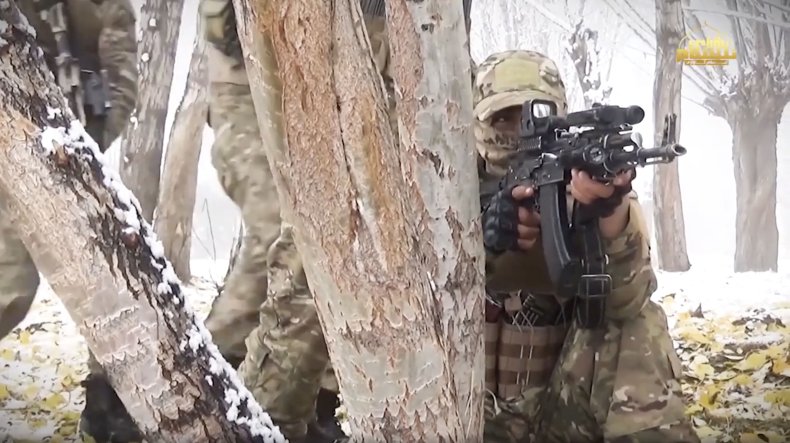 The remarks mirrored those uttered by Wang earlier this month during his visit to Tajikistan and shared with Newsweek by China's embassy in Washington.
Following the latest meeting in Tianjin, Taliban spokesperson Mohammed Naeem said that the group "assured China that Afghan territory would not be used against the security of any country," and "thanked China for its continued cooperation with the people of Afghanistan, especially its continued cooperation in the fight against coronavirus."
The two sides were also said to have discussed greater economic cooperation.
As Afghanistan's internationally recognized government in Kabul struggles to keep vast stretches of the countryside from falling into the hands of its foe, the Taliban's growing ties with regional countries including China, Russia and Iran are indications of the group's elevated status.
But these three nations have also called on the Taliban to rout any other militants with ambitions beyond Afghanistan's borders. In the eyes of China, ETIM embodies the most immediate threat.
The group has roots in Afghanistan dating back at least to the 1980s Soviet intervention, which saw Al-Qaeda and the Taliban ultimately emerge from a broad resistance of mujahideen fighters, some of whom were backed by the United States, Pakistan and Saudi Arabia.
In the 1990s, ETIM would strike at China in protest of the ruling Chinese Communist Party's policies in Xinjiang, where the central government was accused of suppressing Uighur identity and culture.
While China has attributed other incidents of unrest in Xinjiang to ETIM activities, a crackdown toward the end of the decade drove much of the group into then-Taliban-controlled Afghanistan. It became one of many Islamist factions targeted by a U.S.-led campaign after the 9/11 attacks in 2001. Washington and Beijing initially agreed on the threat posed by ETIM in Afghanistan, and the U.S. conducted airstrikes against it there as recently as 2018.
But as relations between the world's two leading powers worsened in the following years, the U.S. has taken aim at China's treatment of its Uighur minority, going as far as to accuse Beijing of conducting "genocide" in Xinjiang through the use of vocational education and training centers that U.S. officials have likened to concentration camps.
Chinese officials have vehemently denied any wrongdoing in what they view as an attempt to foster unity amid tensions in Xinjiang, and they have accused the U.S. of intentionally seeking to stir up unrest in an attempt to destabilize China.
Last November, the State Department removed ETIM from its "Terrorist Exclusion List," sparking furor from China and concern from others, including Pakistan, which has also raised the alarm about ETIM.
In comments sent to Newsweek last month, a State Department spokesperson defended the move.
"ETIM was removed from the list because, for more than a decade, there has been no credible evidence that ETIM continues to exist," the spokesperson said.
The State Department traced the change in American policy to changes in China's own counterterrorism position.
"We assess that ETIM is now a broad label China uses to inaccurately paint a variety of Uighur actors, including non-violent activists and advocates for human rights, as terrorist threats," the spokesperson said. "China often labels individuals and groups as terrorists on the basis of their political and religious beliefs, even if they do not advocate violence."
ETIM is currently designated a terrorist organization by a number of countries and international organizations, including China, the European Union, Kyrgyzstan, Kazakhstan, Malaysia, Pakistan, Russia, Turkey, United Arab Emirates, the United Kingdom and the United Nations.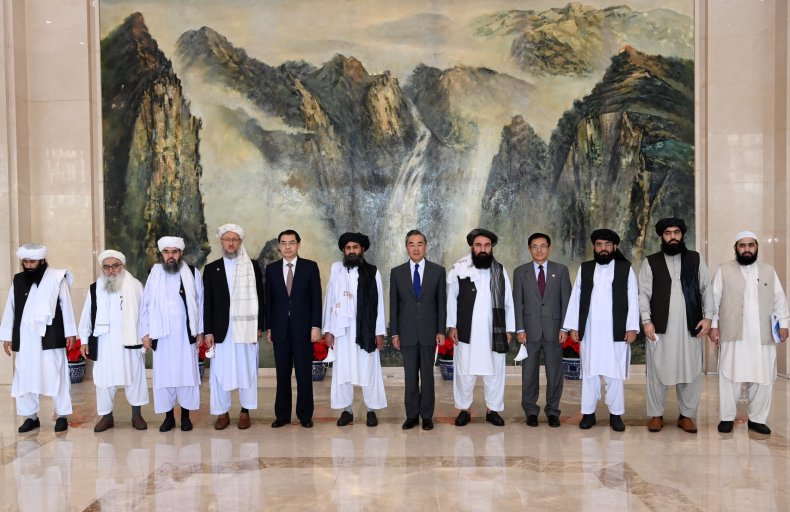 While relatively little has been heard from ETIM in comparison to other transnational militant groups in Afghanistan such as the Islamic State militant group's Khorasan branch (ISIS-K) and Al-Qaeda, the group has been known to operate in Syria's rebel-held northwestern Idlib province.
A new United Nations report found that ETIM was still active in Afghanistan as well, where it "consists of several hundred members, located primarily in Badakhshan and neighbouring Afghan provinces," according to U.N. member states.
"Many Member States assess that it seeks to establish a Uighur state in Xinjiang, China, and towards that goal, facilitates the movement of fighters from Afghanistan to China," the report found. "Another Member State reported that the group has also established corridors for moving fighters between the Syrian Arab Republic, where the group exists in far larger numbers, and Afghanistan, to reinforce its combat strength."
Specific examples of ETIM activity included last year's insurgent siege on Kuran wa Munjan District in Badakhshan, the Afghan province that borders China's Xinjiang.
"Several Member States note that the group carries out terrorist training, maintains an active social media presence and regularly releases audio and video messages promoting terrorist attacks," the U.N. report found. "The group raises funds through extortion and kidnap for ransom, among other means."
ETIM's social media presence affirms that the group has China in its sights, including a February 2019 magazine cover that showed a depiction of the group's blue-and-white flag superimposed on Xinjiang province and wielding an AK-47-style rifle over the rest of China and the national five-starred red flag. More recent videos depict scenes of alleged abuse against Uighurs in Xinjiang.
While the group's actual capabilities in Afghanistan are still uncertain, it remains to be seen if the U.S. and China can once again find common ground in the country despite a myriad of differences.
Reacting to the Taliban visit to China, Secretary of State Antony Blinken told CNN he saw an alignment of the interests of regional countries on Afghanistan, where he argued "no one has an interest in Afghanistan falling into an enduring civil war" and "no one has an interest in a military takeover of the country by the Taliban, the restoration of an Islamic emirate."
"Everyone has an interest in a peaceful resolution of the conflict and some kind of government that emerges that's truly representative and inclusive," Blinken said. "And so if China is acting on those interests, if other countries are acting on those interests, that's a positive thing."
Days before the Taliban traveled to Tianjin, Wang met U.S. Deputy Secretary of State Wendy Sherman there to discuss a range of regional and international issues. Afghanistan was described as a topic in which Sherman "affirmed the importance of cooperation," according to the State Department.
But the dispute over Xinjiang and other areas in which the U.S. has accused China of human rights abuses loomed large over the meeting. After the issue was further pushed by the U.S. government's Congressional-Executive Commission on China, which called for a boycott of the 2022 Winter Olympic Games over the Xinjiang issue, Chinese Foreign Ministry spokesperson Zhao Lijian hit back forcefully against the U.S. on Wednesday.
"The so-called genocide in Xinjiang is a through-and-through lie of the century fabricated by a few anti-China forces," Zhao said.