Russia, China and Iran, all influential powers in Asia, are preparing for the U.S. military to leave Afghanistan at a time of aggravated tensions and soaring violence in the war-torn nation with which they have unique and historical ties.
As these plans take form, Newsweek has contacted officials from the three countries with respect to their plans to balance the risks and opportunities associated with the volatile developments in Afghanistan.
All three seek to ensure stability in Afghanistan and its periphery while securing their own interests. as friendly ties with Kabul are tested by a desire to engage with the powerful Taliban movement that has retaken much of the country.
Russia
For Russia, this means stepping up to a longstanding engagement in a country where it has a modern history of intervention and withdrawal.
The 1980s Soviet attempt to defend a communist government in Kabul was met with fierce resistance by local and foreign mujahideen fighters, who received support from Pakistan, Saudi Arabia and the United States. The collapse of the government that eventually emerged from the strife led to a civil war in the 1990s, in which the Taliban was born and ultimately swept through Afghanistan, taking control of most of the country until the 2001 massive U.S.-led military campaign after 9/11.
Russia, which backed the embattled Northern Alliance in Kabul at the time, initially supported the explosive U.S. campaign, which targeted both the Taliban and its Al-Qaeda ally, also a product of the war against the Soviets. In the two decades since, during which Russian President Vladimir Putin has been in power as president or prime minister, the Kremlin has frequently criticized the way in which Washington handled the conflict.
Today, Russia is speaking out against how the U.S. exit is playing out, as the Taliban makes rapid advances in the absence of progress in peace talks.
"The situation is rapidly deteriorating," the Russian embassy in Washington recently told Newsweek. "We attribute it to the hasty pull-out of the US and other NATO countries' troops."
But even throughout the 20-year war effort, the longest in U.S. history, the Taliban managed to regain significant ground. Citing recent remarks by Russian Foreign Minister Sergey Lavrov, the embassy said that "the West had not achieved any visible results in stabilizing Afghanistan and failed in its mission there."
But the Russians still see a U.S. role in Afghanistan going forward.
"Our criticism of the US policy is aimed at encouraging Washington to take a more comprehensive approach on addressing the issues in Afghanistan," the embassy said.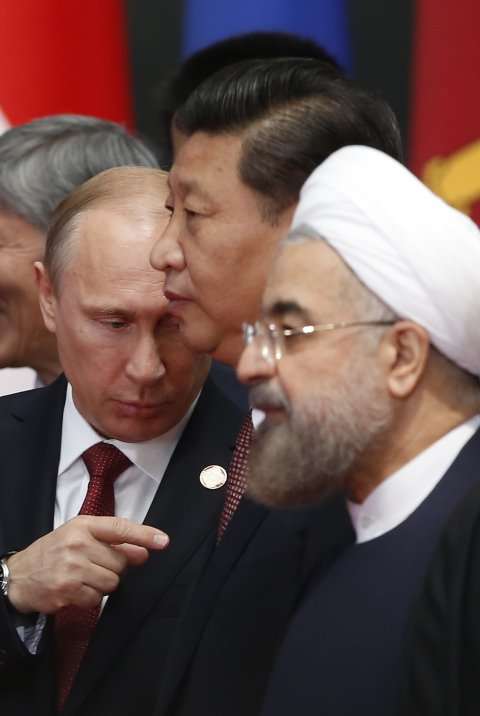 "Our criticism of the U.S. policy is aimed at encouraging Washington to take a more comprehensive approach on addressing the issues in Afghanistan," the Russian embassy in Washington recently told Newsweek. In this photo, Russian President Vladimir Putin (L), Chinese President Xi Jinping (C) and Iranian President Hassan Rouhani talk before the opening ceremony at the Expo Center at the fourth Conference on Interaction and Confidence Building Measures in Asia summit in Shanghai on May 21, 2014.
ALY SONG/AFP/Getty Images
Russia continues to engage on the issue internationally through the "extended Troika" format that also involves the U.S., China and Pakistan, which has the closest ties to the Taliban of the four nations.
Elsewhere in the region, Russia has shored up its close ties with the so-called "Central Asian five," comprised of Kazakhstan, Kyrgyzstan, Tajikistan, Turkmenistan and Uzbekistan, all former Soviet republics. The first three are already treaty allies of Russia under the Collective Security Treaty Organization (CSTO) that also includes Armenia and Belarus.
Moscow also maintains military bases in Kyrgyzstan, from which Russia will conduct joint air drills next week with Uzbekistan, as well as in Tajikistan, the only Russian ally to border Afghanistan directly.
In an interview with the Russia Today outlet on Thursday, Russian Deputy Foreign Minister Andrey Rudenko praised the "strategic partnership and alliance" between his country and Uzbekistan, which left the CSTO in 2012 but still preserves robust ties with Moscow.
And he revealed "a confidential dialogue" with Turkmenistan, a neutral nation that also borders Afghanistan, "in the field of security" as it relates to "common threats and challenges."
Rudenko noted that "the ongoing degradation of the situation in Afghanistan poses a direct threat to Central Asia," and that Russian officials "share the corresponding concerns of our neighbors in the region."
On tracking the potential blowback in Central Asia, the Russian embassy said that "we closely monitor the situation in the region and take all necessary measures to strengthen the potential of our allies to prevent and counter external threats."
The assurances came as Moscow officials dismissed the notion of U.S. military bases in a region to which Russia has already firmly established links.
Within Afghanistan, the Russian embassy said "we conduct extensive political contacts with Afghan parties," which includes hosting delegations from both the Afghan government and the Taliban, including separate talks earlier this month in Moscow regarding Afghanistan's future and Russia's potential role there.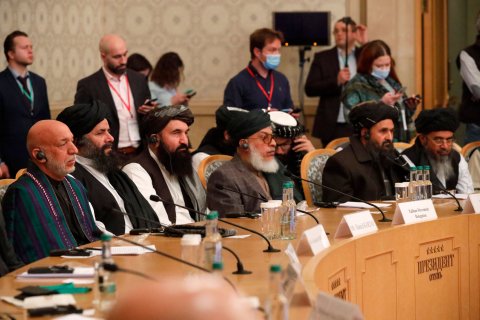 China
China's history with Afghanistan dates back even further than that of Russia. Centuries ago, Kabul was a hub on the Silk Road that spanned through Asia. Today, Chinese President Xi Jinping has set out to renew the ancient trade route with his intercontinental Belt and Road Initiative. Afghanistan was among the earliest of the roughly 140 countries now involved to sign on to the global network of Chinese investment deals.
But it's not just money at stake for China in Afghanistan.
The two countries share a common border in a stretch of Central Asia where separatist Islamist movements have been known to operate. Beijing has expressed concern over unrest leaking across international boundaries. These concerns are especially pronounced given the newfound Western scrutiny over China's policy in the Afghanistan-adjacent Xinjiang region, where the U.S. estimates more than a million ethnic Uighurs have been detained, as China fears their links to outlawed forces such as the East Turkestan Islamic Movement, or Turkestan Islamic Party, which has operated in Afghanistan.
In comments shared with Newsweek by the Chinese embassy in Washington, Chinese Foreign Minister Wang Yi laid out a three-point agenda of what he identified as "the most pressing priorities" for Afghanistan.
"First, avoid further expansion of the conflict in Afghanistan and in particular, an all-out civil war," Wang said in remarks originally delivered last week during a trip to Tajikistan; "Second, restart intra-Afghan negotiation as soon as possible to achieve political reconciliation; Third, prevent all kinds of terrorist forces from taking advantage of the situation to grow in Afghanistan and not allow Afghanistan to again become a gathering ground for terrorists."
Like Russia and Iran, China initially welcomed the U.S. intervention in 2001 against an Afghanistan that was at the time mostly controlled by the Taliban, with other groups such as Al-Qaeda and ETIM operating there as well. But Beijing's view grew negative over time, as did those of Moscow, Tehran, and many other international powers. Now Chinese officials have made clear they would consider Washington responsible for any turmoil that emerged in the wake of the U.S. pullout.
"The US-launched war in Afghanistan has lasted for 20 years, but peace has not yet arrived," Wang said last week. "During this time, tens of thousands of Afghan civilians have lost their lives in U.S. military operations, and tens of millions have been displaced and become refugees."
However, like Russia, China sees the U.S. playing a role in Afghanistan going forward.
"As the U.S. pulls out of Afghanistan, it should reflect on the role it has played on the Afghan issue," Wang said, "and think about how to fulfill its obligations to the reconciliation and reconstruction in Afghanistan."
But China also seeks a more proactive part to play beyond the extended Troika in efforts to resolve the outstanding conflict between the Afghan government and Kabul.
Whereas Russia's diplomatic capital has afforded the opportunity to bring together the rival Afghan factions, China's economic influence has also proven attractive to both sides. And Beijing sees potential for the Taliban, as long as it makes good on promises to cut ties to transnational militants.
"Over the years, the Afghan government has made great efforts to maintain national unity and social stability and to improve people's livelihood, which should be recognized fairly," Wang said during his remarks in Dushanbe. "The Taliban, as a major military force in Afghanistan, should recognize its responsibility toward the country and the nation, make a clean break with all terrorist forces and return to Afghanistan's political mainstream with a sense of responsibility for the country and the people."
A day after Wang's remarks, the Shanghai Cooperation Organization (SCO)—a regional bloc that includes China, India, Kazakhstan, Kyrgyzstan, Pakistan, Russia, Tajikistan and Uzbekistan—released a joint statement that included an emphasis on curbing the aspirations of militant groups.
"We note that the activity of international terrorist organizations remains a key factor of instability in that country," the statement, also referred to Newsweek by the Chinese embassy in Washington, said. "We are deeply concerned by the growing tension in Afghanistan's Northern Provinces caused by the increased concentration of various terrorist, separatist and extremist groups. We consider it important to step up joint efforts by SCO Member States to counter terrorism, separatism and extremism."
This trifecta of threats is a familiar concept in Chinese remarks on the region. They are often categorized as "the three evils" by officials and considered the primary risks to Chinese interests, which the Taliban, for their part, have pledged to respect.
In an interview earlier this month with South China Morning Post's This Week in Asia, Taliban spokesperson Suhail Shaheen touted "good relations" with China, and vowed to safeguard the country's economic footprint in Afghanistan
"We welcome them," Shaheen said. "If they have investments of course we ensure their safety. Their safety is very important for us."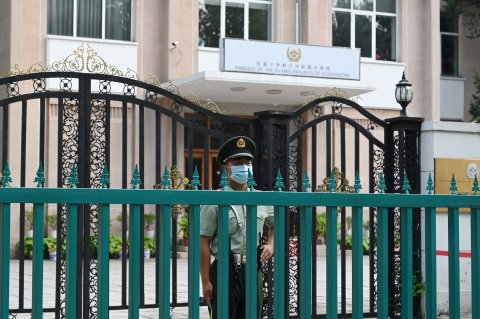 Iran
Iran's connections to neighboring Afghanistan are in some ways deeper still, embued not only with historic links, but cultural and even linguistic connections as well.
But while both countries consider themselves Islamic Republics, they differ vastly in ideology and governance, a gap that is likely to expand with greater Taliban control over Afghanistan.
When the Taliban first rose to power in the 1990s, Iran was a pivotal backer of the Northern Alliance, along with Russia and a host of regional nations across West, Central and South Asia. Much as in the war a decade earlier, Saudi Arabia and Pakistan backed the Taliban.
But this time around, the U.S. largely stayed on the sidelines until taking economic actions against the Taliban after Al-Qaeda's 1998 bombings of Washington's embassies in Tanzania and Kenya and then intervening militarily on behalf of the Northern Alliance in 2001.
The same year the U.S. first shifted its stance on Afghanistan, another incident took place that remains deeply embedded in Iran's collective national memory. As the Taliban advanced into Mazar-i-Sharif, militants laid siege to the Iranian consulate and ultimately killed 11 people, including eight Iranian diplomats and an Iranian journalist.
When the U.S. did get involved, Iran offered assistance. Little goodwill was earned, however, as the country ended up on former President George W. Bush's "Axis of Evil" along with Iraq and North Korea.
Iran again pursued cooperation with the U.S., this time in the open, as part of the multilateral nuclear deal reached in 2015 under former U.S. President Barack Obama. But it was rebuffed again three years later when former President Donald Trump abandoned the agreement and reinstituted sanctions, which remain in place today under yet another American president, Joe Biden, as Washington and Tehran struggle to coordinate a reentry into the accord.
Today, Iran has fielded its own answer to Bush's infamous speech, a so-called "Axis of Resistance," which includes a network of friendly militias operating in Lebanon, Iraq, Syria and Yemen. One of these groups, known as the Fatemiyoun, hail from Afghanistan's predominantly Shiite Muslim Hazara community, an ethnic minority that today has taken up arms against Taliban gains.
But despite mounting speculation, both Iran and the Fatemiyoun have denied any concerted effort to redeploy the paramilitaries from the fight against the Islamic State militant group (ISIS) in Syria to Afghanistan.
In recent remarks sent to Newsweek, Shahrokh Nazemi, head of the media office of Iran's permanent mission to the United Nations, said Tehran first and foremost sought a diplomatic solution in Afghanistan.
"The Islamic Republic of Iran does not interfere in the internal affairs of other countries, and that includes our good neighbor Afghanistan," Nazemi said. "However, Iran has on several occasions reaffirmed its support for holding talks aimed at establishing peace and ending the conflict in Afghanistan."
Like Russia, Iran has hosted intra-Afghan meetings, including a round of discussions earlier this month in which Iranian Foreign Minister Mohammad Javad Zarif urged the two sides to make "difficult choices" to achieve lasting peace for their country.
"What I want from you," the top Iranian diplomat said, "is to seize this opportunity and end the war in Afghanistan as soon as possible and provide the people of Afghanistan with an opportunity for development."
Referring to this format, Nazemi said that "any issues of common interest can be addressed within the framework of these talks."
Iran's recent overtures to the Taliban have proven deeply controversial at home, however, and the country's policymaking echelon has yet to come to a clear consensus on how to proceed. This is particularly important as Tehran weighs the needs of fellow Shiite Muslims attempting to rout the advances of the powerful, mostly Sunni Muslim Taliban, along with the broader interest of maintaining a working relationship with the group now reportedly fully in control of the Afghan-Iran border.
Ultimately, Iran, already home to a massive Afghan refugee and immigrant population due to decades of unrest, seeks stability for the nation across its eastern border above all.
"It should not be forgotten that Iran has been (and is today) host to millions of Afghan refugees," Nazemi said, "and peace is important to Iran as a neighboring country and to those who wish to return to their homeland to rebuild their lives there."