China Has New Man for Afghanistan and Plan to Avoid Civil War Across Border
China has appointed a new delegate to handle a potentially disastrous situation in neighboring Afghanistan, where Beijing has drawn up a three-point plan to prevent civil war as instability grows following the withdrawal of the U.S. military from the country.
Chinese Foreign Ministry spokesperson Zhao Lijian announced during a press conference Wednesday that senior diplomat Yue Xiaoyong will replace Liu Jian as Special Envoy for Afghan Affairs.
Liu was said to have "successfully accomplished his mission," and Zhao asserted that Yue, who has previously served as Chinese ambassador to Qatar, Jordan and Ireland, "will establish a working relationship with colleagues from relevant parties as soon as possible and maintain close communication and coordination."
"The Afghan issue is now the focus of attention for the international community," Zhao told reporters.
And he offered Beijing's perspective on the situation.
"China has all along actively participated in and promoted the Afghan peace and reconciliation process, attached high importance to communication and coordination with all relevant parties and international cooperation related to Afghanistan, and will continue to play a constructive role in the early realization of peace and stability in Afghanistan," Zhao said.
The move appeared to signal Beijing's desire to have a stake in Afghanistan's stability and future in a time of severe unrest. The Afghan government and the Taliban movement have accused one another of stoking violence as the latter has increased its share of control of the country district by district at a rapid pace.
Warning of the potential of regional ramifications, Chinese Foreign Minister Wang Yi traveled last week to Tajikistan, which borders both China and Afghanistan, to discuss the conflict. There, Wang identified a three-point list of the "most pressing priorities" in Afghanistan in comments referred to Newsweek by the Chinese embassy in Washington.
"First, avoid further expansion of the conflict in Afghanistan and in particular, an all-out civil war," Wang said. "Second, restart intra-Afghan negotiation as soon as possible to achieve political reconciliation. Third, prevent all kinds of terrorist forces from taking advantage of the situation to grow in Afghanistan and not allow Afghanistan to again become a gathering ground for terrorists."
The final point on the threat of extremism is particularly important for Beijing, and the top Chinese diplomat said he hoped Afghan factions could ultimately overcome their differences to ensure such a threat did not spread.
"China's expectations for the future of Afghanistan: a country that has a broad-based and inclusive political arrangement, pursues a sound Muslim policy, resolutely strikes down on all forms of terrorism and extremist ideologies, and commits to friendly relations with all neighboring countries," Wang said.
He then provided assurance that China would actively support such measures.
"China supports all efforts conducive to the realization of the above goals," he said, "and stands ready to communicate and coordinate with all parties, conduct diplomatic mediation and provide necessary facilitation to this end."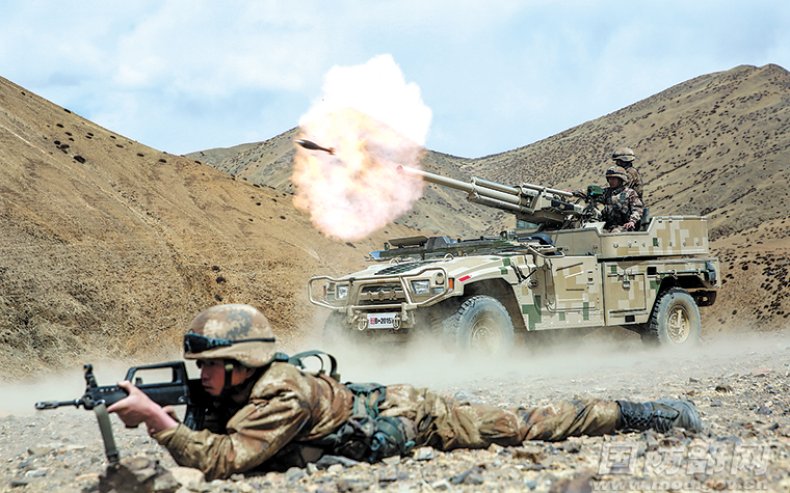 Wang was also deeply critical of the role played by Washington and its allies in their two-decade year in Afghanistan.
"The U.S.-launched war in Afghanistan has lasted for 20 years, but peace has not yet arrived," Wang said. "During this time, tens of thousands of Afghan civilians have lost their lives in U.S. military operations, and tens of millions have been displaced and become refugees."
But he added that China believes the U.S. still has a role to play in the war-torn country.
"As the U.S. pulls out of Afghanistan, it should reflect on the role it has played on the Afghan issue," he said, "and think about how to fulfill its obligations to the reconciliation and reconstruction in Afghanistan."
He expressed support for Afghanistan's sovereignty and independence, saying that "Facts have proved once again that any forceful intervention in Afghanistan is bound to fail."
"As the US and NATO withdraw from Afghanistan," he added, "the Afghan people, drawing on the painful lessons, now have a new opportunity to take the future of their country and nation in their own hands."
In the eyes of China, this means recognizing both the role of the internationally recognized government in Kabul as well as the Taliban, which Wang referred to as "a major military force in Afghanistan" that "should recognize its responsibility toward the country and the nation, make a clean break with all terrorist forces and return to Afghanistan's political mainstream with a sense of responsibility for the country and the people."
The Taliban appears so far to have reciprocated the friendly overtures. Spokesperson Suhail Shaheen told South China Morning Post's This Week in Asia earlier this month that the group would "welcome" Chinese investment in Afghanistan.
But threats to regional Chinese interests have already made themselves apparent, such as a blast last week that tore through a bus in northern Pakistan, killing 13 people, including Chinese citizens.
With similar threats abounding, China has additionally sought the support of Pakistan and other strategic partners that have material interests in the future of Afghanistan and the region.
The Chinese embassy also referred Newsweek to a joint statement adopted the following day by the Shanghai Cooperation Organization, which includes China, India, Kazakhstan, Kyrgyzstan, Pakistan, Russia, Tajikistan and Uzbekistan as members, as well as Afghanistan along with Belarus, Iran and Mongolia as observer states.
"As friendly neighbors and important partners of Afghanistan, the SCO Member States are interested in making the country peaceful, stable and prosperous," the joint statement said, "and reaffirm their respect for the traditions and culture of all peoples inhabiting Afghanistan."
The participating countries said they "intend to assist Afghanistan in becoming a country free of terrorism, war and drugs," and made reference to the threat of turmoil stemming from the activity of militant groups emboldened by the recent aggravation of the country's conflict.
"We note that the activity of international terrorist organizations remains a key factor of instability in that country," the statement said. "We are deeply concerned by the growing tension in Afghanistan's Northern Provinces caused by the increased concentration of various terrorist, separatist and extremist groups. We consider it important to step up joint efforts by SCO Member States to counter terrorism, separatism and extremism."
These three threats have been referred to by Chinese officials as "forces of evil," and the ruling Communist Party has set out to ensure they do not take hold within the People's Republic itself.
In Xinjiang province, which borders Afghanistan, China has set up sprawling vocational education and training camps, widely viewed in the West as concentration camps, to detain members of the mostly Muslim Uighur minority suspected of harboring subversive beliefs.
A primarily Uighur group known as the East Turkestan Islamic Party (ETIM), or Turkestan Islamic Party, has been known to operate in Afghanistan. But the U.S. State Department has downplayed their presence while lifting the group's designation as a "terrorist organization" under the Immigration and Nationality Act.
A State Department spokesperson told Newsweek last month that "ETIM was removed from the list because, for more than a decade, there has been no credible evidence that ETIM continues to exist."
"We assess that ETIM is now a broad label China uses to inaccurately paint a variety of Uighur actors, including non-violent activists and advocates for human rights, as terrorist threats," the spokesperson said. "China often labels individuals and groups as terrorists on the basis of their political and religious beliefs, even if they do not advocate violence."
Beijing's controversial policies in Xinjiang have been the source of criticism by Washington and Western allies, while Chinese officials have accused them of encouraging strife and dissent within the resource-rich and strategically located Xinjiang region.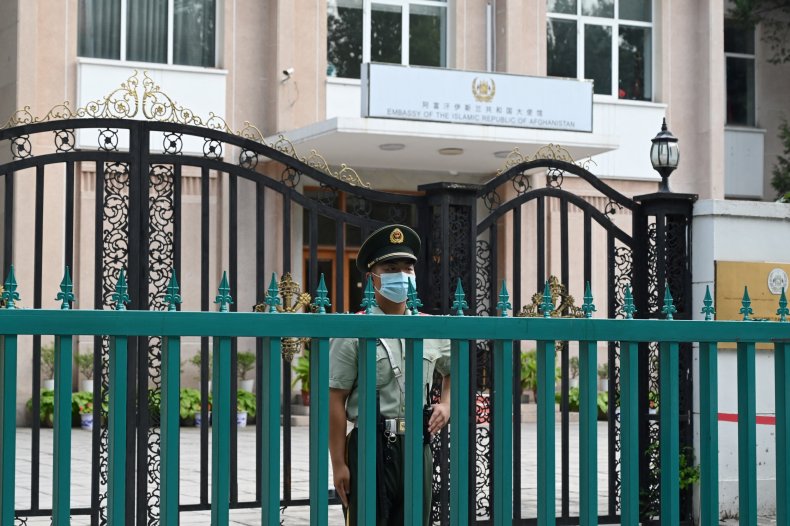 But now, in spite of their deepening geopolitical rivalry, the U.S. also sees a role for China supporting peaceful outcomes in Afghanistan.
"China—being, of course, an important country in the region —has the potential to be a constructive force when it comes to the cause of an Afghanistan that is more secure, that is more stable, that ultimately is peaceful," State Department spokesperson Ned Price told reporters last week.
While Price described Washington's relationship with Beijing as, at times, "adversarial" and "competitive," he noted that "there are some areas in which our interests align and where there is the potential for cooperation."
Afghanistan, Price argued, "has the potential to be one of those areas, because it is an area where our interests do align, where the United States and the PRC can find some area of agreement and can work together constructively."
"The ability to do that would certainly be not only in our national interest," he added, "but also the collective interest as well."
On Wednesday, a new opportunity to work together presented itself with the confirmation of U.S. Deputy Secretary of State Wendy Sherman's visit to China early next week during her East Asia tour.
There, she will meet with Wang and other Chinese officials as "part of ongoing U.S. efforts to hold candid exchanges with PRC officials to advance U.S. interests and values and to responsibly manage the relationship," according to the State Department. Sherman "will discuss areas where we have serious concerns about PRC actions, as well as areas where our interests align."