Mike Pence Might Have Already Killed His Presidential Hopes
Mike Pence has gone against Donald Trump's views on cutting Medicare and Social Security as the former vice president is expected to announce plans to run for the White House in 2024.
Speaking to CNBC's Squawk Box on Wednesday, Pence said that the debate on whether to cut entitlement programmes needs to be "on the table" amid the debt ceiling discussions.
House Speaker Kevin McCarthy recently declared that Social Security and Medicare should be "completely off the table" when it comes to debt ceiling negotiations, a view that is also backed by Trump.
"I'm glad to see the Republican majority saying we need to use this debt ceiling to start us back in the direction of fiscal discipline, but look, we all know where the real issue is in terms of long-term debt," Pence said.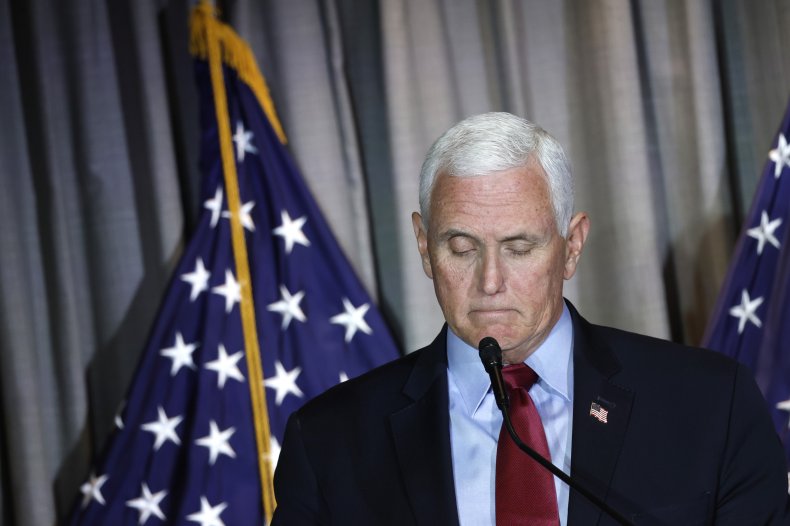 "While I respect the speaker's commitment to take Social Security and Medicare off the table for the debt ceiling negotiations, we've got to put them on the table in the long term.
"We're looking at a debt crisis in this country over the next 25 years that's driven by entitlements, and nobody in Washington, D.C., wants to talk about it," Pence added.
The issue of Social Security and Medicare could be one of the biggest topics of the GOP presidential primary. Trump, who is considered the overwhelming favorite to clinch the nomination, is already using the idea of cutting the programs to attack his potential main challenger, Florida Governor Ron DeSantis.
"Ron DeSanctimonious wants to cut your Social Security and Medicare," Trump wrote on Truth Social on February 18 while also describing DeSantis as a "RINO" [Republican in name only] whose "poll numbers are dropping like a rock."
While Pence has not yet confirmed he is running for president in 2024, his poll numbers currently suggest his campaign will struggle to gain any real significant support.
An exclusive poll of 1,500 eligible voters for Newsweek, conducted by Redfield and Wilton Strategies on February 19, showed just 5 percent believe that Pence will be GOP presidential nominee for the 2024 election.
By comparison, 43 percent believe Trump will win the nomination, with DeSantis behind in second on 18 percent.
By breaking with Trump in what could be a key battle in the GOP presidential primary fight, Pence may already be hindering his White House ambitions.
"While the rest of the field is trying to go from 0% to 1% in the 2024 GOP primary polls, Pence is bravely trying to go from 1% back down to 0%," tweeted Max Steele, director of federal and political communications at Everytown for Gun Safety.
Elsewhere, Pence, whose relationship with Trump fell apart in the wake of the January 6 attack on the Capitol, also took a swipe at the former president during his appearance on Squawk Box on Wednesday.
When asked if he would prefer the GOP had an alternative to Trump in the 2024 presidential election, Pence said the party is "going to have better choices" than in previous cycles.
Pence also criticized Trump for the GOP's poor midterm performance, as many of the former president's endorsed MAGA and election-denying candidates lost their races across the country.
"Our candidates that were focused on the past, particularly on relitigating the last election, did not do well, including in areas that we should have done very well," Pence said.
When asked if he will run for president in 2024, Pence replied: "I'll keep you posted."
Pence has been contacted for comment.