Mike Pence Memes, Jokes Hit Twitter After VP Stays Silent During Heated Trump, Schumer, Pelosi Meeting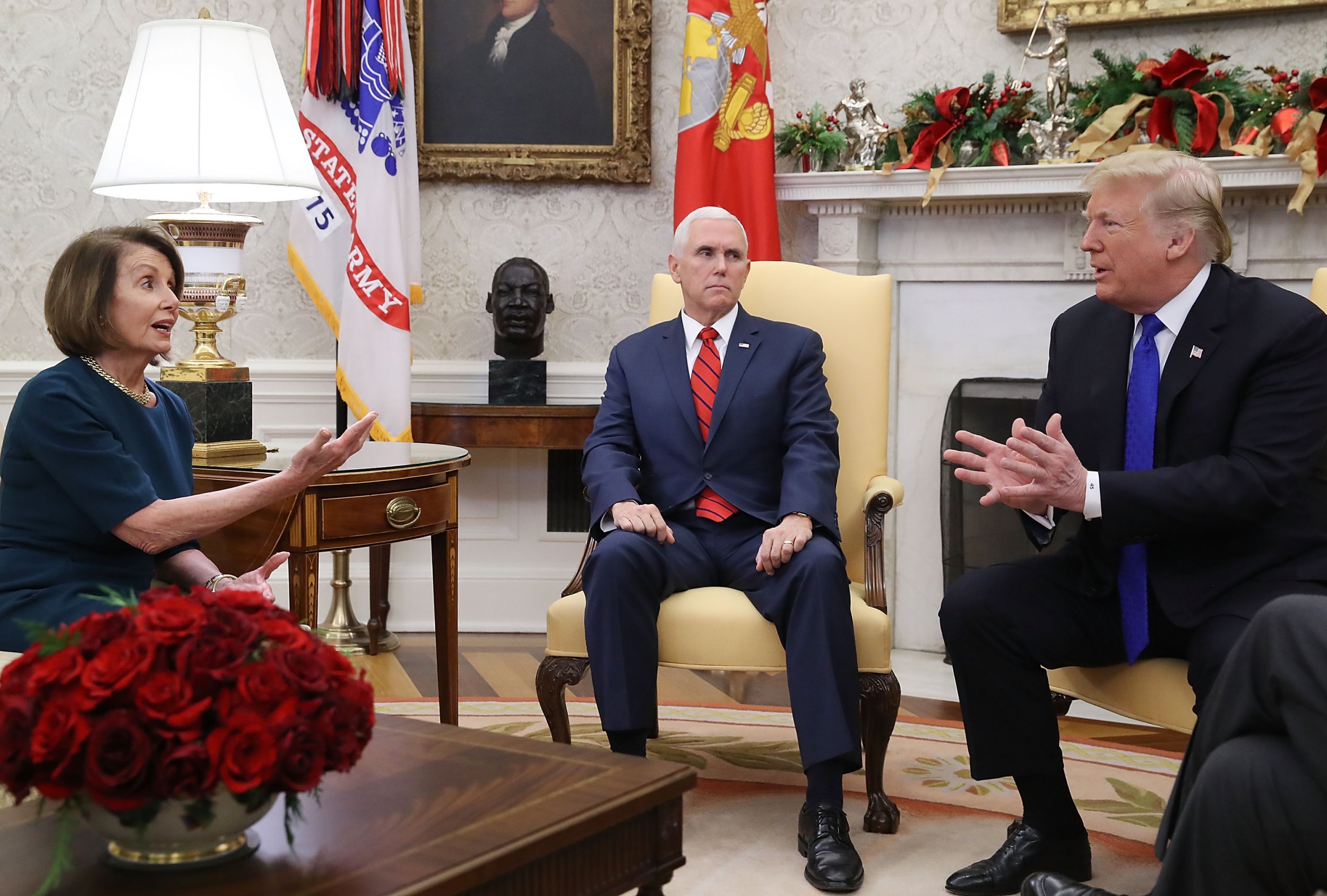 President Donald Trump hosted a combative, and at times angry, meeting on Tuesday with Democratic leaders Nancy Pelosi and Senator Chuck Schumer. And, through it all, Vice President Mike Pence remained silent and stoic, leading many to ponder just what was going on inside his head.
The three other political leaders sparred over border security, with Trump pushing for long promised—but not built—wall along the southern border of the United States.
"I am proud to shut down the government for border security...I will take the mantle. I will be the one to shut it down. I'm not going to blame you for it," Trump said about his wall. The president bickered and interrupted frequently, inspiring Pelosi to literally point out that the conversation had "spiraled downwards."
Schumer, for his part, mocked Trump to his face after the president bragged about winning Senate seats in relatively unsurprising states in the recent 2018 midterms.
"When the president brags he won North Dakota and Indiana he's in real trouble," Schumer said during the meeting, which was (somewhat awkwardly) televised.
All-in-all, it was an odd, antagonistic meeting for Trump, Pelosi and Schumer. Oh, and Pence was also in the room. But Pence, well, didn't say very much as Trump went back-and-forth with the Democratic leaders from the House and Senate. A bit slouched, distant and largely silent, Pence was quickly the subject of Twitter jokes—because, well, of course.
"Mike Pence is the worst member of this improv team," joked New York Times culture writer Sopan Deb, for instance.
There were plenty more memes and jokes out there and, for your convenience, we've embedded a number of the more popular ones below.
A picture's worth
Improv fail
The Simpsons did it first, actually
Kind of true, actually
Seems almost true as well
The inevitable Curb edit
Somebody help him!
Hmm, interesting...
H-E-L-P
Not the worst approach
And finally, it's the JV part that really cuts deep