Mike Pence Has 'Erect Posture and Flaccid Conscience'—Ex-Trump Official
Former Homeland Security official Miles Taylor criticized Mike Pence's character and insisted he should have stood up to former President Donald Trump.
While speaking on CNN on Tuesday, Taylor and CNN's Alex Burns reflected on Pence's potential presidential ambitions.
A clip of Taylor's comments has gone viral on Twitter and has been viewed more than 180,000 times.
"Alex makes great points but if you want to know what the Mike Pence Vice Presidency was like, Mike Pence was the guy with an erect posture and a flaccid conscience," Taylor said.
"He stood up tall but he did not stand up to Donald Trump. We just saw it there in that clip."
The clip Taylor referenced is from a speech Pence made at the Young Americas Foundation Student Conference on Tuesday.
"He stood up tall in the speech but he still, after people tried to assassinate him, could not stand up to Donald Trump and said we don't disagree on the issues," Taylor said.
"That tells you everything you need to know about Mike Pence."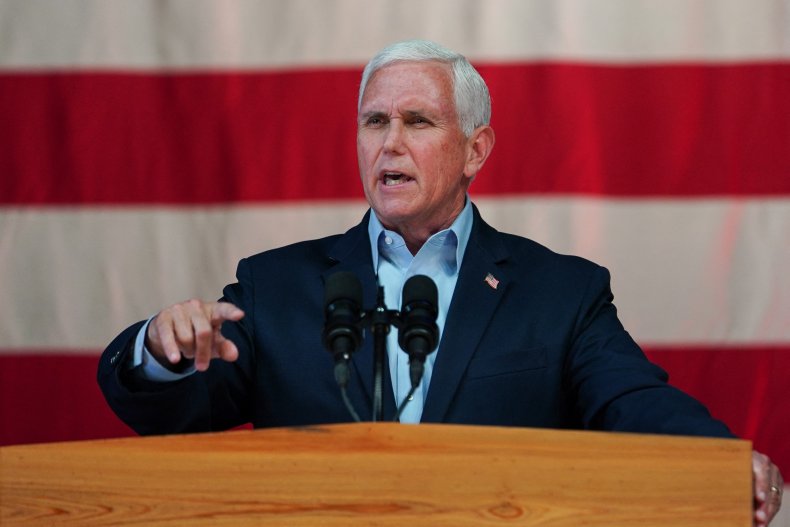 "So, I don't know that our movement is that divided. I don't know that President [Trump] and I differ on issues," Pence said in the clip.
"But we may differ on focus. I truly do believe that elections are about the future and it's absolutely essential at a time when so many Americans are hurting, so many families are struggling that we don't give way to the temptation to look back.
"But I think the time has come for all of us to offer a bold, positive agenda to bring America back."
Burns joked that Pence and Trump do differ on the issue of "hang Mike Pence," a chant that was heard as rioters the stormed the Capitol on January 6, 2021.
He went on to question Pence's chances of succeeding in the 2024 Presidential election, if he was to run.
"One of the challenges here, one of the many challenges here for Mike Pence is the question of how do you parse your relationship with Donald Trump and your role in the Trump administration," Burns said.
"Mike Pence is saying 'you don't talk about the past, you talk about the future.' Mike Pence's past as the vice president is the only reason he is seen as a serious candidate for president in 2024.
"He is not an ideological visionary for the party, he is not seen as one of the big ideas people, or one of the electrifying charismatic leaders of the Republican party."
He added: "I think a lot of people I talk to in Republican politics think it is awfully hard for him to compete with the Ron DeSantis' of the world who do represent the next generation and don't need to untangle what they were doing in the Oval Office at any date and time."
Recent polling shows Trump as the front-runner for his party's nomination, but many analysts have floated the possibility of Pence or Florida's GOP Governor Ron DeSantis potentially offering strong challenges.
A poll conducted by The New York Times with Siena College from July 5 to 7 showed Pence in fourth place among potential 2024 GOP contenders. Trump came in first with 49 percent support followed by DeSantis in second at 25 percent. Senator Ted Cruz, a Texas Republican, came in third with 7 percent followed close behind by Pence at 6 percent.