Mike Pence Tells Americans to 'Spend More Time on Your Knees Than on the Internet'
Vice President Mike Pence on Tuesday defended his wife from criticism over her decision to teach at an anti-LGBTQ Christian school and told Americans to "spend more time on your knees than the internet."
Earlier this year, second lady Karen Pence began teaching art part-time at the Immanuel Christian School in Springfield, Virginia, a school that prohibits gay students and parents. Faculty members are also required to adhere to a "statement of faith," which rejects same-sex marriage and trans identity. Faculty must commit to maintaining "a lifestyle based on biblical standards of moral conduct."
LGBT advocates and organizations, including the American Civil Liberties Union, have repeatedly rebuked the second lady's decision to join an institution that implements hateful policies.
"We honestly didn't see that one coming. Our kids went to this school," Pence said on Tuesday at an event for the Alliance Defending Freedom, in reference to the backlash. "As a Christian believer, we're charged to pray for our loved ones, but also pray for our enemies. You have lots of opportunities in politics to do that."
Pence went on to offer some advice for Americans on the matter. "No. 1 is spend more time on your knees than on the internet," he said. "Forgiveness is a great gift."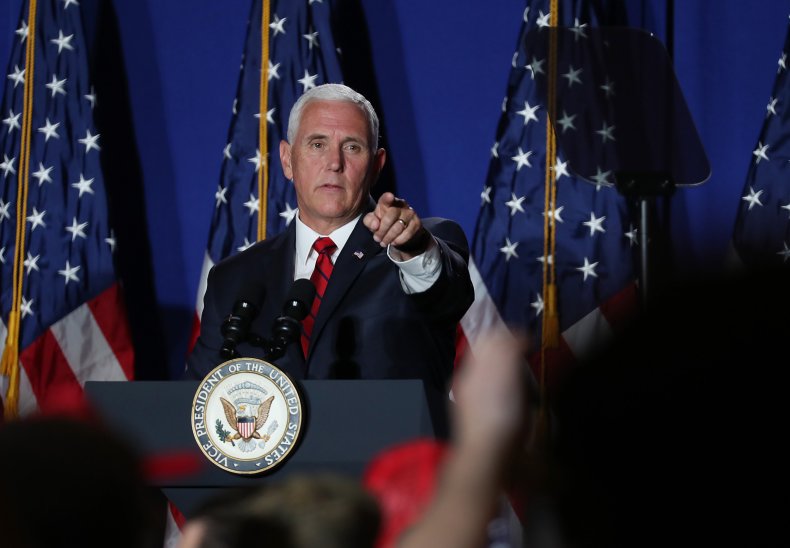 During the ADF event, Pence also condemned the two mass shootings that occurred over the weekend. "What happened this weekend were acts of pure evil. And we express our deepest condolences to the families of those who lost their lives," the vice president said. "Hate has no place in America and the sinister ideologies of racism, bigotry and white supremacy must be defeated."
Pence's sentiment echoed the remarks of President Donald Trump who on Sunday responded to the attacks by declaring that "hate has no place in our country." The president also vowed that his administration will "take care of it," without providing any concrete plans to address gun violence.
Although Trump claimed that his administration has "done much more than most administrations," he noted that "perhaps more has to be done."
Democrats, including various 2020 candidates, and other politicians have feuded over whether Trump's inflammatory rhetoric about immigrants had effectively fueled hate and violence in America. Trump "is a racist and he stokes racism in this country," former Texas congressman Beto O'Rourke said on Saturday. "And it does not just offend our sensibilities, it fundamentally changes the character of this country and it leads to violence."
#TrumpsTerrorists began trending on Twitter on Sunday afternoon thousands of Americans weighing in on whether the president should be blamed for the mass shootings.