Mike Pence's Wife Campaigns for Republican Who Complained that Homosexuality Was No Longer Illegal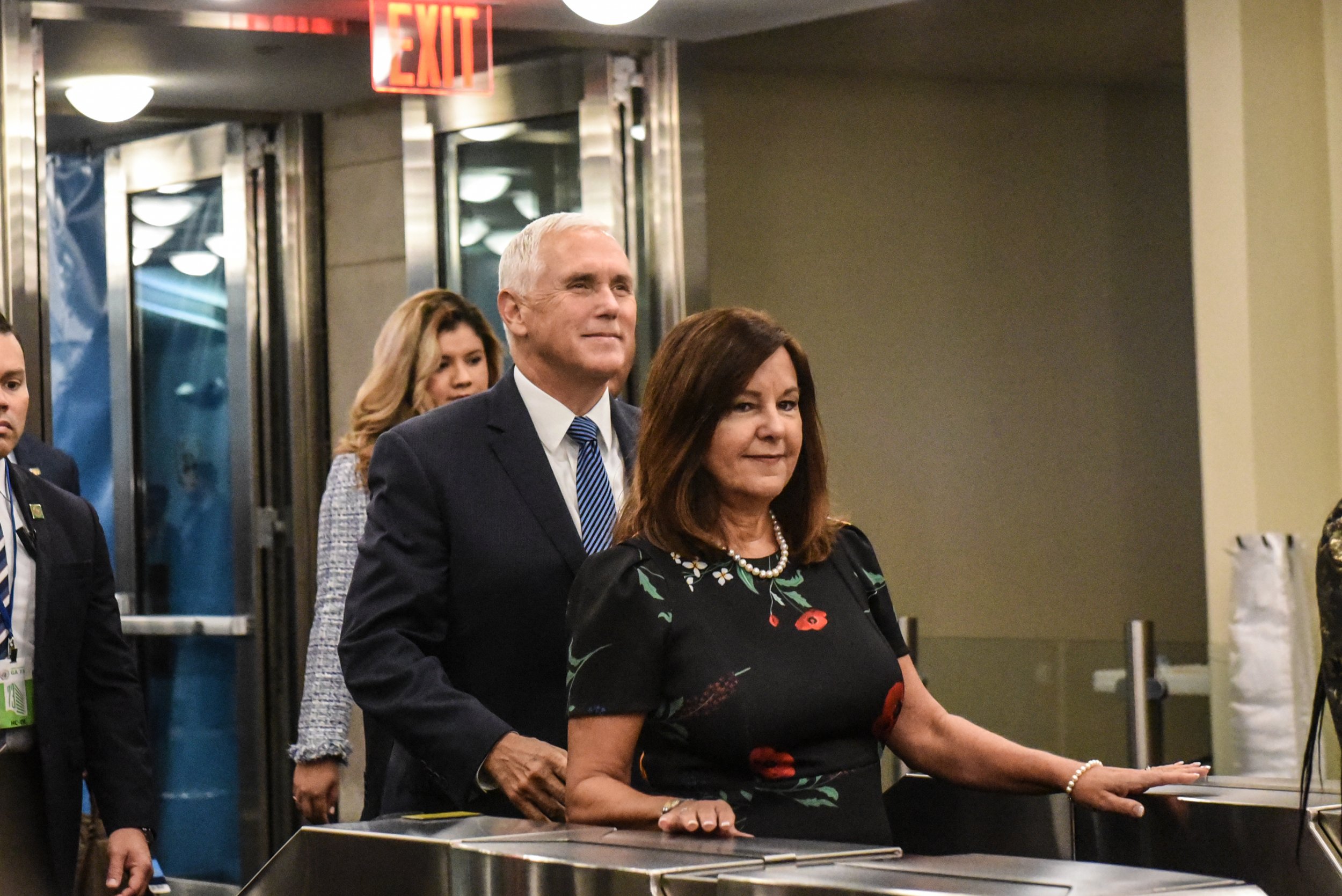 Karen Pence, the wife of Vice President Mike Pence, campaigned last week for a Republican candidate who once lamented that homosexuality was no longer criminalized. The second lady spoke at a Women for Mark Harris rally in Charlotte, North Carolina, Monday in an effort to improve the standing of the Republican candidate among female voters as he seeks to secure a seat in the House of Representatives.
"I'm here because this race is so important," Pence said at the rally. "The road to the majority leads right through North Carolina. This seat, this race, it is critical to keeping the majority in Congress."
Pence added: "We need good men like Mark Harris in Congress to keep the country moving ahead."
But Harris has long espoused extreme anti-LGBT views. In August, a video was surfaced by Media Matters of Harris speaking at a "rally for liberty" in 2015 when he bemoaned what he said was the moral degradation in the country over recent years, pointing specifically to the fact that homosexuality was no longer illegal.
"In one generation you and I have witnessed this country sliding from a nation who once shared a moral vision based on Judeo-Christian ethic to a nation floundering in moral decay," Harris says in the clip.
"In one generation we have watched our nation who once believed in lifelong marriages to the same spouse to a divorce rate now well over 50 percent. We have watched in one generation where homosexuality was once criminalized to now we see the criminalization of Christianity. And I could go on and on with the entertainment, with the education, with the life issue."
In addition, Harris has been endorsed by the Family Research Council, which has been designated as a hate group by the Southern Poverty Law Center and has claimed that the push for LGBT rights was part of an effort to "eventually recognize pedophiles as the 'prophets' of a new sexual order."
Vice President Pence also has a relationship with the anti-gay group. Last month he became the first vice president to address the annual Voter Values Summit, a conference hosted by the Family Research Council. Pence spoke immediately following a panel titled, "How Gender Ideology Harms Children."
Illinois became the first state to abolish sodomy laws, in 1961, with 19 more states following suit in the 1970s. But it wasn't until 2003 that the Supreme Court ruled that such laws were unconstitutional.
Latest polls indicate that the race between Harris and Democratic opponent Dan McCready in the battle for North Carolina's 9th District is on a knife-edge.