Secretary of State Mike Pompeo Admits He Has Disagreements With Donald Trump 'With Great Frequency'
Secretary of State Mike Pompeo admitted on Tuesday that he regularly has disagreements with President Donald Trump, but insisted that he does his best to execute and support every "legal" decision by the commander-in-chief regardless of his personal opinions.
"I work hard for the President of the United States, who was constitutionally elected. He is my leader. My task is to share with him the best information," Pompeo said during a Tuesday morning interview with Gayle King on CBS This Morning.
"If we disagree, my duty is to go share with him our disagreements. I do that with great frequency. But when he makes a decision, and it's legal, it's my task to execute that [decision] with all the energy and the power that I have," he added.
The Secretary of State's remarks came in response to an in-depth feature article in The New Yorker, which was published on Monday. In that feature, an unidentified former U.S. ambassador described Pompeo as "a heat-seeking missile for Trump's ass."
"I find it – language offensive, and I find the statement ludicrous," Pompeo said, when asked by King about that specific comment.
The New Yorker article, written by Susan B. Glasser, detailed how Pompeo, who previously served as a congressman from Kansas, went from being a staunch Trump critic to a loyal member of his administration. After Trump took office in 2017, he appointed Pompeo to be the director of the CIA. With the departure of former Secretary of State Rex Tillerson from Trump's Cabinet last year, Pompeo was promoted to the nation's top diplomatic post, officially taking over as Secretary of State in April 2018.
But back in 2016, Pompeo supported Republican Sen. Marco Rubio of Florida for the GOP presidential nomination. At a Kansas rally, he compared Trump to former Democratic President Barack Obama, arguing that the then presidential candidate would disregard the Constitution.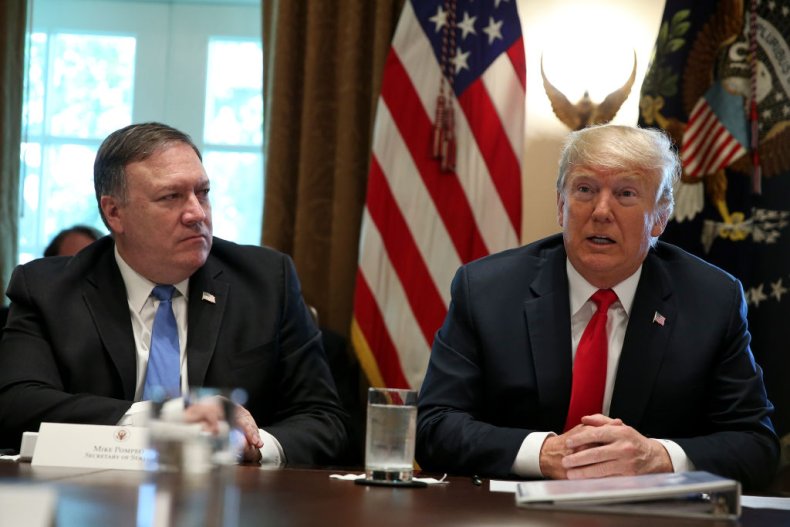 "We've spent seven and a half years with an authoritarian president who ignored our constitution," Pompeo argued, referring to Obama, who was still president at the time. "We don't need four more years of that," he said, in a dig at Trump.
In his interview with King on Tuesday, Pompeo dismissed his past criticism of the president. "The comments from back in 2016, it was a tough political campaign and when I'm on your team, I am all in," he said, laughing. "When my candidate left, I was all in for President Trump then as well, and I'm in for America today."
Pompeo also insisted that Trump "cares deeply about America" and that he has personally "enjoyed the privilege of working for President Trump."