Secretary of State Mike Pompeo traveled to North Korea to meet with high-ranking officials this week—but he seemed confused as to how to refer to the country's leader, Kim Jong Un.
Speaking to the traveling press en route to Pyongyang on Tuesday, Pompeo referred to "Chairman Un" instead of using his surname Kim—a mistake that, according to journalists and experts on North Korea, indicates how unprepared the Trump administration is for dealing with the regime.
As in China, North Korean names begin with a surname followed by a two-part given name, so the correct way to refer to Kim Jong Un is Chairman Kim.
But the two journalists traveling with Pompeo, from the Associated Press and The Washington Post, were kind enough to let the error slide, inquiring instead about the purpose of the trip.
Pompeo said he hoped to nail down details such as a date and location for the summit between President Donald Trump and Kim, which would mark the first time a sitting American president has met with a North Korean leader.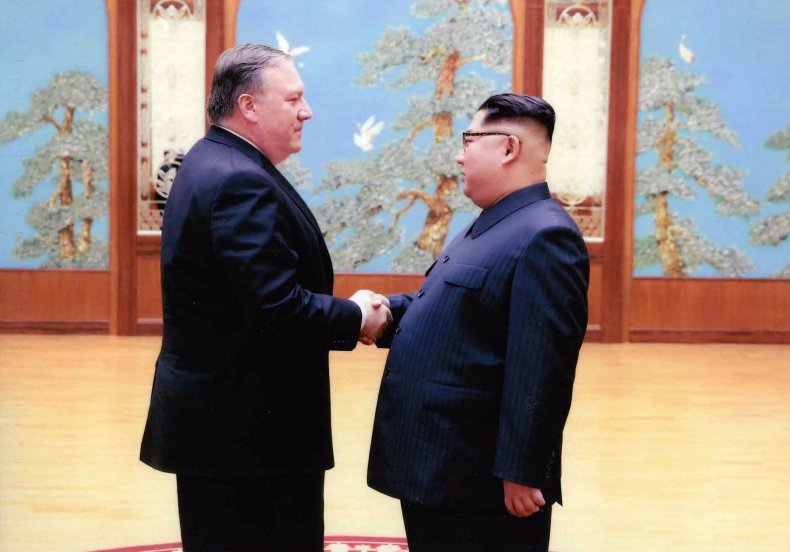 Pompeo, who secretly traveled to North Korea last month and met with Kim ahead of his confirmation as head of the State Department, said he didn't know if he'd be meeting the North Korean leader again. He did not confirm whether he'd be traveling home with the three American citizens currently detained in North Korea.
"We'll talk about it again today. I think it'd be a great gesture if they would choose to do so," he said. Asked whether a summit with Kim would be possible while Americans languish in North Korean jails, he replied, "We're hopeful we don't have to cross that road." He added, "We're going to talk. We're going to talk to them about it again and ask them if they would do the right thing."
The South Korean presidential office was optimistic about Pompeo's chances of success in his first official diplomatic mission to the country. "We expect him to bring the date, time and the captives," an unidentified South Korean official told Yonhap news agency.
After landing in Pyongyang, Pompeo on Wednesday met one of Kim's close aides, the director of the United Front Department responsible for North-South relations, four-star general Kim Yong Chol, for a private meeting at the Hotel Koryo in Pyongyang.
Then, over a lunch that included poached fish and duck and red wine, the two pledged to working together to establish peace on the peninsula. "For decades, we have been adversaries. Now we are hopeful that we can work together to resolve this conflict, take away threats to the world and make your country have all the opportunities your people so richly deserve," Pompeo said, quoted in The Washington Post.
"I have high expectations the United States will play a very big role in establishing peace on the Korean peninsula," General Kim said.
He added, however, that Trump's sanctions had nothing to do with the relaxing of the tensions on the peninsula. It was "the will of the Korean people" he said instead, according to a press pool report quoted in The Wall Street Journal.