Russia Accuses U.S. of 'Information War' Over Claims It Told Maduro to Remain in Venezuela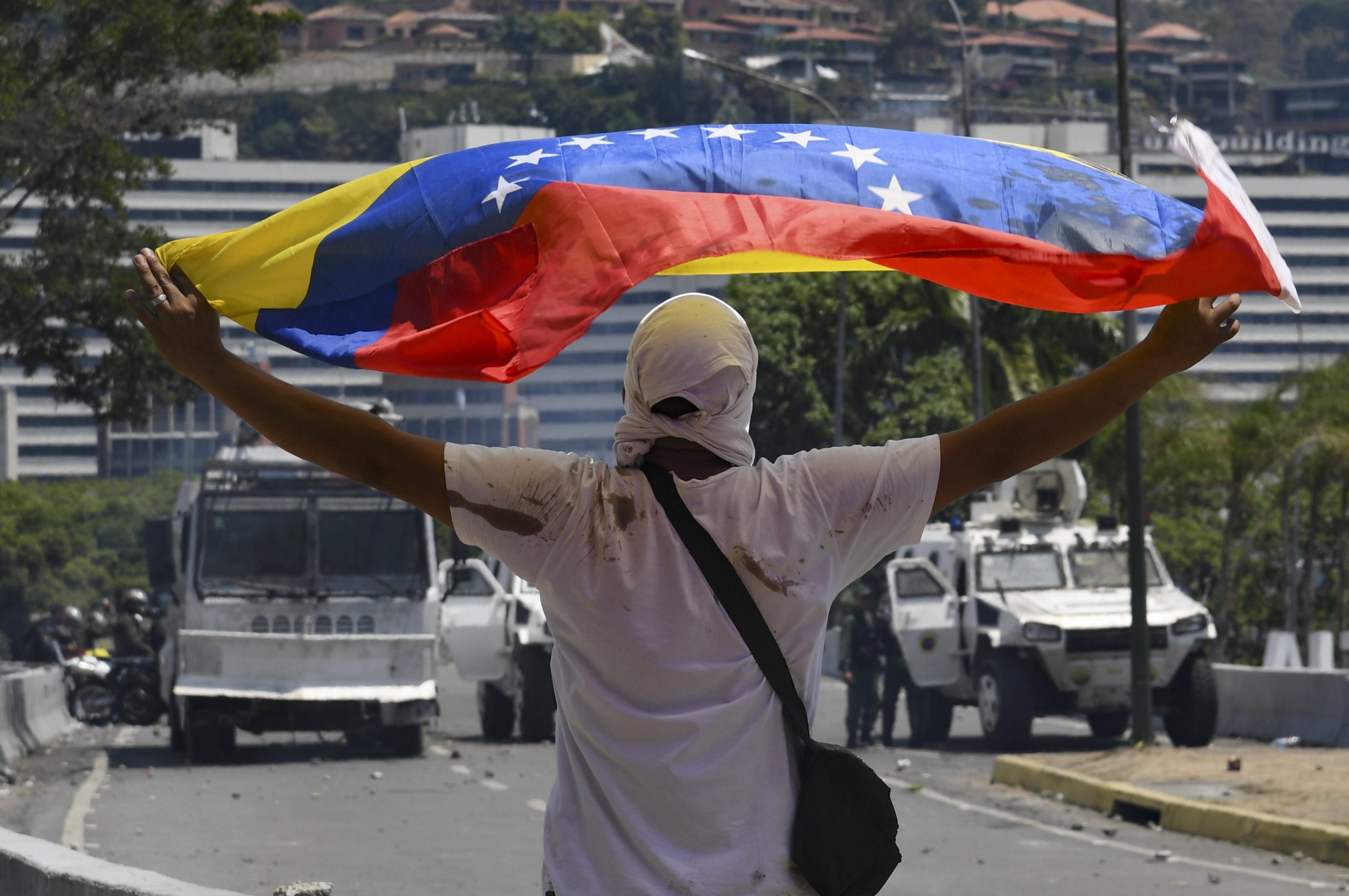 Russian officials have dismissed a U.S. claim that Moscow had advised Venezuelan President Nicolás Maduro against fleeing the country on Tuesday.
Juan Guaidó, the leader of the opposition, took to the streets with his supporters in the early hours of Tuesday calling for an uprising against Maduro.
While the attempted coup failed, U.S. Secretary of State Mike Pompeo suggested that Maduro was ready to flee the country. "They had an airplane on the tarmac. He was ready to leave this morning, as we understand it. Russians indicated he should stay," he told CNN.
His claims have since been disputed by the Russian Foreign Ministry, which suggested Washington was engaging in what it described as "information war" and that the claim was fake.
"Washington tried its best to demoralize the Venezuelan army and now used fakes as a part of information war," Maria Zakharova, a spokeswoman for the Russian foreign ministry, told the broadcaster.
Venezuela is one of Russia's closest allies, and it has backed Venezuela to the tune of billions of dollars in a bid to sustain the country's economy. One of Russia's biggest energy companies, Rosneft, has invested significant sums into Venezuela's oil industry.
Moscow had previously accused Washington of looking to orchestrate a coup in Venezuela. On Tuesday, in what appeared to be a thinly-veiled dig at the U.S., it criticized foreign interference.
"The radical opposition in Venezuela has once again turned to violent methods of confrontation," the Russian government said in a communique. "Instead of a peaceful settlement of political differences, a course has been taken to foment a conflict, provoking violations of order and clashes with the country's armed forces."
While it blasted meddling from foreign countries, Moscow also ruled out getting involved in the conflict.
Jorge Arreaza, Venezuela's minister of foreign affairs, also rubbished Pompeo's claims, suggesting Guaidó's attempted coup had been orchestrated by Washington.
"It is not a coup attempt from the military," he was quoted as saying by Reuters. "This is directly planned in Washington, in the Pentagon and Department of State, and by [U.S. national security adviser John] Bolton. They are leading this coup and giving orders to this man [Juan] Guaidó."
In his interview, Pompeo claimed Maduro had been ready to leave and "was headed for Havana," but the Venezuelan president refuted the suggestions, describing them as "lies and manipulations," according to Russian news agency TASS. "Please, Mr. Pompeo, you're not being serious," Maduro said during a televised address to the country.
Aside from Russia, Maduro retains the support of Iran and China, as well as Belarus, Bolivia, Cambodia, El Salvador, Lebanon, Mexico, Nicaragua, North Korea, the Palestinian National Authority, Serbia, South Africa, Syria and Turkey.
The U.S. is among those backing Guaidó, along with the European Union, Ukraine, Georgia, Israel, Japan, South Korea, Australia, Canada and Albania.