Mike Pompeo Laments European Allies 'Have Not Been as Helpful' After Trump's Order to Kill Iranian General
Secretary of State Mike Pompeo indicated he was disappointed with the reaction by European leaders to the killing of the top Iranian general Qassem Suleimani.
In the streets of the Iraqi capital, Baghdad, thousands of people chanted "death to America" during a funeral procession for the head of the Revolutionary Guard's Quds Force, who was killed in a drone strike.
The Pentagon's position is that the Quds Force was responsible for the deaths of hundreds of U.S. soldiers and that the killing was to prevent future attacks on American diplomats and military personnel.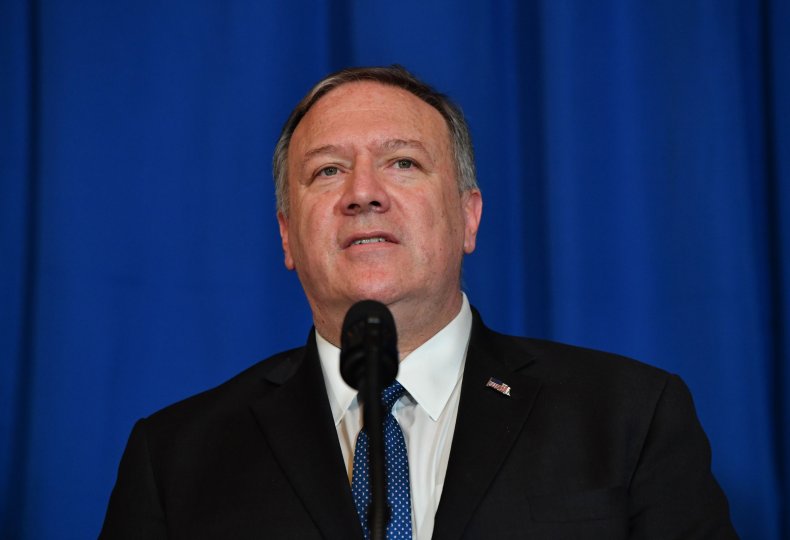 The main theme of the reaction by world leaders has been a call for restraint, but Pompeo told Fox News that he had expected more support from U.S. allies in Europe.
He told the outlet that the Iranian regime was "aiming to take down significant amounts of Americans that would've undoubtedly killed locals too."
He continued that that U.S. allies in the region, such as Jordan, the United Arab Emirates, Saudi Arabia, Egypt and Israel, were working together against Iran and to this end, they "have all been fantastic."
However, Pompeo said that support was not unanimous and appeared disappointed that U.S. diplomats had also been talking to "partners in other places that haven't been quite as good."
"Frankly, the Europeans haven't been as helpful as I wish that they could be. The Brits, the French, the Germans—all need to understand that what we did, what the Americans dad, saved lives in Europe as well," Pompeo told Fox News host Sean Hannity.
In the aftermath of the drone attack, spokeswoman for German chancellor Angela Merkel, Ulrike Demmer said: "We are at a dangerous point of escalation. It is now important through prudence and restraint to contribute to de-escalation."
British foreign secretary Dominic Raab said in a statement: "We have always recognised the aggressive threat posed by the Iranian Quds force led by Qassem Soleimani. Following his death, we urge all parties to de-escalate. Further conflict is in none of our interests."
French Secretary of State for European Affairs Amelie de Montchalin told RTL radio: "What is happening is what we feared: Tensions between the United States and Iran are increasing," adding "We have woken up to a more dangerous world," according to Al Jazeera.
The United Nations Secretary-general Antonio Guterres said in a statement: "This is a moment in which leaders must exercise maximum restraint. The world cannot afford another war in the Gulf."