Israeli Prime Minister Says Donald Trump 'Deserves All the Credit' for Qassem Soleimani Killing
Israeli Prime Minister Benjamin Netanyahu has backed President Donald Trump's drone attack on General Qassem Soleimani, saying America has "exactly the same right" to self-defense as his country.
Speaking in a statement video published online Friday morning, Netanyahu accused the late head of Iran's Revolutionary Guards Quds Force of planning attacks on Americans, echoing a statement from the Pentagon.
He also said President Trump deserved "credit" for acting "swiftly" and "forcefully" with the drone attack on Soleimani, just days after protesters attacked the U.S. embassy in Baghdad.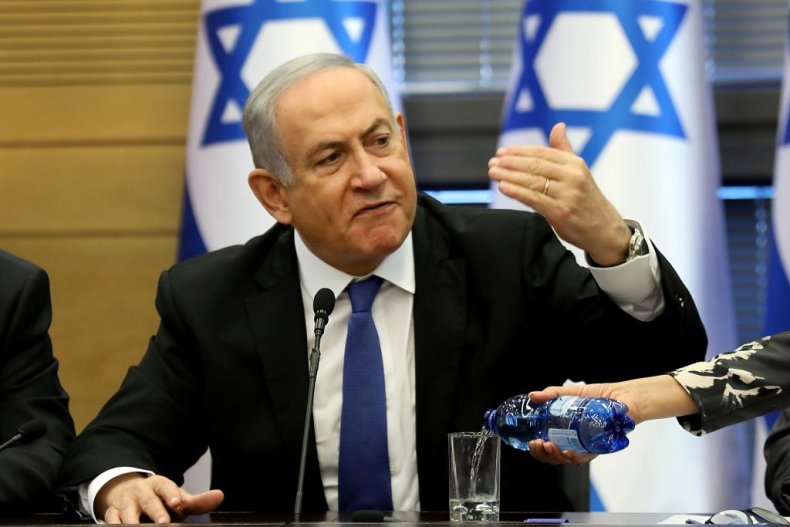 The American commander-in-chief directed the strike on Soleimani at Baghdad's International Airport Thursday night, which also killed two Iraqi militia officials.
Iranian President Hassan Rouhani has responded to the assassination of the country's top general by pledging to "take revenge for this heinous crime."
In a video posted on Twitter this morning, the Israeli PM said: "Just as Israel has the right of self-defense, the United States has exactly the same right.
"Qassem Soleimani is responsible for the death of American citizens and many other innocent people. He was planning more such attacks.
"President Trump deserves all the credit for acting swiftly, forcefully, decisively. Israel stands with the United States in its just struggle for peace, security and self-defense."
Newsweek attempted to contact the Iranian officials for a response but was not able to reach a representative.
Netanyahu made the statement to reporters as he cut short a trip to Greece, The Times of Israel reported, noting concerns that Israel could be targeted following the American attack on Soleimani.
The Israeli leader's political rival Benny Gantz also released a statement praising the killing of Soleimani, saying it was a "message to the leaders of world terror—your blood is on your own heads."
"When it comes to our security there's no coalition or opposition, and I expect all [our] national leaders to avoid any insinuations that could endanger national security," he added.
It was reported by Middle East Monitor today that a ski resort in the occupied Syrian territory of Golan Heights was closed by Israeli military over security concerns following the U.S. drone attack on Soleimani.
The 62-year-old General Soleimani was killed days after protesters attacked the U.S. embassy in Baghdad on December 31, an incident that cause no casualties, in response to fatal American airstrikes against positions held by the Iran-backed militia Kataib Hezbollah.
Its strikes on the militia reportedly killed 25 fighters, and were a response to the death of a U.S. defense contractor amid a rocket attack on the K-1 Air Base in Kirkuk, Iraq.
The State Department urged U.S. citizens in Iraq to leave the country, adding that all consular operations were suspended.