Obama State Department Official Warns of 'Terrible Reprisals' After 'Very Escalatory' Killing of Qassem Soleimani
A top Obama administration State Department official said there will be "terrible reprisals" following President Donald Trump's ordered killing of Iranian General Qassem Soleimani.
Former Under Secretary of State for Political Affairs, Wendy Sherman, told MSNBC on Thursday night that the American attack could have "unbelievably horrific consequences," and described it as a "very escalatory" moment.
The Iran nuclear deal negotiator also said that nobody would weap for the death of Soleimani, saying he was a "ruthless killer."
Her comments came shortly after the Defense Department confirmed the U.S. military had killed the head of the Iranian Revolutionary Guard Corps-Quds Force at the behest of President Trump.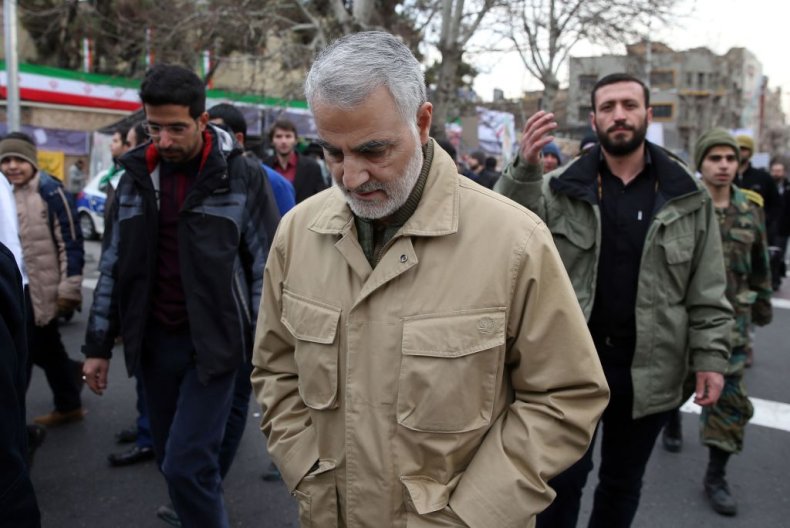 The 62-year-old was killed by the strike at Baghdad airport along with Iraq militia officials just days after protesters attacked the U.S. embassy on December 31 in an incident that caused no casualties.
Speaking on MSNBC's The Last Word on Thursday night, Sherman said: "There will be terrible, terrible reprisals. They will likely happen in the Middle East, but they could happen really anywhere in the world."
She added that the United States had people "all over the world" who could become targets, such as the Baghdad embassy, following the killing of Soleimani.
"Qassem Soleimani is a ruthless, ruthless killer, there is no doubt about that," Sherman said. "Nobody weaps that he is gone as a person in what he did, and the terror he brought about in the world.
"But that said, the Obama administration, at least to my knowledge, did not go after him and target him because we understood what the consequences were."
She added: "We were in the midst of diplomacy. We hoped that we would find a peaceful path, understanding there were many issues in Iran that still had to be addressed beside their nuclear program."
The Iran nuclear deal negotiator later said it did not matter where troops were located if Iran wished to target them, and described the killing of Soleimani as a "very escalatory" moment and hoped the situation would not lead to war.
"I pray with all of my heart that the Trump administration has a plan and a strategy," Sherman said. "But all I've seen to date in their Iran policy is one-off actions. And this one-off action can have unbelievably horrific consequences."
Newsweek has contacted the White House and the Pentagon for comment and will update with any response received.
In a statement released in the wake of the U.S. attack yesterday, the Defense Department called it "decisive defensive action" and claimed Soleimani was "actively developing plans" to attack U.S. diplomatic staff and service members.
Responding to the attack in a tweet posted Friday, Iranian President Hassan Rouhani said his country would "take revenge for this heinous crime." In the hours following the drone attack, President Trump tweeted a picture of the American flag.
Protests at the U.S. embassy in Baghdad this week came in response to American airstrikes on positions held by the Iran-backed militia Kataib Hezbollah that reportedly killed 25 fighters. Those strikes were a response to the killing of an American defense contractor in a rocket attack on the K-1 in Kirkuk, Iraq.