Mike Pompeo Admits U.S. Did Not Know Where and When Soleimani Attacks Would Happen, Despite Previously Warning of 'Imminent Threat'
Mike Pompeo admitted U.S. officials didn't know when or where attacks allegedly planned by Iranian General Qassem Soleimani would take place, despite previous claiming that the latter posed an "imminent" threat to American personnel.
The secretary of state said officials did not know "precisely" when or where the alleged plots would occur, but insisted the threat "was real" in a Fox News interview on Thursday night.
He also repeated his claim that there was "no doubt" the former Quds Force commander was plotting a "series of imminent attacks" on U.S. forces and diplomats in Iraq and other parts of the world.
Pompeo revealed that officials had no precise details of when and where the alleged planned attacks would take place after a Wednesday intelligence briefing with lawmakers on the Soleimani strike was met with a backlash.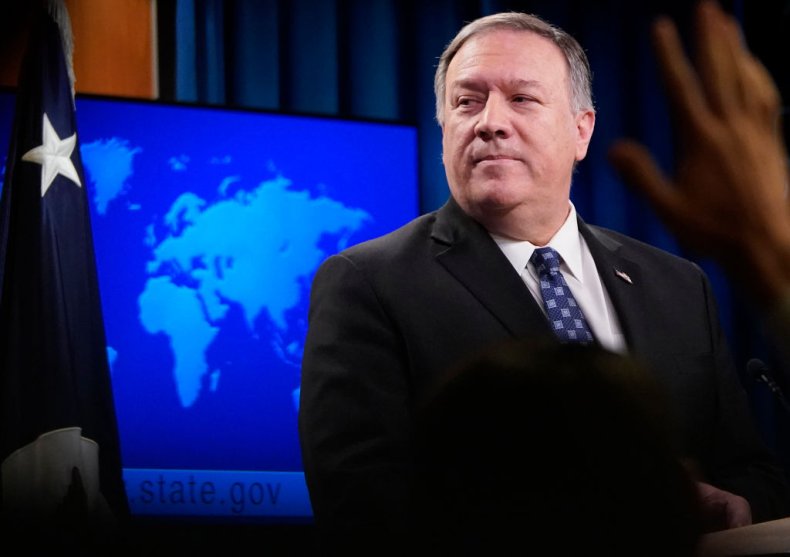 Speaking to reporters after the briefing, GOP Senator Mike Lee said it was the "worst briefing" he had seen on a military issue, adding that it had been "insulting and demeaning."
Kentucky Senator Rand Paul also weighed in against the intelligence meeting, attended by Pompeo and CIA Director Gina Haspel among others, saying it had been "less than satisfying."
Giving his perspective on what happened at the intelligence briefing with lawmakers, Pompeo told The Ingraham Angle show: "I thought we did a dynamite job. I mean that in the truest sense of we did our level best to present them with all the facts that we could in that setting."
Asked whether he and other officials in the Trump administration did not trust Congress with classified information, the secretary of state said briefers "shared an awful lot with them" on Wednesday, but added that there were "things only certain members of Congress get to hear."
"I know Senators Lee and Paul care about this a great deal and protect the prerogatives of the executive branch," Pompeo said. "They have a view of the War Powers resolution. I think members of Congress get frustrated by this sometimes."
The top Trump official went on to accuse "a number of people" of having a "political axe to grind" over the assassination of Soleimani, adding: "There is no doubt that there were a series of imminent attacks that were being plotted by Qassem Soleimani.
"We don't know precisely when and we don't know precisely where, but it was real."
Asked if President Donald Trump's claim that the Iranian commander was plotting to blow up the U.S. embassy in Baghdad, Pompeo said that Soleimani had directed protesters who attacked the diplomatic facility on New Years' Eve.
"I don't think there's any doubt that Soleimani had intentions not only to take action against our forces, our diplomats in Iraq, but in other countries around the region and world as well," the Secretary of State added.
Newsweek has contacted the State Department for further comment and details of its intelligence on Soleimani's alleged plans.
Speaking to reporters Tuesday, Pompeo said the drone strike on the Iranian General directed by President Trump was "entirely legal," claiming the Quds Force commander posed an imminent threat.
But he did not provide evidence of any "imminent" threats, CNN reported, and instead pointed to Soleimani's past actions
At a State Department press briefing about the drone strike held on January 3, an unnamed official said he could not answer questions about what "imminent" meant, or when the administration was first informed of threats.