Mike Pompeo Says U.S. 'Fully Prepared' for 'Rogue Actors' as Trump Fights COVID
Secretary of State Mike Pompeo warned "rogue actors" that the U.S. was "fully prepared" for any action that may take place while President Donald Trump continued to fight COVID-19 in hospital.
Speaking to reporters at a gathering broadcast by The Hill on Sunday, Pompeo said the administration's national security team was "mature and capable" and ready for any eventuality.
The secretary of state also said he had spoken with the president and brought him "fully up to speed" with happenings around the world as he remained in the Walter Reed National Military Medical Center.
"I've been working for this president for almost four years now. This is a team that's mature and capable," Pompeo told reporters. "We're fully prepared for all of the possibilities that may take place."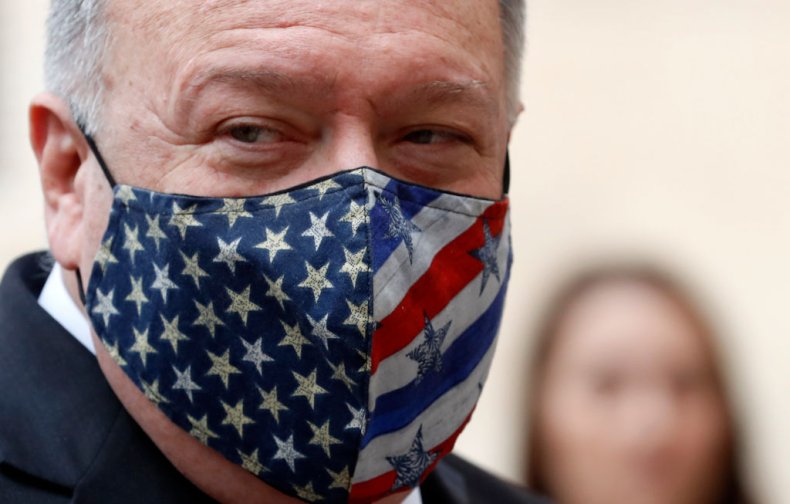 Asked if he was concerned about any foreign adversaries "taking advantage" of President Trump's current situation, the secretary of state reiterated that his team was ready for any actions.
"The message I've gotten from around the world... was all to tell the president and the first lady to get well and get healthy," Pompeo said.
"We know there's rogue actors, we know there's malign actors around the world. The United States is fully prepared, both the State Department and our diplomats... everyone's ready."
The secretary of state added that Trump had spoken with his "entire national security team" on Sunday and given Pompeo "positional guidance" ahead of his trip to Asia. Reuters reported that the trip would be cut short after his visit to Japan as a result of the president's COVID-19 diagnosis.
President Trump and First Lady Melania Trump first revealed that they had tested positive for COVID-19 on Friday morning last week, adding that they would enter quarantine straight away. A number of world leaders wished the commander-in-chief well after his diagnosis and made it clear they hoped for him to make a "speedy recovery" from the disease.
"My best wishes to President Trump and the First Lady," British Prime Minister Boris Johnson tweeted. "Hope they both have a speedy recovery from coronavirus."
Sending the president a message by telegram, Russian President Vladimir Putin said he expected Trump's "innate stamina, high spirits, and optimism" to help him make a quick recovery from the virus.
Chinese President Xi Jinping also wished the president and first lady a speedy recovery as Chinese state media mocked Trump in the wake of his diagnosis last week. The Global Times' editor-in-chief tweeted that Trump and his wife had "paid the price for his gamble to play down the COVID-19."