Mike Pompeo 'Worst Secretary of State' With Only 3 Months Left, China State Media Chief Says
Mike Pompeo is America's "Worst Secretary of State" and only has three months left in the job, a senior editor at a Chinese state newspaper said Wednesday.
Chen Weihua, EU Bureau Chief of China's state-owned publication China Daily, which is also circulated in English in the U.S., accused America of "masterminding and waging the new cold war" in a recent tweet, while also suggesting President Donald Trump will lose the upcoming election.
"Everyone talks about new Cold War. But it is clear that the US is the one masterminding and waging the new Cold War," Chen wrote. "China has rejected such a war. The rest of the world should not fall into Washington's trap."
He added: "Pompeo is the Worst Secretary of State, only 3 months to go."
Chen's tweet came just hours after the Chinese embassy in Japan issued a similar statement online in response to comments made by the Secretary of State during his East Asia visit the day before.
"Pompeo has repeatedly fabricated lies about China and maliciously created political confrontation," the embassy said. "These actions run in the opposite direction to the current global trend of peaceful development and mutually beneficial cooperation.
"We once again urge the U.S. to abandon its Cold War mentality and ideological prejudice, stop unprovoked accusations and attacks against China and treat relations with China in a constructive manner."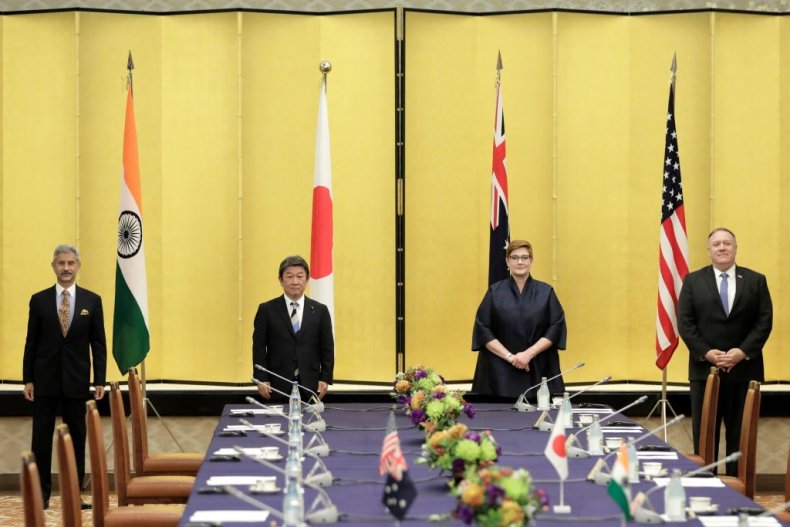 The embassy's statement also suggested the Quadrilateral Security Dialogue of the United States, Japan, Australia and India were an "exclusive clique" seeking to "harm the interests of others."
During his Tokyo visit, Pompeo called for closer cooperation between the Quad partners amid the Chinese Communist Party's growing influence in Asia.
He said: "As partners in this Quad, it is more critical now than ever that we collaborate to protect our people and partners from the CCP's exploitation, corruption and coercion.
"We see it in the South and East China Seas, the Mekong, the Himalayas, the Taiwan Strait."
Beijing pushback
On Tuesday, a spokesperson for the Chinese embassy in Washington rejected the top U.S. diplomat's description of Beijing.
The spokesperson previously said in a statement to Newsweek: "China is committed to the path of peaceful development and firmly safeguards its sovereignty, security and development interests. At the same time, it is committed to resolving differences with other countries through dialogue and consultation.
"This is what we say and also what we do. We do not accept reckless smearing and groundless accusations against China."
U.S. relations with China have strained as the two superpowers engaged in a trade war and clashed over issues including Beijing's handling of its coronavirus outbreak.
American allies in Asia, such as the self-ruled island of Taiwan, have seized the opportunity to bolster ties with the Trump administration and stand up to what it sees as Chinese encroachment on its sovereign territory.