Rep. Mocks Donald Trump Jr. After He Criticizes Defense of Hearsay Evidence: 'I'm Sure Don's Done A Lot of Trials In His Life'
Congressman Mike Quigley responded with sarcasm after Donald Trump Jr. attempted to discredit a legal argument he made about "hearsay evidence" on Wednesday during a public impeachment hearing against President Donald Trump in the House of Representatives.
"I think the American public needs to be reminded that countless people have been convicted on hearsay because the courts have routinely allowed and created needed exceptions to hearsay," Quigley, a Democrat who represents Illinois and is also an attorney, said during the hearing. "Hearsay can be much better evidence than direct, as we have learned in painful instances and it's certainly valid in this instance."
Trump Jr. later tweeted out criticism of the remarks. "Can you believe this insanity? 'Heresay can be much better evidence than DIRECT EVIDENCE' according to Democrat Mike Quigley. Are you fricken kidding me? 3rd and 4th party info better than hearing it yourself?" the president's eldest son wrote.
"Sounds exactly like what someone would say when they're desperate and have no actual evidence," Trump Jr. posted in a follow-up tweet, sharing a clip of the representative's remarks.
Quigley was asked to respond to Trump Jr.'s remarks on Thursday morning during an interview with CNN. Quigley dismissed the president's son's remarks outright, mocking his lack of legal knowledge.
"I'm sure Don's done a lot of trials in his life," the congressman said sarcastically. "I've done probably over 200, so I might know what I'm talking about," he continued, with a small laugh. Trump Jr. is a businessman, who has primarily worked for his father's business, The Trump Organization. He holds a business degree from the University of Pennsylvania, and has never formally studied or worked in law.
Quigley then took aim at the Trump administration, pointing out that it was blocking significant first-hand evidence and several witnesses from testifying. "If you don't like the testimony, if you don't like the evidence, quit blocking what everyone would imagine would be much more direct evidence." He then listed the names of several administration officials that have been blocked by the White House from testifying before congressional investigators.
"Don't complain that the evidence isn't direct enough when you are blocking what would obviously be more direct evidence," he asserted.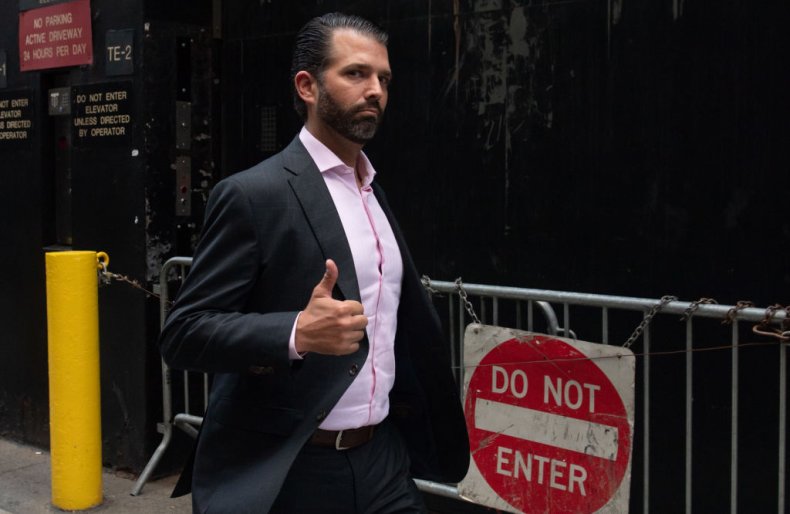 As Quigley asserted, hearsay evidence is admissible in court in some instances. Additionally, several witnesses that will testify in the coming days will have more direct knowledge of the president's actions towards Ukraine, which are at the center of the impeachment inquiry. U.S. Ambassador to the European Union Gordon Sondland will testify before investigators next week.
Acting Ambassador to Ukraine Bill Taylor testified on Wednesday that a member of his staff had overheard a call between Sondland and Trump discussing investigations against the president's political rivals, which he wanted Ukraine to launch. Following that call, the staffer asked Sondland what Trump thought of Ukraine.
"Ambassador Sondland responded that President Trump cares more about the investigations of Biden, which Giuliani was pressing for," Taylor explained.
A journalist for NBC News has reported that the unidentified staffer Taylor mentioned is David Holmes. Holmes is now scheduled for a closed-door deposition before investigators on Friday.