Fox News Anchors Describe Bill Taylor As a 'Very Compelling' and 'Very Damaging' Witness Against Trump
Fox News anchors Bret Baier and Chris Wallace both described the testimony presented by acting U.S. Ambassador to Ukraine Bill Taylor against President Donald Trump as "compelling," with Wallace suggesting it was "very damaging" for the president.
Baier and Wallace shared their analyses during a recess, as House investigators on Wednesday carried out the first public hearings of the impeachment inquiry against Trump, which centers around his actions toward Ukraine and its leaders. During the hearing, Taylor answered questions alongside the State Department's Deputy Assistant Secretary for European and Eurasian Affairs George Kent.
"Obviously, Taylor is a very compelling witness, in part because he took such detailed notes in all of these conversations, all of these interactions," Baier asserted. The anchor also pointed out that the diplomat had worked under Republican and Democratic administrations, demonstrating that he was not a partisan witness.
Wallace agreed that Taylor's testimony was "compelling." He described the diplomat as "a very impressive witness" and said he "was very damaging to the president."
"I think very nonpolitical," Wallace assessed. "The only thing he talked about was a strong feeling that it was in the U.S. national security interests to support Ukraine in the fight against Russia. But he certainly wasn't taking any partisan position," the anchor explained.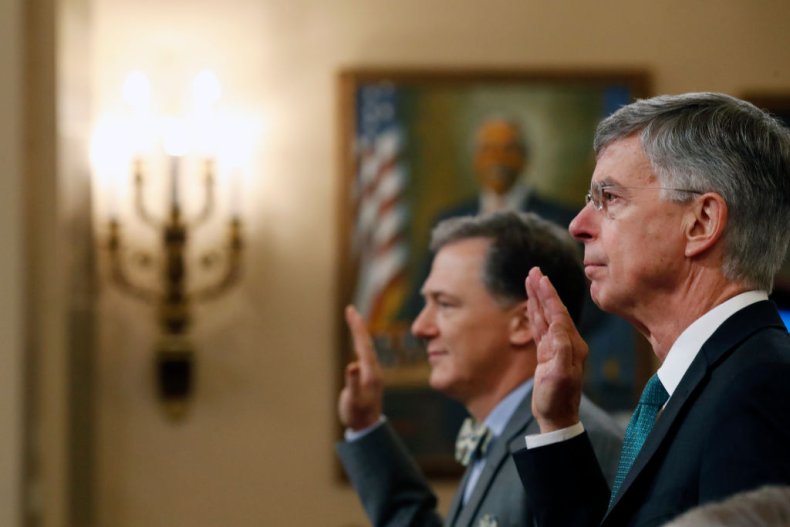 The House launched its impeachment inquiry against Trump after an anonymous government whistleblower raised concerns about the president's dealings with Ukrainian President Volodymyr Zelenskiy. Multiple credible witnesses from the State Department, the National Security Council and other administration posts have since testified in closed-door depositions and corroborated the claims laid out in the complaint. The testimony has confirmed that Trump and his personal lawyer Rudy Guiliani worked to pressure Ukrainian leaders to open investigations into unsubstantiated claims against Democratic presidential candidate Joe Biden, as well as into a debunked conspiracy theory that Democrats and Ukrainian conspired together to interfere in the 2016 presidential election.
Furthermore, multiple witnesses have testified that the White House unilaterally decided to temporarily withhold nearly $400 million in military aid to Ukraine that had already been approved by Congress as it sought to motivate Ukrainian officials to publicly launch the desired investigations against the president's domestic political rivals. That assistance was approved with significant bipartisan support, as both Democrats and Republicans see Ukraine as a key ally in the region. The Eastern European nation has been involved in a civil war against Russian-backed separatist rebels since 2014. Russia has also controversially annexed the Ukrainain-claimed Crimean peninsula.
During his public testimony Wednesday, Taylor revealed that he learned on Friday of a conversation between one of his staffers and the U.S. Ambassador to the European Union Gordon Sondland. The staffer told Taylor that he overheard Sondland speaking directly to Trump on the phone, and Trump asked about the investigations. Taylor's staffer asked Sondland about Trump's perspective on Ukraine following the call.
"Ambassador Sondland responded that President Trump cares more about the investigations of Biden, which Giuliani was pressing for," the diplomat said.