Lawmaker on Russian TV Slams Oligarchs Profiting During Ukraine War
A Russian lawmaker has taken a swipe at Moscow's war effort and criticized oligarchs close to Vladimir Putin for profiting from the invasion of Ukraine in what has been described as an "awkward" TV moment on a Kremlin propaganda channel.
The exchange on the Russia-1 program 60 Minutes took place during a discussion about the visit of International Atomic Energy Agency [IAEA] inspectors to the Zaporizhzhya nuclear power plant. Hostilities at the site have raised international alarm that there could be a meltdown, with both Ukraine and Russia accusing the other of attacking the plant.
One panelist, Dmitry Yegorchenkov, said that such global watchdogs "stopped working a long time ago" as he framed the group's visit as a push by the West to act against Russian interests.
Duma deputy Mikhail Delyagin then weighed in, agreeing that international organizations "are acting against us," but also taking a swipe at how "Russian officials can't defend Russian interests" in such groups.
Putting hope in the IAEA's objectivity would be like "hoping that we will finally start striking the decision-making centers," Delyagin said, in what appeared to be a reference to calls by Russian media figures for retaliatory strikes on Kyiv after blasts in Crimea and Moscow.
Anchor Olga Skabaeeva interrupted by saying "stop it, we are still hoping for that," before Delyagin continued by saying that the IAEA visit will be "successful for us if their Polish and Lithuanian representatives don't mine" the nuclear power plant.
He then said that as a "very painful, very frightening period of instability awaits us," there needed to be a "strong, reliable home base," before suggesting that some Russians were profiting from the war.
"We need to limit the mass transfer of funds from a legal economy into a criminal one, which we are not doing," said Delyagin, an economist and advisor to the Head of the Fair Russia Faction in the State Duma. "There are no real limitations on cashing out, there are no attempts to nationalize the elites."
"Cheap credit is also needed and the overall lowering of prices. When the defense industry is working to maximize the profits for Russian government banks but on the other hand to fund the yachts of oligarchs, if not Mordashov's then Potanin's, there are questions as to why and for what?"
Alexei Mordashov is chairman of Russia's biggest steel and mining company Severstal and is worth around $18.3 billion, according to Forbes. As of August, Vladimir Potanin was worth $26.4 billion and is chairman of the Interros conglomerate. Both have been sanctioned by the U.S. and the EU for their links to Putin. Newsweek has contacted Severstal and Interros for comment.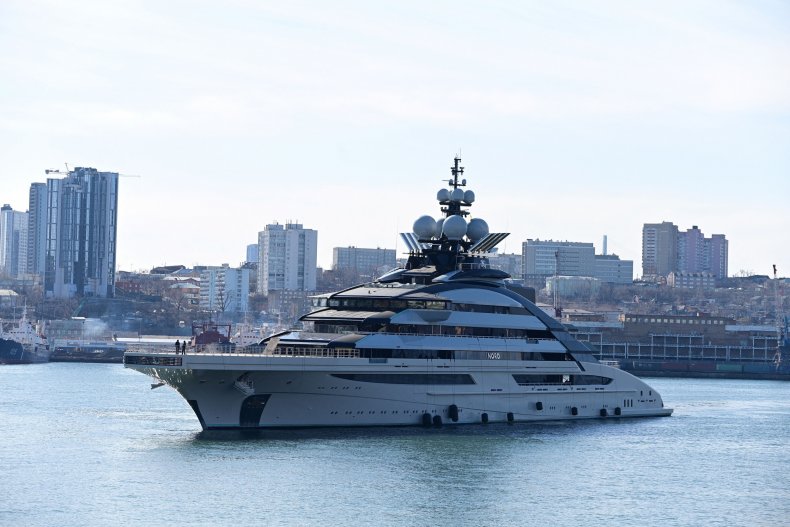 Delyagin continued: "Why not nationalize the main industries the way the British did after the war? Not to punish anyone but so the money does not go towards Potanin's yacht but towards the growth of the Russian Federation."
The clip was shared by journalist and Russia watcher Julia Davis, who wrote: "state TV pundits warn that the delegation from the International Atomic Energy Agency (IAEA) may covertly place mines at the Zaporizhzhya nuclear power plant."
"But there is so much more happening in this clip, even some criticism of the gov't. Awkward moments," she wrote.