Mila Kunis and Ashton Kutcher's Bizarre Bathing Admission Prompts Tidal Wave of Memes
Mila Kunis and Ashton Kutcher raised eyebrows this week when they described their unusual bathing habits.
The topic turned to soap during an appearance by the Hollywood couple on Dax Shepard's "Armchair Expert" podcast.
Shepard told co-host Monica Padman that using soap every day rids the body of natural oils. Kutcher and Kunis agreed, adding that they rarely have full body washes.
A surprised Padman asked the couple: "Who taught you to not wash?"
"I didn't have hot water growing up as a child so I didn't shower very much anyway," said Kunis, revealing that she has passed on this habit to her kids.
The former That '70s Show co-stars have a 6-year-old daughter, Wyatt Isabelle, and a 4-year-old son, Dimitri Portwood.
"I wasn't that parent that bathed my newborns, ever," Kunis said.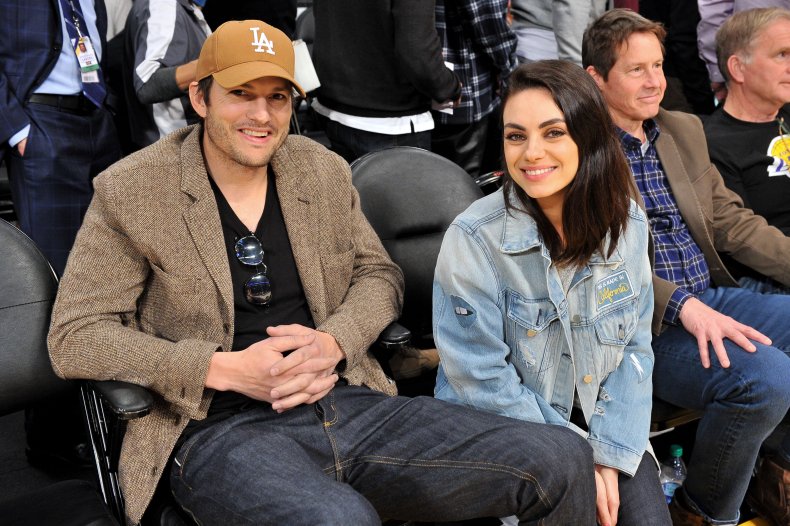 Now that their children are older, Kutcher said they had a system for washing—and that was to only do it if they can see dirt on the kids.
"If you can see the dirt on them, clean them," he said. "Otherwise, there's no point."
Kutcher also revealed that he personally uses soap and water on his "armpits and crotch daily," but "nothing else ever."
He added: "I do have a tendency to throw some water on my face after a workout to get all the salts out."
Unsurprisingly, the admission has led to a tsunami of memes by social media users who are perplexed at the couple's hygiene standards.
"when ashton kutcher and mila kunis kids walk into class," wrote one Twitter user, alongside an image of Robert Pattinson holding his nose.
Another posted an image from SpongeBob SquarePants, with the caption: "ashton kutcher and mila kunis' uber driver takin em to the olive garden."
Podcaster Jemele Hill joked: "Ashton Kutcher really told the whole world he takes heaux baths."
One Twitter user posted a clip of Idris Elba coughing and choking, with the caption: "Me walkin past Ashton Kutcher and Mila Kunis in the streets."
Another viral joke about the couple's bathing habits reads: "Ashton Kutcher and Mila Kunis treat their kids like I treat my jeans."
The couple's names were trending on Twitter on Wednesday morning as a result. One social media user posted a clip with the caption: "Everyone when they find out why Mila Kunis and Ashton Kutcher are trending."
Kunis and Kutcher also made headlines last week when the actor revealed that he had sold a Virgin Galactic ticket back to the space flight company.
"When I got married and had kids, my wife basically encouraged that it was not a smart family decision to be heading into space when we had young children," he told Cheddar News.