Who Is Miles Pfeffer? Teenager Accused of Shooting Dead Philly Campus Cop
An 18-year-old man is facing charges including murder after the death of a Temple University police officer who was shot and killed near the campus.
Miles Pfeffer allegedly shot officer Christopher Fitzgerald, 31, in the head following a robbery on Saturday night. He also allegedly tried to rob Fitzgerald of his gun and went through his pockets while he was on the ground, The Philadelphia Inquirer reported.
He will face charges including murder, the murder of a law enforcement officer, robbery and carjacking.
The Philadelphia District Attorney's Office said Pfeffer was involved in an armed carjacking after allegedly shooting Fitzgerald.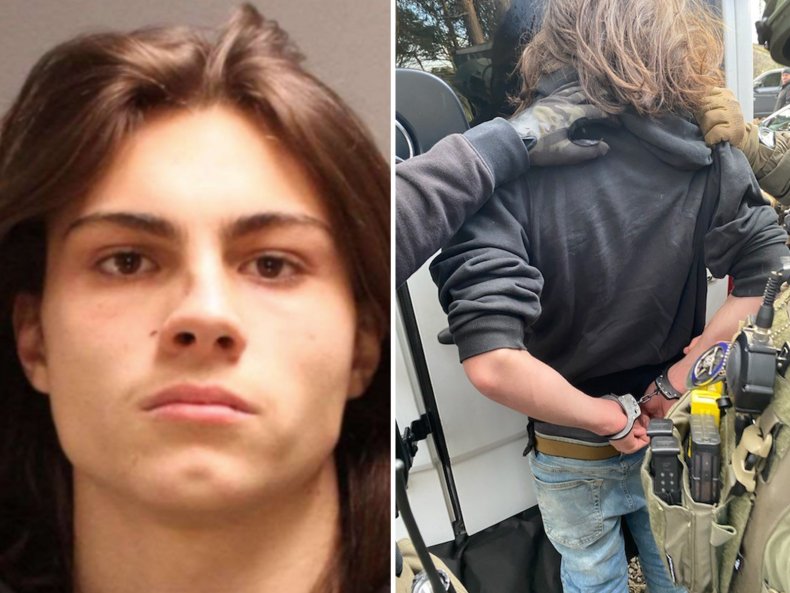 "We are already collaborating with [Philadelphia Police] to bring the responsible parties to justice," District Attorney Larry Krasner tweeted on Sunday. Krasner's office and the Philadelphia Police Department have been contacted for further comment.
Pfeffer was taken into custody shortly after 7 a.m. on Sunday at his Buckingham Township home in the 2300 block of Quarry Road, according to the Bucks County District Attorney's Office.
"Police used the fallen officer's handcuffs in placing the suspect under arrest," the office said in a news release.
Multiple weapons were seized from Pfeffer's home, sources told CBS Philadelphia's Alicia Roberts.
The residence belongs to his mother, who was at home during his arrest. She was also taken into custody for questioning, the station reported.
Local police sources told the station that Pfeffer was known to officers in the area for what they called nuisance crimes.
Neighbors said the family moved in about four years ago and police have been at the residence several times.
Meanwhile, a GoFundMe page launched by the Temple University Police Association for Fitzgerald's wife and four children has raised more than $160,000 in about 14 hours.
"Officer Fitzgerald was a loving husband, father, friend, and public servant whose dedication to his family and community was unmatched," a post on the page says.
"Officer Fitzgerald loved being a police officer, and he will always be remembered for his fearlessness in fighting crime and his compassion for his community."
Fitzgerald had been on the Temple University police force since October 2021, university officials said.
"Officer Fitzgerald gave his life to selflessly serve and defend this community," Jennifer Griffin, the university's vice president for public safety, said in a statement on Sunday.
"This loss leaves an enormous hole in all of our hearts. He was a father, a husband, a son, a colleague, and a friend."
In a statement, university President Jason Wingard said the shooting was "a gut-wrenching reminder of our police officers' daily bravery and sacrifices to protect our students, faculty, staff and community."
"There are simply no words that can make sense of this tragedy," he added. "It tears at our sense of community and safety. We all mourn this unspeakable loss."
'Epidemic of Violence'
Wingard also noted that it came as Philadelphia and the nation deal with "an unprecedented epidemic of violence."
Philadelphia Mayor Jim Kenny ordered the city's flags to half-staff in Fitzgerald's honor.
"I am deeply saddened by the death of Officer Christopher Fitzgerald and outraged by this and every senseless act of violence in our city," Kenney said. "Our prayers are with Officer Fitzgerald's family, loved ones, and colleagues. We are grateful for his service and heartbroken by this loss."
Kenney added that reducing gun violence "remains my administration's top priority, and we will continue to work tirelessly with our partners to combat the scourge of violence that is plaguing communities across the country.
Pennsylvania Gov. Josh Shapiro, who took office last month, wrote on Twitter that he and first lady Lori were "devastated for the family of the Temple University police officer who was killed in the line of duty" while "bravely serving his community."
Shapiro added: "We're sending prayers to his loved ones, Temple Police, and the entire @TempleUniv community. May his memory be a blessing."