Miley Cyrus' Offer To 'Educate' DaBaby Divides Fans
Miley Cyrus has reached out to DaBaby with an offer to educate him in light of his homophobia scandal, but the gesture has divided the pop star's fans.
The "Wrecking Ball" singer took to Instagram on Wednesday to share a message of support to the rapper, whose comments have seen him dropped from multiple festival line-ups and received widespread condemnation.
"As a proud and loyal member of the LGBTQIA+ community, much of my life has been dedicated to encouraging love, acceptance, and open-mindedness," Cyrus wrote in her post.
"It's easier to cancel someone than to find forgiveness and compassion in ourselves or take the time to change hearts and minds. There's no more room for division if we want to keep seeing progress! Knowledge is power! I know I still have so much to learn."
DaBaby, whose real name is Jonathan Lyndale Kirk, was filmed making insulting comments about those living with HIV at Rolling Loud festival last week.
The rapper has since apologized, telling fans: "I want to apologize to the LGBTQ+ community for the hurtful and triggering comments I made. Again, I apologize for my misinformed comments about HIV/AIDS and I know education is important. Love to all. God bless."
In her post, Cyrus said that that the "internet can fuel a lot of hate and anger" but she believes "it can also be a place filled with education, conversation, communication, and connection."
She captioned her post: "@DaBaby check your DMS - would love to talk and see how we can learn from each other and help be part of making a more just and understanding future!"
The post has garnered a mixed reaction, with some supporting Cyrus' gesture, while others say it is not her duty to educate the rapper.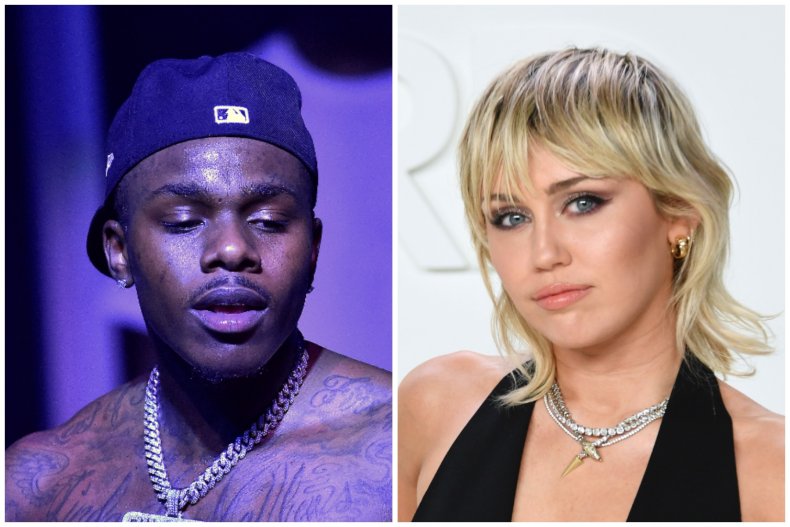 "I see you Miley...love conquers all," commented RuPaul's Drag Race contestant Gia Gunn. However, her season 6 co-star Laganja Estranja disagreed, commenting: "It's a no for me."
A fan commented: "You are AMAZING Miley!!! THIS is the response we need to one another."
While content creator Clare Cullen added: "It's not your responsibility to educate someone who doesn't wish to learn."
Lollapalooza, Governors Ball and Day N Vegas festivals announced last week that the "Masterpiece" rapper would no longer be performing at their events. He was also dropped from the Parklife festival in Manchester, northern England.
On Tuesday, the iHeartRadio Music Festival in Las Vegas, Austin City Limits Music Festival and Atlanta's Music Midtown all removed the rapper from their line-ups.